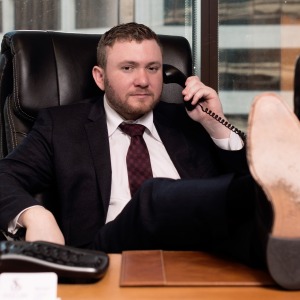 ---
Recognized since 2023
Minneapolis, Minnesota
Practice Areas
Bankruptcy and Creditor Debtor Rights / Insolvency and Reorganization Law
My name is Max Shek, and I am a DWI, criminal defense, and appeals attorney and am the founder of Shek Law LLC. I completed my undergraduate from Michigan State University, where I graduated with honors. I then earned my Juris Doctor's degree from The University of Minnesota Law School and received a Master's in Business Administration from The University of Minnesota, Carlson School of Business. These particular JD and MBA programs are each nationally ranked and are the highest-ranked programs in Minnesota. From there, I entered the world of banking regulation, where I worked for one of the largest financial institutions in the United States. I became deeply familiar with strict protocols and analyzing complex processes to ensure there were no missed details. Though I loved my role, I wanted to do more to help others, which was my motivator to open Shek Law LLC. As a dedicated attorney, I have an extensive understanding of Minnesota laws, and I am devoted to delivering exceptional legal counseling and representation that positions my clients to obtain the vigorous defense they deserve.
I have lived in the upper Midwest my entire life, but Minnesota was exceptionally unique to me. I ultimately ended up falling in love with the area, the community, and the practice of Minnesota Nice and chose to make this place my home. Overall, I have always had a deep respect for the justice system but discovered that the legal representation for individuals arrested for DWI was less than desirable upon being arrested for a mistaken belief that I was driving while impaired. I was pulled over for not having my lights on, and that, amongst other patently false observations, led the officer to presume I was intoxicated. Though I had a BAC merely above 0 and was soon released without charge, this was an experience that led me to witness, first-hand, the DWI legal support realities for people who are charged with a DWI.
Upon calling an attorney, which was my constitutionally required opportunity before taking the breathalyzer, my expectations were not met. I still had more questions than answers once I was released without charge from the police station after the breathalyzer proved I was not intoxicated. After consulting with the attorney by phone before taking the test, I still felt vulnerable. Amazed at how my situation could justify an officer arresting me and requiring a chemical test, I later took it upon myself to review the initial police report. To my shock, there were several blatant inaccuracies, making me realize how police reports can be used to investigate and attack the credibility of an officer's testimony to secure DWI convictions. Since that experience, I became devoted to raising the status quo for DWI and criminal defense representation, leading me to pursue my passion and establish Shek Law LLC. Overall, my underlying value proposition is to ensure that my clients take advantage of every right they are entitled to, know the critical questions to ask and give them the sympathetic support they merit.
The legal field is constantly evolving. Attorneys who refuse to change with the times get left behind. And their clients suffer subpar results. I approach each case with a fresh perspective. Other attorneys recycle the same strategies and arguments for each case. I develop a custom approach for each client I represent, and win with arguments the others don't bother to make.
The first thing I learned when I started my solo practice is that complex, customized arguments put a strain on prosecutors' resources. Even when prosecutors take a complex series of arguments in stride, the extra pressure on their time can be the first step toward securing a favorable deal for my clients. Some prosecutors don't like my style. I've dealt with everything from outbursts of anger to threats against my career. But those things haven't slowed me down, and they never will. I don't care how much I upset the status quo, and I don't care how angry prosecutors get when I outwork them, so long as my clients get the best result possible. My clients matter. Prosecutors don't. Prosecutors will eat you alive if you let them. It takes steady nerves and real toughness to stand your ground and refuse to be intimidated. That's what I promise my clients: tough, poised representation that outthinks and outworks the prosecution.
As a passionate professional, nothing makes me happier than delivering advanced legal representation that inspires others to fight for their rights while raising the standards bar along the way. Furthermore, I am devoted to not only being a lawyer but also a mentor, consultant, and friend along the way. My goal is to empower my clients to utilize their rights, enrich them with transparent case/legal knowledge, and unearth gap-proof details, so they are fully prepared to proceed through each step. In the end, regardless of what you may be facing, you can have solidifying confidence that together we will cover your case thoroughly, all of your questions will be answered, and you will be optimally positioned through the plea-bargaining process and if you happen to go to trial.
This experience may not be a favorable one, but I am here to ease the burden and give you the foundation you need to defend yourself. When you are ready to take the next step, don't hesitate to GET SHEK and give me a call today so we can discuss your particular case further.
Location
150 South Fifth Street, Suite 1320
Minneapolis, MN 55402
Education
Michigan State University, B.S.
University of Minnesota, J.D.
University of Minnesota Twin Cities, M.B.A.
SL
Shek Law LLC
---
Minneapolis, Minnesota
1 Best Lawyers: Ones to Watch® in America award
Full Firm Profile
Recognized in Best Lawyers: Ones to Watch® in America 2024 for work in:
Bankruptcy and Creditor Debtor Rights / Insolvency and Reorganization Law
Additional Areas of Practice:
Criminal Defense: General Practice
DUI / DWI Defense
Criminal Defense
Attorney Maxwell Shek has a near 100% focus on Criminal Defense and DWI representation.
Your browser is not fully compatible with our automatic printer friendly formatting.
Please use the print button to print this profile page.