Firm Profile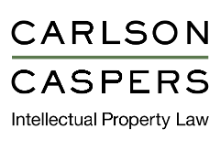 Capella Tower, Suite 4200
225 South Sixth Street
Minneapolis, MN 55402
United States
(612) 436.9600
Firm Details
Carlson Caspers is an acclaimed intellectual property law firm known for its excellence in intellectual property litigation and counseling, particularly patent infringement, trade secrets, copyrights, trademarks, data privacy, Hatch-Waxman, monetization, IPRs, appeals, and more.
Founded in 2003 in Minneapolis, MN, our firm has built a reputation for remarkable client success in consumer, commercial, and industrial markets across a wide range of complex, technology-driven sectors such as manufacturing, medical devices, life sciences, pharmaceuticals, nutraceuticals, data privacy, and wireless communications.
Our firm has 35 licensed attorneys, all admitted to federal court in Minnesota, with 18 also admitted to the United States Patent and Trademark Office. Many of our attorneys also are licensed in other federal and state courts around the nation.
As a go-to intellectual property boutique with a deep bench of highly experienced lawyers from top technical and legal schools, all of our attorneys practice in intellectual property litigation and counseling, with five attorneys also performing patent filing and strategic counseling services related to patent prosecution. We also have a robust IPR practice, and routinely pursue parallel actions in district court and the USPTO in patent infringement cases.
Your business goals are the primary driver of any strategy, and understanding various business realities are foundational to our representation.
We appreciate that not all matters require the same approach, and believe we are particularly adept at tailoring our strategies to align with the business interests of our clients. Some matters warrant a "no-stone-left-unturned" effort, while matters that are less mission-critical warrant a more streamlined approach.
For example, in a patent litigation defense, we would need to understand what your liabilities would be, what your projections are for the future of the allegedly infringing product or system, whether there is a basis for indemnification, and whether there is a possible non-infringing platform being examined for the future. We also would want to know more about the patents, understand the prior art, as well as other invalidity and non-infringement positions that may be available, etc. We are confident that our experience, expertise, and judgment will allow us to quickly and efficiently develop and execute strategies that will deliver successful resolutions. For patent prosecution and as business owners ourselves, we would understand your budget and goals for each and every patent so that we can be strategic and predictable in the outcome.
We believe that strong communications are crucial and we've found that keeping clients well-informed about the ongoing status of matters obviously is key to both optimal matter resolution and client satisfaction. This can take several forms, including weekly case update meetings in litigation matters and the opportunity to comment on proposed pleadings well in advance of the filing date.
One of Carlson Caspers' core tenets is respect for the diversity of our clients, colleagues, and communities. Our commitment to inclusion is the foundation for a vibrant work environment and unparalleled client service that comes from varied perspectives in developing strategies and solutions to serve our clients' business goals. We recognize that diversity and inclusion require ongoing and active engagement within our firm and the broader community. Carlson Caspers is committed to ensuring that our lawyers are treated fairly in terms of work experience, mentoring, and overall career advancement. We offer a 1LDiversity Scholarship Program, participate in the Twin Cities Diversity In Practice (TCDIP) 1L Clerkship Program (obtaining many of our most recent associates through that process), and sponsor and participate in organizations that promote diversity and inclusion within the legal profession. We also strive to staff each litigation matter with attorneys who represent diversity and inclusion.
The experienced lawyers at Carlson Caspers make up a diverse team of scientists, pharmacists, engineers, and technologists who focus on delivering value by respecting the client's genius and bringing in-depth industry knowledge, technical experience, subject matter expertise, and a global business perspective to every legal challenge. Clients include Fortune 500 companies as well as small companies and individuals.
For more information, visit carlsoncaspers.com.
Management
Demographics
Partners
Women: 3
GLBT: 1
Men: 18
Associates
Women: 5
Asian: 1
Multi-Racial: 1
Men: 3
Management / Department Heads
Women: 2
Men: 1
Non-Legal Employees
Women: 14
African-American: 1
Hispanic: 2
Men: 1
Top Listed State Awards
Top Listed in Minnesota in Litigation - Patent with 6 lawyers
Top Listed City Awards
Top Listed in Minneapolis in Litigation - Patent with 6 lawyers
Awards
Chambers USA
Managing IP Magazine North America Awards IAM Patent 1000
Minnesota Super Lawyers and Rising Stars
Minnesota Lawyer Attorneys of the Year
Minnesota Lawyer Up & Coming Attorneys
Minnesota Lawyer Diversity & Inclusion
IP Stars
Clients
Abbott
Anchor Wall Systems, Inc.
Boston Scientific Corporation
CommScope
Honeywell International Inc.
POET Biorefining
Qualcomm Inc.
Sun Pharmaceutical Industries Ltd.
Teva Pharmaceuticals USA
Toro Company
Contacts
Tara Norgard
Shareholder

Deb DuBois
Marketing and Business Development
612-209-9239 (cell)
Firm Practice Areas
Appellate Practice
Biotechnology and Life Sciences Practice
Cannabis Law
Commercial Litigation
Copyright Law
Litigation
Litigation - Intellectual Property
Litigation - Patent
Patent Law
Technology Law
Trade Secrets Law
Trademark Law
Office Locations
United States
United States
Minnesota
Minnesota
Minneapolis, MN
Capella Tower, Suite 4200
225 South Sixth Street
Minneapolis, MN 55402
United States