Every year for 40 years we highlight the extraordinary accomplishments of those in the legal profession; completely unbiased legal referrals from the best attorneys in the world.
Without a doubt, Australia's legal communities are growing more impressive every year and this year, the numbers prove it. More than 4,000 lawyers, in 94 practice areas, working in 534 firms, have been honored by their constituents in the 14th Edition of The Best Lawyers™ in Australia. The list grew by 29 firms and 245 new lawyers, representing 267 new listings. This incredible growth is representative of the growing talent and dedication of attorneys and firms throughout the country, despite the COVID-19 pandemic and the devastating wildfires that impacted so many.
Attorneys Making an Impact
Attorneys shape our communities and touch almost every aspect of our lives. They help us seek justice, protect our rights, our families, our health and well-being, our businesses and so much more. When we recognize attorneys and firms in The Best Lawyers™ in Australia, the intention is to shine a light on the dedicated professionals who work tirelessly for the needs of their clients and communities. These are the people truly making an impact and inspiring all of us in the process.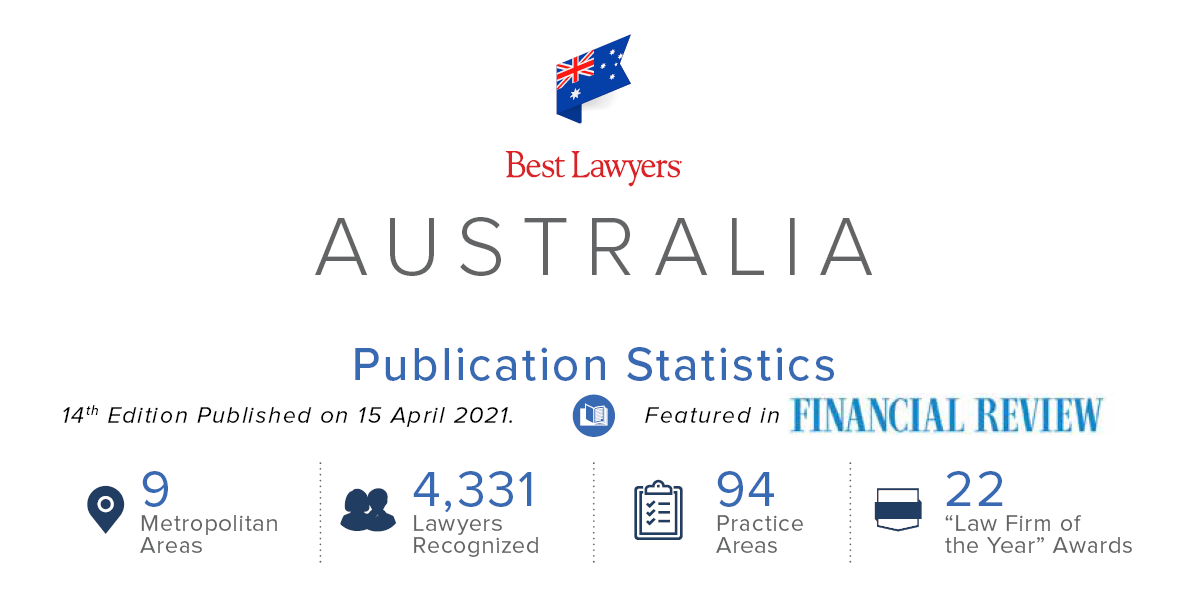 Lawyers who are nominated for consideration in The Best Lawyers™ in Australia are voted on by currently recognized Best Lawyers ™ working in the same practice area and located in the same geographic region. They are asked "If you could not handle a case yourself, how likely are you to recommend this lawyer?" They then grade the nominees from one to five, with a five reserved for those to whom a voter would "definitely refer" a case. It falls then to "probably refer," "would hesitate to refer," down to "would not refer." Lawyers can also provide additional feedback if they choose.
Best Lawyers awards and recognitions are based purely on the feedback we receive from these top lawyers. Those who receive high peer reviews undergo a thorough verification process to make sure they are currently still in private practice. Only then can these top lawyers be recognized by Best Lawyers.
Publication Statistics
The Australian Financial Review, our long-time media partner, will feature an excerpt of the 14th Edition of The Best Lawyers™ in Australia. Here are highlights from this year's edition:
4,331 Lawyers Recognized
547 Firms with listed lawyers
94 Practice Areas
22 "Law Firm of the Year" Awards
Top 5 metro areas (by number of listed lawyers):
Brisbane (750)
Perth (395)
Adelaide (284)
Top 10 practice areas (by number of listed lawyers):
Litigation (742)
Insurance Law (440)
Alternative Dispute Resolution (437)
Corporate Law (376)
Construction / Infrastructure Law (365)
Mergers and Acquisitions Law (358)
Real Property Law (332)
Commercial Law (322)
Labour and Employment Law (259)
Insolvency and Reorganization Law (256)
Top 10 most searched practice areas in Australia in 2020 on bestlawyers.com:
Immigration Law
Litigation
Labour and Employment Law
Insurance Law
Commercial Law
Tax Law
Corporate Law
Real Property Law
Banking and Finance Law
Planning and Environmental Law
Law Firm of the Year
"Law Firm of the Year" awards recognize a single top firm for its work in a specific legal practice area nationwide. Awards are determined based on a handful of factors including lawyer feedback, the number of lawyers included in Best Lawyers for that firm and practice area, the number of office locations a firm has, historical analysis of the firm's "Lawyer of the Year" awards, materials submitted by firms, and the firm's overall scope and areas of expertise.
The 2022 "Law Firm of the Year" recipients are:
Alternative Dispute Resolution
Banking and Finance Law
Competition Law
Construction / Infrastructure Law
Corporate Law
Energy Law
Information Technology Law
Insolvency and Reorganization Law
Insurance Law
Intellectual Property Law
Labour and Employment Law
Litigation
Mergers and Acquisitions Law
Occupational Health and Safety Law
Oil and Gas Law
Planning and Environmental Law
Private Equity Law
Project Finance and Development Practice
Real Property Law
Regulatory Practice
Retirement Villages and Senior Living Law
Tax Law
Interested in seeing Best Lawyers honorees in Australia? Use our Find a Lawyer tool to search by location and specialty.
Access the full report of Best Lawyers international releases, updated continuously.