Best Lawyers proudly announces the 11th Edition of The Best Lawyers in Brazil. For this 2021 Edition, an elite group of practicing lawyers across 57 specialties in Brazil were recognized.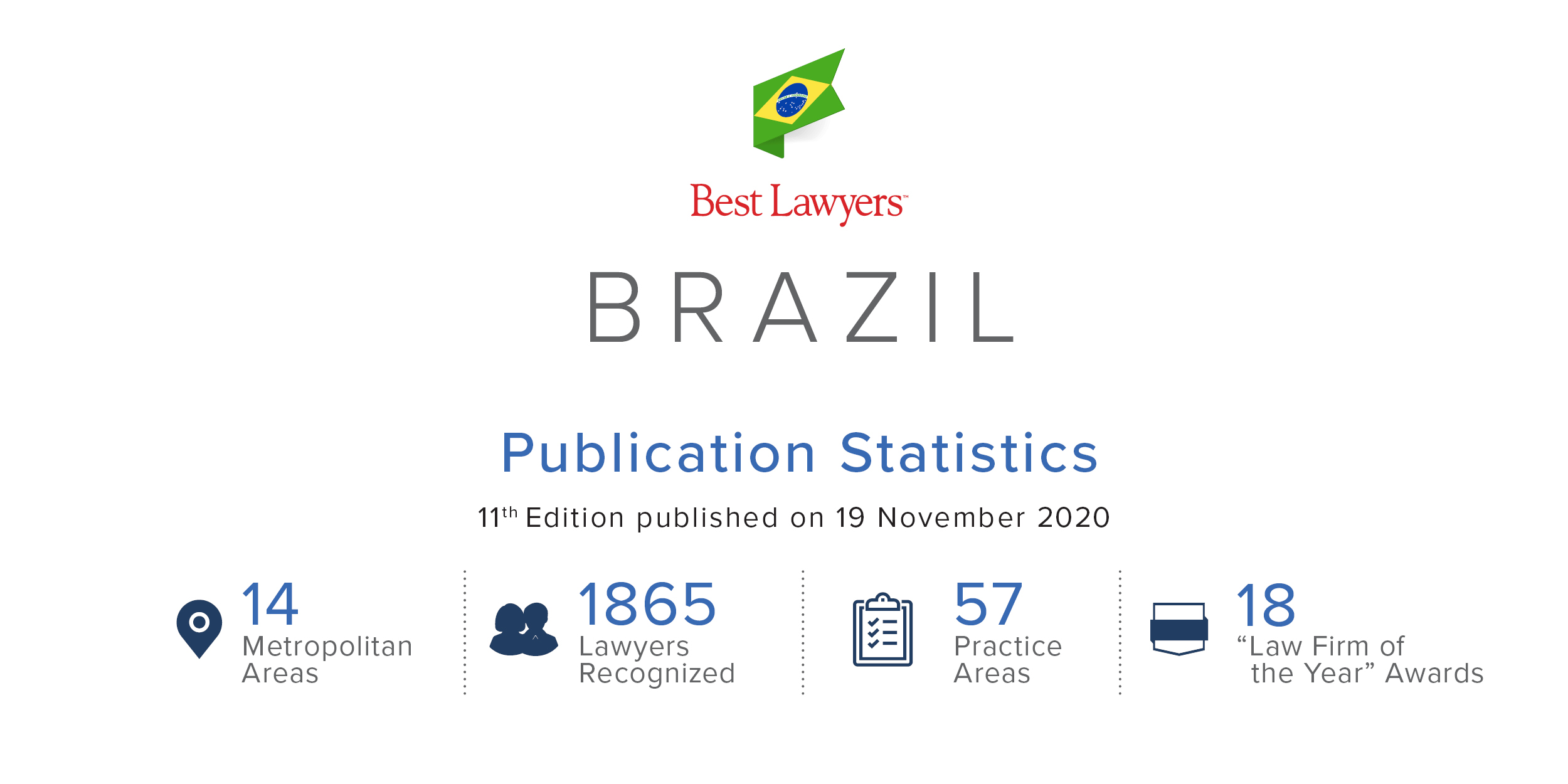 São Paulo is the top metropolitan area with the most number of lawyers recognized. The most-searched practice area in Brazil is Tax Law, followed by Corporate and M&A Law, Litigation, and Intellectual Property Law. Corporate and M&A Law had the most recognized lawyers among all specialties, with Tax Law, Litigation, and Intellectual Property Law following.
We are also excited to announce the 18 law firms who received the prestigious "Law Firm of the Year" award for excellence within a specific practice area.
The 2021 Brazil "Law Firm of the Year" Honorees:

Administrative Law
Pereira Neto Macedo Advogados
Arbitration and Mediation
Sergio Bermudes Advogados
Banking and Finance Law
Pinheiro Neto Advogados
Capital Markets Law
Lefosse Advogados
Competition / Antitrust Law
TozziniFreire Advogados
Corporate and M&A Law
Pinheiro Neto Advogados
Corporate Criminal Law
Felipe Martins Pinto Sociedade de Advogados
Environmental Law
Milaré Advogados
Insolvency and Reorganization Law
Thomaz Bastos, Waisberg, Kurzweil Advogados
Insurance Law
Demarest Advogados
Intellectual Property Law
Kasznar Leonardos

Labor and Employment Law
Veirano Advogados
Litigation
Sergio Bermudes Advogados
Natural Resources Law
Schmidt, Valois, Miranda, Ferreira & Agel
Project Finance and Development Practice
Machado, Meyer, Sendacz e Opice Advogados
Real Estate Law
Duarte Garcia, Serra Netto e Terra Advogados
Tax Law
Trench Rossi Watanabe
Technology Law
Mattos Filho, Veiga Filho, Marrey Jr. e Quiroga Advogados

Interested in seeing Best Lawyers honorees from Brazil? Use our Find a Lawyer tool to search by location and specialty.
Access the full report of Best Lawyers international releases, updated continuously.