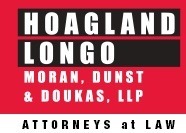 Hoagland, Longo, Moran, Dunst & Doukas, LLP
Headquarters
40 Paterson Street
New Brunswick, NJ 08903
United States
(732) 545.4717
Firm Details
Hoagland, Longo, Moran, Dunst & Doukas celebrated 40 years of service in 2017. Such a milestone can be attributed to our team of high caliber attorneys, staff, and culture of cultivating professional excellence. Since our founding in 1977 as a small firm in New Brunswick, we have grown into our solid reputation and present status as a regional firm with additional locations throughout New Jersey and a presence in New York.

Through our success, we have always maintained our small firm mindset and environment of collegiality which goes hand in hand with our dedication to delivering stellar results for our clients. As a full-service law firm, Hoagland, Longo, Moran, Dunst and Doukas is committed to the highest standards of professional competence, innovative thinking, and client advocacy to help make the often complex terrain of legal matters simple to navigate.
We believe that the practice of law is first and foremost an honorable profession, and that collegiality, mentoring, and civility, both professional and personal, are important and essential parts. Many of our Partners have been with the firm since the start of their own careers and have directly helped the firm expand from a start-up of 10 attorneys to today's 90 plus. Our attorneys are approved counsel for many major insurance carriers with a strong focus on complex civil litigation. From construction to health care, environmental law to family law – with many important practice areas in between – our firm is dedicated to the diverse clients and industries we represent and serve.
Management
Top Listed City Awards
Top Listed in New Brunswick with 15 lawyers
Top Listed in New Brunswick in Construction Law with 4 lawyers
Top Listed in New Brunswick in Litigation - Construction with 5 lawyers
Awards
NJ Smart Workplace Bronze Award
New Jersey Super Lawyers (multiple attorneys)
New Jersey's Best Lawyers (multiple attorneys)
Irish Legal 100 (2 attorneys)
Trial Bar Award
Hon. Herman Breifkopf Award
New Jersey Super Lawyers Rising Stars (Multiple Attorneys)
New Jersey Law Journal's 2019 list of New Jersey Trailblazers
New Jersey Defense Association Young Lawyer of the Year
NJBIZ Icon Honors Award
National Law Journal List of ADR Champions
Contacts
Firm Practice Areas
Administrative / Regulatory Law
Appellate Practice
Arbitration
Architects and Engineers
Cannabis Law
Civil Rights Law
Collaborative Law: Family Law
Commercial Litigation
Construction Law
Corporate Law
Criminal Defense: General Practice
Elder Law
Eminent Domain and Condemnation Law
Employee Benefits (ERISA) Law
Employment Law - Individuals
Employment Law - Management
Environmental Law
Ethics and Professional Responsibility Law
Family Law
Family Law Arbitration
Family Law Mediation
Health Care Law
Immigration Law
Insurance Law
Land Use and Zoning Law
Legal Malpractice Law - Defendants
Leisure and Hospitality Law
Litigation - Construction
Litigation - Environmental
Litigation - ERISA
Litigation - Health Care
Litigation - Insurance
Litigation - Labor and Employment
Litigation - Land Use and Zoning
Litigation - Municipal
Litigation - Real Estate
Litigation - Trusts and Estates
Mass Tort Litigation / Class Actions - Defendants
Mediation
Medical Malpractice Law - Defendants
Municipal Law
Personal Injury Litigation - Defendants
Product Liability Litigation - Defendants
Professional Malpractice Law - Defendants
Real Estate Law
Tax Law
Trusts and Estates
Workers' Compensation Law - Employers