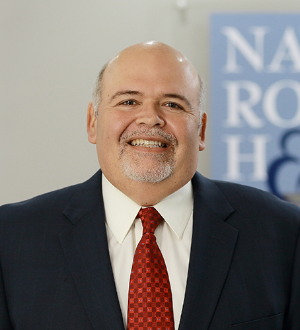 ---
Recognized since 2018
San Juan, Puerto Rico
Practice Areas
Employee Benefits Law
Litigation
Gerardo J. Hernández is a partner at Hernández & Gorrín. Mr. Hernández is a graduate of Marquette University and Marquette University Law School, where he served as Executive Editor of the Marquette Sports Law Journal as was a Noel P. Fox scholar. He is admitted to practice in the State Bar of Wisconsin, the Commonwealth of Puerto Rico and before the federal courts in Wisconsin and Puerto Rico. Mr. Hernández focuses his practice in serving stateside and local employers in the retail, distribution, construction and other industries in the areas of employment law counseling and litigation, as well as premises liability litigation. Prior to joining the Firm, Mr. Hernández was a Partner at Estrella, LLC where he was the Chair of the Firm's Employment Law Practice. He is also a former Corporate Counsel and H.R. Director for Wal-Mart Puerto Rico, Inc. Mr. Hernández has substantial experience in employment matters regarding business reorganization and acquisition, internal investigations and personnel management, as well as administrative agency investigation and litigation of employment matters at agency, courts and administrative forums. Martindale-Hubbell has awarded Mr. Hernández a Client Distinction Award. Mr. Hernández is a member of the Hispanic National Bar Association, and is the Secretary of the Board of Directors of Enactus Puerto Rico, a non-profit organization geared at promoting entrepreneurial projects in economically disadvantaged areas throughout Puerto Rico.
Location
VIG Tower, Suite 1005
1225 Ponce de León Avenue
San Juan 00907
Puerto Rico
Demographics
Gender: Male
Ethnicity: Hispanic or Latino
H&G
Hernández & Gorrín, LLC
---
San Juan, Puerto Rico
1 The Best Lawyers in Puerto Rico™ award
Full Firm Profile
Recognized in The Best Lawyers in Puerto Rico™ 2023 for work in:
Employee Benefits Law
Litigation
Tell us a little bit about your practice and what makes it unique.
My practice focuses in assisting companies with employment, consumer protection and general liability litigation in Puerto Rico. The fact that I work with many companies whose headquarters are outside of Puerto Rico, requires that I assist these companies with learning about the particular nuances of Puerto Rico's laws and legal system. We have a civil code based system and different culture which makes the handling of litigation in Puerto Rico way different from what is done in the United States. A significant part of my interaction with my clients is teaching them about those differences and guiding them through a rather complex legal environment. On many occasions, I am their only guide through a rather complex road.
What common questions are you asked by clients, and what are your answers?
Many of the questions asked by clients involve topics of the unique nature of our laws and legal system. Many perceive the system as being rather slow and informal. My role is to explain the specific laws that may apply to a specific situation and to guide them in dealing with the issues that are unique to our jurisdiction.
Describe one of your most interesting or memorable cases in the past year.
Most of my cases involve defending companies against claims challenging the termination of a particular employee. In Puerto Rico, contrary to the United States, there is no employment at will and an employer bears the burden of proof in showing that the termination in question was with just cause. Hence, many of the cases I am involved with entail identifying, organizing and presenting the evidence of all the different instances of policy violations or performance issues that led to a particular termination. The challenge of these cases is that more often than not key witnesses are no longer with the Company and getting them to cooperate, especially when they no longer reside in the Island can be quite a challenge. The defense of these cases not only involves knowing the law and rules, but also being able to communicate well with people in order to get them to cooperate in a particular case where they are not necessarily interested in being involved.

That has been the case in a discrimination case that I have been working on during the past year. As defense counsel you wear many hats, including one of being a private investigator of sorts and being able to locate and obtain the cooperation of witnesses who were not available at a point in time. Fortunately, through our efforts we were able to reconnect with several key witnesses who will now be a very important part of our case.
What is most challenging about your area(s) of expertise?
The greatest challenge of employment cases in Puerto Rico is dealing with laws that are very unique and getting clients to understand that uniqueness. Also, getting clients to understand the paternalistic nature of many of our laws and the lenient nature of our courts in cases that should be dismissed earlier in the process.
Were there any particular inspirations (people or events) that spurred your interest in your practice area(s)?
I had several professors in law school that really inspired my interest in employment law and litigation. They were very passionate in the way they went about teaching which attracted greater interest on my part. I also feel that being a Hispanic living in a community with a small Hispanic population gave me a very interesting perspective which inclined my interest towards employment and civil rights legislation.
What other interests do you have?
I am a big sports fan and have been fortunate enough to have a wife that enjoys attending sporting events and a son (currently 9 years old) that is a pretty good athlete. Hence, I spend a significant amount of time either coaching my son's pee wee football team and attending his basketball games. We also travel to watch NFL games and other sporting events, which we all enjoy. I am also a very good cook and my wife and I like to entertain family and friends. I have been very fortunate to keep a good balance between my work and personal life.
Anything else you'd like to share?
Perhaps my greatest achievement in my profession is having my peers and clients recognize the quality of work that I do and how I conduct myself while doing it. While I do realize that the legal profession is results driven, I am totally convinced that you can do an excellent job for your clients while maintaining a cordial and respectful relationship with your peers, even in the most contested of cases.
Your browser is not fully compatible with our automatic printer friendly formatting.
Please use the print button to print this profile page.