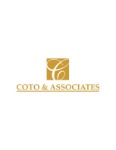 ---
Headquarters: San Juan, Puerto Rico
1 The Best Lawyers in Puerto Rico™ award
Coto & Associates is currently composed of four (4) attorneys, with a Managing Partner, two (2) Associates, one (1) Special Counsel, and one (1) Paralegal. The firm was originally formed in January 1999, when Ramón Coto-Ojeda separated from the local corporate firm of McConnell Valdés, Puerto Rico´s largest law firm, after over fifteen (15) years in that practice.
As can be discerned from our individual and firm profiles, and from our representative client list, Coto & Associates' practice is a multi-disciplined corporate full legal services firm. We grant our clients streamlined staffing of cases and matters, directly through one of the experienced partners, rather than through tiers of associates or senior/junior partners. In addition, all the attorneys strive for accessibility and agility in responding to clients' requests in a results-oriented fashion. We seek to address issues rapidly yet maintaining control of legal expenses for our clients. We attempt to make our clients' issues and concerns our own.
Coto & Associates is engaged in the following practice areas: general civil, commercial, securities, tax, and environmental litigation, petroleum marketing practices, liquid petroleum gas industry, warranty, and products liability, food claims, bids, and government procurement, corporate, real estate, commercial banking, telecommunications, trusts, and estates, bankruptcy and workouts, collections, and foreclosures, antitrust and trade regulation, alternative dispute resolution, trademarks, and copyrights, distribution and franchising, labor and employment law, and Cuba matters. We have substantial experience in practically all facets of the petroleum industry has represented Shell, Esso, Gulf, and Tropigas de Puerto Rico, Inc. We have a handle warranty and product liability cases and matters for several clients in the food processing industry and appear regularly before the Department of Consumer Affairs ("DACO", for its Spanish acronym) on these and other enforcement proceedings related to the petroleum and automotive industries. We also handle our corporate clients' consumer affairs issues, claims, and regulatory affairs involving such varied areas as labeling, deceptive advertisements, unfair trade practices, advertisements, contests, and promotions all of which fall under the DACO umbrella.
Another one of our strongest practice areas is distribution and franchise law and, in particular, Act 75 and Act 21 consultations, contract preparation, and related documentation, mediation (both as advocates for clients and as mediators), arbitration (both as advocates and as party-appointed arbitrators or selected by peers as the third arbitrator or the sole arbitrator), and litigation. Our firm has been named to Puerto Rico Best Lawyers© listing for seven (7) consecutive years in the practice areas of Franchise Law (that encompasses distribution law), Intellectual Property Law, and Litigation. We have handled diverse matters of distribution and sales representation relationships involving hundreds of goods and services in numerous industries including food, confections, and food services, distilled spirits (including beer and wine), medical devices, pharmaceuticals, automotive, tobacco, advertising sales, telecommunications, and bicycles, among others.
The firm also has handled securities industry customer claims against the firm's securities clients, including arbitrations and mediations, over allegations of churning, lack of supervision, compliance, unauthorized trading, and selling away cases, before the Financial Industry Regulatory Authority (FINRA), which is the largest independent regulator for all securities firms. We have worked with several corporate clients in the Caribbean, Central and South America initiatives in developing and overseeing specific projects. We are also involved in real estate work, including negotiations of shopping center leases and other projects, for several clients in the retail, telecommunications, construction, and petroleum industries. We have worked in the past with several title insurance companies and successfully litigated or resolved numerous claims arising under title insurance policies. We believe that the attorneys' vast alternative dispute resolution experience-both as mediators and arbitrators- is key to any process of ascertaining early on the least cost vs. best-case outcomes of claims and disputes.
Management & Demographics
Management & Personnel
Demographics
Management / Department Heads
Women: 1
Clients
Clients
Acciona Infraestructura, S.A.
Artic-Kar
Banco de Sangre de Humacao, Inc.
Banco de Sangre de Servicios Mutuos, Inc.
Bermúdez, Longo, Díaz, Masso, LLC
Brightview Landscape
Clemens Foods
Clifford Chance
Correctional Health Services Corp.
Data Access
Dell Computer Corporation
Discover Financial Services
Dr. José Guillermo Amy
First Transit
General Auto Interior, Inc.
Gerald Christiansen Santaella
Grocery Manufacturers Association
Groopal Bank
Hogan Lovells
James River Insurance
Liberty Mutual Insurance
Los Cangris, Inc.
Mandys BBQ
McCain Foods
Metric Engineering of Puerto Rico, PSC
Metric Engineering, Inc.
Nacco Materials Handling Group, Inc.
Nestlé Puerto Rico, Inc.
Payco Foods Corporation
Procore Technologies, Inc.
Progasco, Inc.
Quirch Foods
Stonecrest Partners
System One
Terumo Acquisition
Tire Group Inc
Transcaribbean Maritime Corp
Tropigas de Puerto Rico Inc.
Tyson Foods
Winnet Connection
World Films Inc.
Administrative Law
Appellate Practice
Arbitration and Mediation
Banking and Finance Law
Communications Law
Competition / Antitrust Law
Construction Law
Corporate and M&A Law
Employee Benefits Law
Energy Law
Environmental Law
Franchise Law
Insolvency and Reorganization Law
Intellectual Property Law
International Arbitration
Investment
Labor and Employment Law
Litigation
Personal Injury Litigation
Privacy and Data Security Law
Product Liability Litigation
Real Estate Law
Structured Finance Law
Tax Law
Technology Law
Trade Law
Transportation Law
Trusts and Estates
Awards
Best Lawyers for Puerto Rico 2020

-Franchise Law

-Intelectual Property Law

-Litigation

Best Lawyers for Puerto Rico 2019

-Franchise Law

-Intelectual Property Law

-Litigation

Best Lawyers for Puerto Rico 2018

-Franchise Law

-Intelectual Property Law

-Litigation

Best Lawyers for Puerto Rico 2017

-Franchise Law

-Intelectual Property Law

-Litigation

Best Lawyers for Puerto Rico 2016

-Franchise Law

-Intelectual Property Law

-Litigation
Your browser is not fully compatible with our automatic printer friendly formatting.
Please use the print button to print this profile page.