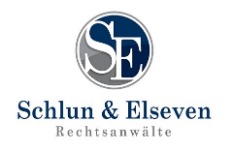 Schlun & Elseven Rechtsanwälte
Firm Details
Schlun & Elseven Rechtsanwälte PartG is a law firm with offices in Aachen, Cologne and Düsseldorf. Apart from our offices we also have conference rooms in Munich, Hamburg, Stuttgart, Frankfurt and Berlin in order to conduct or take over legal proceedings at any other location in Germany.

Our team consists of highly qualified lawyers with many years of practical experience, who are able to steadily advise and represent clients in English. With a track record in various areas of expertise, our team makes are able to advise clients on a broad range of complex legal issues.
As a full-service firm we are pleased to offer a comprehensive in house legal advice, making it simpler for you and allowing us to follow your case with scrutiny from its commencement until its resolution.
Firm Practice Areas
Advertising Law
Art Law
Construction Law
Corporate Law
Criminal Defense
Employee Benefits Law
Entertainment Law
Family Law
Gaming Law
Immigration Law
Media Law
Technology Law
Transportation Law
Office Locations
Germany
Germany
Cologne, Germany
Kyffhäuserstr. 45
Cologne 50674
Germany