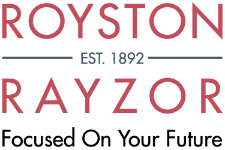 ---
Headquarters: Houston, Texas
10 The Best Lawyers in America® awards
2 Best Lawyers: Ones to Watch in America awards
Visit Best Law Firms profile for Royston Rayzor
Firm History
When Martin H. Royston opened his law office in 1892 in Galveston, it was the wealthiest city in Texas. With a booming economy based on the state's biggest port, Galveston was the busiest financial center between New Orleans and San Francisco. Disaster struck when the hurricane of 1900 destroyed much of the island. With the vulnerability of the port of Galveston tragically demonstrated, the small, protected inland port of Houston began to grow. This port soon overtook Galveston's, and Houston became the preeminent economic force in Texas.

Royston built a thriving general practice in Galveston and also represented the port and many of its ancillary businesses. His first partner, J. Newton Rayzor, recognizing the growing importance of Houston, opened another office for the Firm there in 1927. The two offices grew as they handled maritime and general legal problems, with Houston eventually becoming the larger office. Royston and Rayzor laid a foundation of respect, solid ethical values and professional competence.

In 1947, the greatest industrial disaster in American history occurred in Texas City, only ten miles from Galveston and forty miles from Houston. Two ships exploded while loading ammonium nitrate at the port. Over one-third of the homes in Texas City and a third ship were destroyed; 581 people were killed and approximately 3,500 were injured. Total property losses at the time, including ships, were estimated at more than $100,000,000. The legal cases that resulted brought Royston & Rayzor increasing recognition. The Firm's leading position in these cases was a significant milestone in its emerging reputation as the dominant voice in Texas in the field of maritime law.

Ultimately representing many of the English, Japanese, Chinese, and Scandinavian protection and indemnity clubs; American and foreign carriers; and shipping lines around the world, the Firm also pioneered in legal work for offshore oil companies and drilling contractors. In 1958, the Firm became Royston, Rayzor & Cook; and in 1972, the Firm name changed to Royston, Rayzor, Cook & Vickery; and in 1976, the Firm evolved to Royston, Rayzor, Vickery & Williams.

During these years, the Firm represented non-maritime clients also. For over 60 years, it served the Texas Employers Insurance Association. Until General Foods merged with another company, Royston, Rayzor, Vickery & Williams represented the company in a variety of matters. That representation started in the early 1940s, when General Foods came to the Firm because of a problem they had with a large shrimp fleet one of their divisions owned. They were convinced that the captains of some of the boats were stealing from them by diverting part of their catches to other dealers. Unable to prove this, they hired M. L. Cook to sell the entire fleet. His efficiency and competence impressed them, and the Firm became their Houston attorneys. After the initial sale of the shrimp boats, none of their work involved the maritime industry. The Maxwell House division of General Foods began its long association with Royston & Rayzor. Most of the work involved the purchase of land, easements, railroad tracks and even streets as Maxwell House built and then expanded a large coffee plant.

The last case that M. L. Cook handled for General Foods before he retired was a request to maintain a "watching brief" of a bill that had been proposed in the Texas Legislature that would tax powdered sugar, a major ingredient in General Foods popular Kool-Aid drink. M. L.'s final report to them was a good example of his direct style:

Dear Sirs:
We are pleased to report that your property is safe. The legislature has adjourned.
Yours truly,

General Foods was so delighted with this concise account that they framed the letter and hung it at their corporate headquarters in White Plains, New York.

In 1972, managing partner Edward D. Vickery led a successful effort to amend the Longshoreman and Harbor Workers' Compensation Act. Representing several maritime associations on the Gulf Coast and working with representatives of other maritime associations, Vickery assisted in drafting the legislation and testified before two Congressional committees, successfully urging its passage. These amendments, which benefitted his clients because they eliminated a large block of three-party suits, were not advantageous to Vickery's Firm, which lost that business. As Vickery says, "A lot of times, the work that you do for a client is contrary to your own personal interest; this is proper and reasonable and just."

In another instance of anticipating and eliminating problems for clients, in 1978 the Firm on its own initiative again influenced American law. The Firm wrote the brief that was endorsed by the Supreme Court when it repealed an earlier lower court decision expanding monetary recoveries against offshore drilling operators and shipping companies in wrongful death actions.

In the 1970's and 1980's, Royston, Rayzor, Vickery & Williams handled a series of major ship collision cases. With the advent of supertankers, it became a leader in rapid response to oil spills, developing the expertise before the government organized a national program. Quickly mobilizing Firm experts to handle the legal, environmental, and personal problems resulting from oil spills, it worked rapidly and forcefully to contain the damages.

At the urging of clients, the Firm opened offices in Brownsville (1977) and Corpus Christi (1986), effectively covering the coast of Texas.

A massive explosion and fire at the Houston Chemical Complex of Phillips 66 Company in Pasadena, Texas in October, 1989 resulted in 23 deaths, hundreds of property damage claims, and 1,091 lawsuits with a total of 2,528 plaintiffs filed for compensation for injuries. Representing the insurance carrier, Royston, Rayzor, Vickery & Williams worked for almost five years during the 1990s settling these claims.

As it strides through its second century, Royston, Rayzor, Vickery & Williams is doing what it has always done: putting its clients' interests ahead of its own and serving them with the highest standards of competence and integrity.

Management & Demographics
Clients
About Our Clients
Royston Rayzor serves businesses in various industries in the private and public sectors, including:

Business
Chemical
Energy
Environmental
Financial Institutions
Health Care
Human Resources
Insurance
Manufacturing
Maritime
Retail
Technology
Trucking


Admiralty and Maritime Law
Personal Injury Litigation - Defendants
Your browser is not fully compatible with our automatic printer friendly formatting.
Please use the print button to print this profile page.