Firm Profile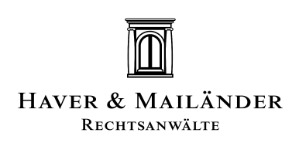 Haver & Mailänder Rechtsanwälte
Firm Details
HAVER & MAILÄNDER is one of the most successful, independent, medium-sized law firms with a strong international focus. Founded in 1965, we advise companies, financial institutions, the public sector and private individuals in all areas of national and international commercial and corporate law.
With currently 30 attorneys in Stuttgart and Brussels, we rely on trustful cooperation based on personal contact with our clients. The first point of contact at HAVER & MAILÄNDER is always the partner who is responsible for the client because personal contact is the precondition for cooperation in a spirit of trust.
HAVER & MAILÄNDER's traditional strengths lie in its international networking and understanding of cross-border, European and international law. Our membership in the Law Firm Network guarantees excellent advice even in foreign legal Systems.
Top Listed City Awards
Top Listed in Stuttgart in Arbitration and Mediation with 4 lawyers
Awards
In 2020 The Legal 500 Germany has recognised HAVER & MAILÄNDER as the TOP TIER among commercial law firms of the Stuttgart Metropolitan Region

IURRATIO JOBS AWARDS 2020 - The best employers for legal clerkship - Top 10 Best Employer Stuttgart

HAVER & MAILÄNDER is honoured with strong points in "arbitration law" and as an "experienced antitrust law and litigation team" in the newly published handbook "Wirtschaftskanzleien 2019/2020" published by JUVE Verlag
Trendence Law 2018/2019/2020: Most attractive employer for junior lawyers
The law firm HAVER & MAILÄNDER was awarded the title "TOP Kanzlei 2020" in the legal area "Mergers & Acquisitions" in the current WirtschaftsWoche of 12 June 2020 and Dr. Peter Mailänder was recommended as "TOP Anwalt 2020"
Awarded in the field of competence arbitration/mediation by brand eins 5/2020


The Legal 500 EMEA awards HAVER & MAILÄNDER as TOP TIER 2020 in antitrust law - antitrust disputes, as well as in antitrust law, dispute resolution (including international arbitration), commercial and distribution law and public procurement law

HAVER & MAILÄNDER awarded as top law firm 2020 in the field of dispute resolution by FOCUS

In the most current handbook "Wirtschaftskanzleien 2020/2021" published by JUVE Verlag, HAVER & MAILÄNDER is once again recognised for our/their strengths in "arbitration law" and as an "experienced antitrust law and litigation team".

Once again excellent! HAVER & MAILÄNDER is once again one of the TOP 10 Best Employers in Stuttgart for legal traineeships. We are very pleased and will again do everything in our power to offer our legal trainees and students a top training programme
HAVER & MAILÄNDER once again recognised as TOP TIER 2021 by The Legal 500 Germany at Stuttgart Metropolitan Region's commercial law firms.


The Legal 500 EMEA again awards HAVER & MAILÄNDER as TOP TIER 2021 in antitrust law
Firm Practice Areas
Arbitration and Mediation
Banking and Finance Law
Competition / Antitrust Law
Corporate Law
Data Security and Privacy Law
Family Law
Information Technology Law
Intellectual Property Law
Labor and Employment Law
Litigation
Media Law
Mergers and Acquisitions Law
Real Estate Law
Restructuring and Insolvency Law
Sports Law
Telecommunications Law
Office Locations
Germany
Germany
Stuttgart, Germany
Lenzhalde 83-85
Stuttgart 70192
Germany