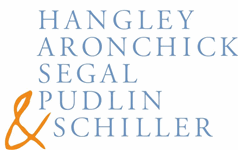 Hangley Aronchick Segal Pudlin & Schiller
Headquarters
One Logan Square, 27th Floor
Philadelphia, PA 19103
United States
(215) 568.6200
Firm Details
When our firm was founded in 1994, our idea was to build a firm of lawyers with superior academic credentials and professional capabilities who wanted to develop their practices in a creative and entrepreneurial environment. We think that we have succeeded. We have recruited extraordinarily talented lawyers to join us. We have created a dynamic, engaging and often entertaining office environment. What has resulted is a firm that is very highly regarded and that enjoys a growing national reputation for its quality work, innovative strategies and excellent results.

We offer a broad range of legal services to local, regional and national clients through our offices in Philadelphia, Harrisburg and Norristown Pennsylvania as well as Cherry Hill, New Jersey. Our diverse range of practice areas includes litigation, bankruptcy, business and corporate, education, environmental, family, real estate, tax and estates, and white collar criminal. We count among our clients universities, governmental entities, major corporations, individuals, and several of Philadelphia's and the region's largest professional firms.

Our firm roster includes two former Philadelphia City Solicitors, a former Chancellor of the Philadelphia Bar Association, law professors, fellows of the American College of Trial Lawyers, the American College of Bankruptcy Lawyers, and the American College of Real Estate Lawyers, and members of the American Law Institute. Most of our trial lawyers have clerked for federal judges; two of our colleagues have served as judicial clerks in the United States Supreme Court, one of our lawyers has served as a judicial clerk on the state Supreme Court, and 7 of our lawyers have clerked on federal circuit courts of appeals.

Firm Practice Areas
Arbitration
Bankruptcy and Creditor Debtor Rights / Insolvency and Reorganization Law
Bet-the-Company Litigation
Commercial Litigation
Education Law
Environmental Law
Family Law
First Amendment Law
Insurance Law
Litigation - Bankruptcy
Litigation - Environmental
Litigation - ERISA
Litigation - First Amendment
Litigation - Intellectual Property
Litigation - Mergers and Acquisitions
Litigation - Real Estate
Real Estate Law
Tax Law
Office Locations
United States
United States
New Jersey
New Jersey
Cherry Hill, NJ
20 Brace Road, Suite 201
Cherry Hill, NJ 08034-2634
United States
Pennsylvania
Pennsylvania
Harrisburg, PA
2805 Old Post Road, Suite 100
Harrisburg, PA 17110
United States
Norristown, PA
401 DeKalb Street, Fourth Floor
Norristown, PA 19401
United States
Philadelphia, PA
One Logan Square, 27th Floor
Philadelphia, PA 19103
United States