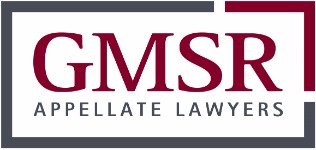 ---
Headquarters: Los Angeles, California
8 The Best Lawyers in America® awards
Visit Best Law Firms profile for Greines, Martin, Stein & Richland LLP
Trial and Appeal – Different Worlds
Trial lawyers specialize in persuading juries and judges to accept their clients' versions of the facts. Argument – and especially written argument – about legal issues usually takes second place to the presentation of compelling evidence.
When the trial court enters judgment, everything changes. The case then goes to a panel of appellate judges – for whom the trial court's conclusion about the facts is usually the only one that matters – and the field of battle shifts to whether the trial court applied the law correctly. The appellate court makes that decision on a written record of the trial proceedings, the strength of a couple of briefs and, at most, one short oral argument – sometimes none.
Appellate Lawyers' Special Skills
A fresh perspective. An appellate lawyer evaluates the case objectively based on these new realities, helping parties see the case the way the appellate court is likely to see it. Appellate counsel focuses on legal and procedural issues because appellate courts do; factual findings will almost never be reexamined. The key issues on appeal often differ from those that predominated at trial.
A deep understanding of the appellate process. Experienced appellate lawyers know how reviewing courts work, and they guide clients (and trial counsel) through that new terrain. The focus shifts away from trial-level proof issues, and toward a new framework: Is the judgment appealable? What standards of review will the court apply and how do those standards affect the strength of the client's potential arguments? Were any trial court errors preserved for appeal? Which issues are important and winnable, and which will only crowd the brief? Could this case shape the law, and if so, how?
Exceptional written advocacy. A trial-court team has many chances to explain complex legal and factual issues, in person and in writing. An appeal is different. Parties get only one or two chances – primarily through written advocacy – to educate generalist appellate judges about the relevant facts and law, and the strength of their position. Appellate counsel must streamline specialized concepts, eliminate surplus, and speak the language appellate courts understand.
A different kind of oral advocacy. Appellate judges often comment that trial lawyers who appear before them can't shake their "jury" presentation style. Appellate lawyers understand the totally different approach required in this new forum – where the core questions are legal, not factual, and 10-30 minutes of in-person, oral advocacy per side is the norm.
Appellate Courts Rely On Appellate Lawyers
Because the appellate courts know that experienced appellate practitioners speak their language and understand their decision-making process, such lawyers can earn the courts' trust in a way that trial counsel rarely can. As one California appellate court said:
[T]rial attorneys who prosecute their own appeals, such as appellant, may have "tunnel vision." Having tried the case themselves, they become convinced of the merits of their cause. They may lose objectivity and would be well served by consulting and taking the advice of disinterested members of the bar, schooled in appellate practice. We suspect that had appellant done so they would have advised him not to pursue this appeal.(Estate of Gilkison (1998) 65 Cal.App.4th 1443, 1449-50.)
Another court emphasized that "[a]ppellate work is most assuredly not the recycling of trial level points and authorities":
[A]ppellate practice entails rigorous original work in its own right. The [lawyer] who takes trial level points and authorities and, without reconsideration or additional research, merely shovels them in to an appellate brief, is producing a substandard product.(In re Marriage of Shaban (2001) 88 Cal.App.4th 398, 408-410.)
Appellate courts are acutely conscious of the differences between trial and appellate lawyers. Litigants should be, too.
It's Never Too Early To Call GMSR
Because of their special knowledge of what happens to cases on appeal, appellate lawyers can help protect and advise litigants while the case is still in the trial court. As soon as it's clear that one side or the other will take a case up on appeal, it's time to bring in appellate counsel to help the trial team position the case as favorably as possible. For over 30 years, clients have sought that expert help from GMSR.
Visit us at www.gmsr.com to learn more.
Clients
About Our Clients
We have represented a wide variety of clients in the state and federal appellate courts, including public entities, insurance companies and major corporations. For further details, please visit https://www.gmsr.com/client-services/.
Public Entities
City of Anaheim
City of Beaumont
City of Beverly Hills
City of El Monte
City of Huntington Beach
City of Los Angeles
City of Madera
City of Moreno Valley
City of Oceanside
City of Pasadena
City of Pismo Beach 
City of San Diego
City of San Francisco
City of Riverside
City of Union City
City of Westminster
Kern County
Los Angeles County 
Mesa Union School District
Riverside County
Santa Barbara County
San Bernardino County
San Francisco County
Santa Clara Valley Water District 
Sonoma County
Ventura County
Insurers
AIG Property Casualty 
Aspen Insurance Canal Insurance
Continental Casualty Company 
Farmers Group 
Farmers Insurance Exchange
Farmers New World Life Insurance
Fidelity National Fire Insurance Exchange 
Liberty Mutual Insurance
Safeco Insurance
State Farm 
Travelers Property Casualty Insurance Company 
Truck Insurance Exchange
XL, AXA
Zurich American Insurance Company
Medical/Healthcare
Cedars-Sinai Medical Center
Delta Dental of California 
Generations Healthcare
Hoag Memorial Hospital Presbyterian
Loma Linda University Medical Center
Prime Healthcare Services 
Sutter Health
Tenet Healthcare
United Healthcare 
Entertainment/Media/Sports
Alan Ladd, Jr.
Andre Young
Angelina Jolie
Anna Nicole Smith
Film Musicians Secondary Markets Fund
Golden State Warriors
Kim Basinger
MJJ Productions 
National Football League
Rebel Entertainment
Ron Shelton
The Los Angeles Times
William Morris Endeavor
Business
Abraxis Bioscience
AECOM
Biogen 
CBRE 
Citizens Business Bank
City National Bank
East West Bank 
Encino Motorcars
General Dynamics
General Growth Properties
Gulfstream Aerospace
Hilton Hotels
J-M Eagle 
Massage Envy Franchising
NetApp
Pacific Western Bank
Precise Aerospace Manufacturing
Sempra Energy
Service Corp International
Southern California Edison
Turo
United Parcel Service
Warren Pumps 
Wells Fargo Bank, N.A.  
Administrative / Regulatory Law
Appellate Practice
Arbitration
Bet-the-Company Litigation
Civil Rights Law
Commercial Litigation
Family Law
Government Contracts
Health Care Law
Insurance Law
Real Estate Law
Your browser is not fully compatible with our automatic printer friendly formatting.
Please use the print button to print this profile page.