Firm Profile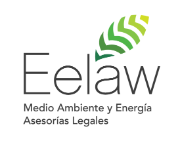 Firm Details
#WeAreEnvironmentalLaw
Commonly, in every setting and in any class of industry, situations arise that may result in environmental problems. Particularly, at present given that regulatory requirements on productive, manufacturing, mining and energy industries are more demanding.
The world is changing rapidly at an unprecedented pace, rendering EELAW's services crucial for a timely and suitable reaction.
We are pioneers in the field, as a firm exclusively dedicated to environmental law and at the forefront of the regulatory developments both national and international, through high level incisive legal analysis required for the development and implementation of all types of projects.
#WeAreEnvironmentalLaw, we are up-to-date in the issues and offer high quality and advanced legal services to clients in a range of fields related to the sustainable use of natural resources.
We provide legal advice on environmental regulatory issues to industry associations such as the National Mining Society (SONAMI). Also, we engage as active participants in the drafting of environmental regulations providing comments and policy proposals related to these matters.
We firmly believe in the total compatibility between economic activity and the sustainable development of countries, supporting our clients in the search for paths which allow them to fulfill their goals, while complying with existing regulations and creating positive bonds with nature, the territory and the communities within.
Our Method
We advise our clients in all their needs related to the fields of Environmental Law, Energy and Natural Resources, Pollution Control and provide the environmental legal advice required for a successful project. We collaborate in both the day-to-day operating needs as well as projects, environmental incidents or unforeseen events and/or environmental contingencies.
We counsel in:
Air, water, natural resources/species/waste licensing and other governmental approvals for projects, business transactions, modifications and expansions.
Preparation of emergency and crisis response plans / crisis management.
Continuous environmental monitoring and reporting duties of the organization.
Mine Closure regulations.
Performing environmental audits and internal regulatory investigations.
Monitoring of environmental regulatory changes.
Manage acquisitions and investments, which can pose environmental problems.
Participation in international efforts to agree on global environmental and chemical standards.
Advising Corporate officers and Boards of directors on emerging environmental issues.
Environmental compliance and enforcement regulations.
Environmental issues in due diligences, transactions and project development.Management of emerging environmental problems.
Management
Demographics
Associates
Women: 5
Men: 4
Management / Department Heads
Women: 1
Paralegals
Women: 4
Men: 4
Non-Legal Employees
Women: 5
Awards
Chambers and Partners 2021

Chambers and Partners 2020
Clients
Asociación de Generadoras de Chile
Compañía Minera del Pacífico
Compañía Minera Las Cenizas
SONAMI
Marimaca Copper Corp.
Haldeman Mining Company S.A
Aguas CAP
Mitsubishi
Alxar
Sierra Atacama
KDM SA
Contacts
Firm Practice Areas
Energy Law
Environmental Law
Mining Law
Natural Resources Law
Water Law
Office Locations
Chile
Chile
Santiago, Chile
Av. Apoquindo 3910, Piso 7
Las Condes
Santiago 7550029
Chile