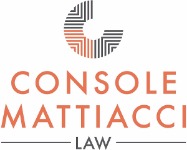 Headquarters
1525 Locust Street, Ninth Floor
Philadelphia, PA 19102
United States
(215) 545.7676
Firm Details
The attorneys at Console Mattiacci Law, LLC represent current, former, and prospective employees throughout Pennsylvania and New Jersey in matters relating to their employment. We are driven to be the top lawyers in this area by taking a personal approach and providing a tireless effort on behalf of every client. We fight tenaciously to obtain the best possible results for every one of our clients.
Pennsylvania and New Jersey employees have a number of legally protected rights. The laws of the federal government, the Commonwealth of Pennsylvania, the state of New Jersey and local laws in Philadelphia and other jurisdictions protect against many types of improper conduct by employers, including discrimination on the basis of sex, race, religion, national origin, color, disability, and age. Certain laws provide further protection from sexual harassment, pregnancy discrimination, and sexual orientation discrimination.
In addition, the laws provide employees with rights concerning medical and maternity leave, whistleblower protection, and fair wage and hour practices. These laws also provide important mandates, stating that an employer cannot retaliate against an employee who makes a complaint of discrimination, harassment, illegal conduct or wage law violations.
Philadelphia Employment Lawyer
If you are seeking justice for a violations of your rights in your workplace, having experienced legal counsel on your side can make a tremendous difference in the results of your case. Demanding your legal rights from an employer can be an intimidating process, but a skilled attorney on your side can give you confidence in the process ahead.
Our clients come from all over Pennsylvania and New Jersey, including but not limited to Philadelphia, Montgomery County, Chester County, Delaware County, Bucks County, Camden County, Burlington County, Gloucester County, Atlantic County, Ocean County and Cape May County.
Demographics
Associates
Women: 2
Men: 5
Paralegals
Women: 6
Men: 1
Contacts
Kim Myers
Office Manager
215-545-7676
Firm Practice Areas
Employment Law - Individuals
Litigation - Labor and Employment
Office Locations
United States
United States
New Jersey
New Jersey
Moorestown, NJ
110 Marter Avenue, Suite 502
Moorestown, NJ 08057
United States
Pennsylvania
Pennsylvania
Philadelphia, PA
1525 Locust Street, Ninth Floor
Philadelphia, PA 19102
United States