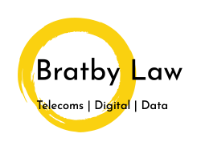 Firm Details
Bratby Law is an English legal boutique providing global legal, regulatory and transactional advice in the telecoms, digital and data sectors.
Rob Bratby has over 25 years of experience as a telecoms, digital and data lawyer. He has worked for the UK telecoms regulator, in-house at a leading European telecoms carrier as well as leading City and US law firms in London and Singapore.
Management
Demographics
Management / Department Heads
Women: 1
About Our Clients
We work with telecoms providers, digital businesses, data-intensive businesses, law firms and governments and regulators.
Telecoms providers
We have worked with telecoms business in different lines of business, varying stages of development and all around the world.
Whether you are an established multi-national multi-division business or a start-up we can help you.
Rob has rounded experience of working in-house at a telecoms operator and the UK telecoms regulator.
Digital businesses
We have particular expertise working with data centre providers, tower providers and on-line businesses.We have worked both with our on-line businesses and traditional business using technology.
Data-intensive businesses
Both personal data and big data are board level issues for businesses of all types.
Come to us for issues and perspectives beyond box-ticking GDPR compliance.We have advised on cyber-breaches and crisis management. If this happens to you – call us.
Law firms
We act as UK and EU local counsel to international law firms.
We co-counsel on telecoms, digital and data issues for the largest transactional law firms.
We can act as your local counsel, or as 'white-label' member of your team.
Governments and regulators
We advise governments and regulators in Europe and Asia.
Firm Practice Areas
Corporate Law
Privacy and Data Protection Law
Technology Law
Telecommunications Law
Office Locations
United Kingdom
United Kingdom
London, United Kingdom
40 Bank Street, Level 18
London, GB E14 5NR
United Kingdom