Year after year, firms use surveys to collect responses from clients about what they want and expect from outside counsel. Repeatedly, clients say they want their law firms to provide efficient service, transparency, metrics, and clear communication. However, many claim that they aren't receiving it.
Melissa Prince, Ballard Spahr's Chief Client Value and Innovation Officer, wants firm clients to have a different experience.
"Clients are telling their law firms loud and clear what they're looking for," said Prince. "To show them that we're listening, we needed to design a new approach for how we deliver and talk about the work we do."
Since 2018, Ballard Spahr's Client Value and Innovation Program (CVIP) has saved clients an estimated $100 million in fees and has been recognized by The National Law Journal, Financial Times, The American Lawyer, and BTI Consulting. More importantly, clients are appreciative.
"We've heard nothing but good things about our Client Value and Innovation Program," said Minneapolis Office Managing Partner Karla Vehrs. "It promotes fee certainty and transparency, provides detail and specificity on how we staff, execute, track, and bill matters, and is a market differentiator and value-add for us."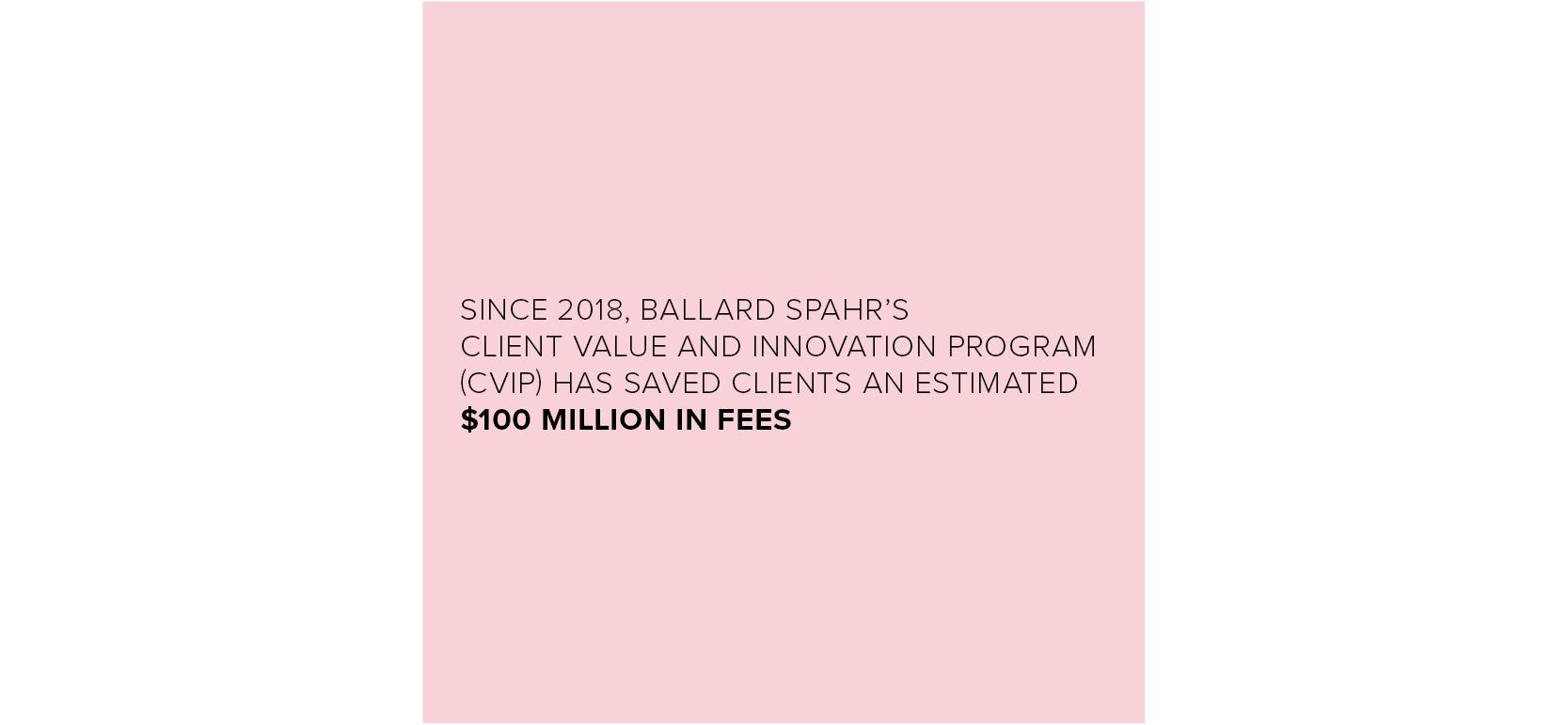 Ms. Prince and her team have helped Ballard Spahr deliver on client expectations in three ways:
Prioritizing Communication and Feedback: The CVIP expands on the work being done by Ballard Spahr's Client Interview Program. "At the outset, we begin with a conversation," Prince said. "This helps us understand a client's business, including its needs, challenges, goals, and definition of success. Throughout each engagement—and after it ends—we keep track of performance goals and seek feedback to ensure that we're providing exceptional value and service."
Drawing from a Broad Range of Talent: Ms. Prince hand-selected her team members from a cross-section of fields, including former practicing attorneys, MBAs, finance professionals, software developers, and data scientists. "Our depth of experience and industry-specific approach gives us a more complete understanding of our clients and the challenges they face," Prince said. "We take that knowledge and use it to help clients mitigate risk, locate opportunities, and get where they need to be—ahead of the competition."
Ensuring Airtight Information Security: Following a rigorous assessment and accreditation process, Ballard Spahr has achieved certification under ISO 27001, the premier global security standard. Certification requires a framework of processes and control specifications designed to protect the confidentiality, integrity, and availability of the client and firm information assets. Ballard Spahr is continually assessed by the Professional Evaluation and Certification Board to ensure that our information security system conforms to its strict requirements and evolves to address new threats and technologies. "Our clients rightly expect that their attorneys will take every precaution to protect their confidential information," Prince said. "We don't want there to be any question as to the safety of the information they share with us. Because we can take that concern off their minds, they're free to focus on partnering with us as we work to solve their problems."
Ultimately, the CVIP expects to evolve as it tailors itself to emerging challenges and client needs. The team is committed to partnering with clients and delivering the value that clients aren't getting from other firms. Our CVIP team also understands that it's now in fierce competition with alternative legal services providers who are competing with lawyers to perform legal more cheaply and innovatively through the use of technology.
"Our legal work is second to none, and our client service needs to be, too," Prince said. "Our goal is to keep our core values in mind and respond in an agile and forward-thinking way when new developments occur and clients need our help."
Emilia Levisay is the Manager of Client Value and Innovation for Ballard Spahr. Emilia is focused on understanding the business needs of firm clients and developing practical and innovative pricing and legal project management strategies and solutions designed to meet those needs. The team's objective is to provide firm clients with exceptional service centered on value, cost-effectiveness, predictability, and efficiency.