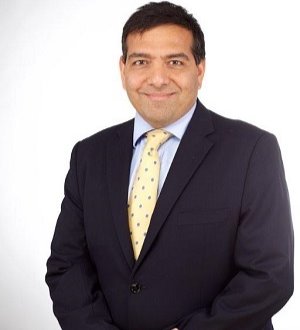 ---
Anjarwalla & Khanna
Recognized since 2008
Nairobi, Kenya
Practice Areas
Corporate Law
Franchise Law
Mergers and Acquisitions Law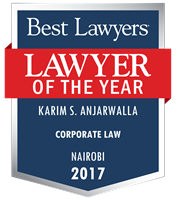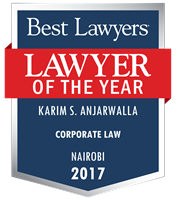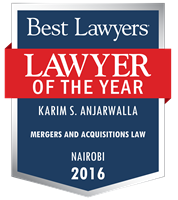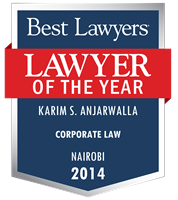 Karim Anjarwalla is the Managing Partner and heads the firm's Corporate Department at Anjarwalla & Khanna (A&K), one of Kenya's premier law firms and one of the largest in East Africa. Karim has a wide array of experience advising domestic, regional and international clients on capital markets transactions, mergers and acquisitions, joint ventures and private equity investments.
Karim is consistently involved in the most prominent transactions in the region. He recently advised the Kenyan Government on its USD 2 billion sovereign eurobond issuance – the largest sovereign debut debt issue in Sub-Saharan Africa to date – as well as the subsequent USD 750 million tap issue. This deal was awarded African Deal of the Year at the Global Capital Emerging Markets Bond Awards 2014 and won A&K Best Legal Transaction Advisor at CfC Stanbic and Think Business' Investment Awards 2014. He also acted on the largest private equity investment in Kenya, representing Equity Bank on its sale of a minority stake to Helios Investment Partners, and represented Helios on its recent sale of half of its stake in Equity Bank to Norfund. Karim also advised Essar Telecom Kenya on its entry into and subsequent divesture from the Kenyan mobile phone market, which resulted in the consolidation of the market from four to three providers.
Under Karim's leadership, A&K established ALN the first and most integrated alliance of leading independent law firms in Africa aimed at providing seamless legal services on a multijurisdictional basis. Since its inception in 2004, ALN has expanded into 13 jurisdictions in Africa with an affiliate office in Dubai.
Karim is a high profile member of the business community and actively supports the advancement of investment in the region. He was very involved in the recent signing of a Memorandum of Guidance between the Kenyan Judiciary and the Dubai International Financial Centre Courts regarding the enforcement of money judgments between the two courts and countries.
Karim is regularly an invited expert at various international legal and business forums and has spoken at events held by Peking University, New York University and Cambridge (the collective sponsors of the International Institute for the Study of Cross-Border Investment (XBMA)), the Milken Institute, Wharton, and Harvard.
He is rated as a Leading Lawyer by Chambers Global, IFLR1000 and Legal 500 and is featured in Who's Who Legal.
Karim is an Advocate of the High Court of Kenya and an English Solicitor.
Location
3rd floor, The Oval
Junction of Ring Road Parklands & Jalaram Road Westlands
P.O. Box: 200
Sarit Centre
Nairobi 00606
Kenya
Bar Admissions
New York, New York State Bar Association
Affiliations
African Venture Capital Assocation - Legal & Regulatory Committee Member
East African Law Society - Member
Law Society of England and Wales - Member
Law Society of Kenya - Member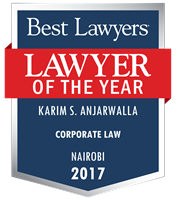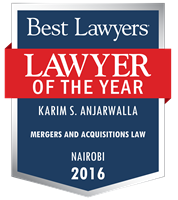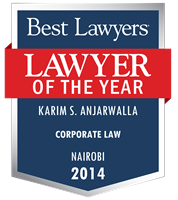 Named "Lawyer of the Year" by Best Lawyers® for:
Corporate Law, Nairobi, Kenya (2017)
Mergers and Acquisitions Law, Nairobi, Kenya (2016)
Corporate Law, Nairobi, Kenya (2014)
Recognized in The Best Lawyers in Kenya™ 2017 for work in:
Corporate Law
Franchise Law
Mergers and Acquisitions Law
Real Estate
Acting for Maiyan Holdings in connection with its 24 hectare, integrated, mixed-use development consisting of a hotel, recreational facilities, residential homes and development plots in Kenya, including advising on overall project structure, management structure, legal and regulatory issues and compliance, legal risks and tax efficiencies, negotiating and drafting the subscription and shareholders agreement and management contracts as well as drafting the form letter of offer, lease agreements and sales agreements for the development plots and residential homes. Once completed, the development will be the largest of its kind in Nanyuki, Kenya.
Acting for The Oval on its development of a 120,000 square feet Grade A commercial building comprised of high end offices and retail space, including drafting and negotiating sale agreements for certain of the office space and the lease agreements for retail space.
Acting for Sun N' Sand, a beach resort in Mombasa, Kenya, in connection with its mixed use development comprised of residential, commercial and recreational space, including advising on overall project legal, corporate organizational and management structures and drafting and negotiating all documentation necessary for residential unit sales.
Capital Markets
Acting for Atlas Development and Support Services Limited (formally Africa Oilfield Logistics Limited), a company incorporated in the Island of Guernsey, Channel Islands and listed on the London Stock Exchange, on its Kenyan private placement and subsequent cross listing onto the Growth Enterprise Market Segment of the Nairobi Securities Exchange (GEMS)– the first ever successful cross listing onto GEMS.
Acting for Umeme Limited, then-listed on the Uganda Stock Exchange only, on its successful cross-listing on the Nairobi Securities Exchange. Umeme was the first company to successfully achieve such a cross listing in Kenya. A&K was deeply involved in the initial listing in Uganda, oversaw the drafting of the Kenyan Information Memorandum, ensured compliance with all Kenyan legal requirements and provided a legal opinion on the cross listing. As part of the engagement, A&K had to liaise closely with the Kenyan Capital Markets Authority and the Nairobi Securities Exchange to assist them in putting in place necessary measures to allow for such a cross listing to occur and to ultimately procure approval from both governing bodies.
Acting for the Capital Markets Authority in consultation with forensic experts, DCDM and Grant Thornton of India, in carrying out an extensive insider trading investigation regarding a local company listed on the Nairobi Securities Exchange. The investigation is the first of its kind to be conducted in Kenya. The assignment included advising on enforcement of the existing insider trading legislation, recommended amendments to the same and measures that can be taken to enhance enforcement capabilities.
Mergers and Acquisition
Acting for Schneider Electric Industries SAS in its proposed acquisition of a majority stake in a Kenyan company as well as subsidiaries in Uganda and Tanzania, including all regulatory work in the African jurisdictions as well as COMESA filing requirements.
Acting for Essar Telecom Kenya Limited throughout its entry into and subsequent divesture from Kenya's telecommunications market through a sale of a substantial part of its business to Safaricom and Airtel, the region's leading providers. This resulted in the consolidation of the Kenyan mobile market from four to three providers.
Acting for the shareholders of Cannon Assurance in the sale of their 75% stake of the company to Metropolitan International Holdings including a 25% share swap.
Advising Apollo Insurance Company Limited in a merger and acquisition of the general insurance business of the two largest insurance companies in Kenya.
Acting for Essar Overseas Energy Limited on its acquisition of a 50% stake in Kenya Petroleum Refineries Limited from the Shell Petroleum Company Limited, Chevron Global Energy Inc. and BP Plc.
Advising on the proposed merger of two companies in the information technology sector having associated companies in Kenya, Uganda, Tanzania, Nigeria and the United Kingdom.
Private Equity
Acting for Equity Bank (now Equity Group Holdings Limited), a leading microfinance bank in Africa listed on the Nairobi Securities Exchange, Uganda Stock Exchange and the Rwandan Stock Exchange in connection with the largest private equity investment in Kenya to date, Helios Investment Partners, a leading Africa-focused private equity firm, on its 11 billion Kenya Shillings (USD 175 million) acquisition of a 24.99% stake in Equity Bank.
Acting for Helios Investment Partners, a leading Africa-focused private equity firm, on an 11 billion Kenya Shillings (USD 175 million) acquisition of a 24.99% stake in Equity Bank Limited. This is the largest private equity investment in Kenya to date. As a result of this transaction on, Equity Bank is now Kenya's largest bank.
Advising DEG and Proparco on their initial equity investment in I&M Bank Limited, then one of Kenya's leading privately held commercial banks. Then advising on the second and third equity investments involving drafting and negotiating the share subscription agreement, shareholders agreement, put option agreement and exit agreement.
Advising Helios Investment Partners in connection with the proposed acquisition of a mobile operator in The Gambia.
Advising Apollo Investments Limited and the shareholders thereof on a private equity investment by Leapfrog Financial Inclusion Fund (a private equity fund which concentrates on insurance in developing markets).
General Corporate
Advising Bloomberg in connection with establishing their operations in Kenya. Including advising them in connection with the proposed launch in Kenya of the Bloomberg Professional Service providing financial market information, data, news and analytics to broker-dealers, institutional investors and other professional investors. Also advised them on capital markets and telecommunications regulatory issues and enforceability of their standard form contracts in Kenya.
A&K acted for Wananchi Group, on its proposed launch of subscription-based satellite television services in 9 countries in Eastern and Central Africa (including co-ordination of delivery of advice by 6 ALN member firms in the relevant jurisdictions and 3 other law firms in Eritrea, Sudan and Malawi respectively).
Acting for Seacom together with an international law firm, Hunton& Williams LLP (New York, US) in connection with its development of the undersea cable along the East African seaboard. Seacom will cost USD 650 million and run for 17,000km to Mumbai in India and Marseille in France via Mozambique, Madagascar, Kenya and Tanzania. Seacom has already landed the fibre optic cable on the Eastern coast of Africa and the firm is currently advising on Landing Station lease Agreements, selling of IRU (Indefeasible Rights of Use) and Option agreements.
Your browser is not fully compatible with our automatic printer friendly formatting.
Please use the print button to print this profile page.