Jeffery Robinson was 11 years old when he decided he would become a criminal defense attorney when he grew up.
In the week running up to the historic assassination of Martin Luther King, the then-Memphis adolescent acutely recalls noticing that "even quote-unquote respectable people were getting arrested for demonstrating on behalf of social justice" as King participated in protests on behalf of Memphis sanitation workers. Young Jeffery—who had been the first black student at his Catholic grade school in 1963—somehow knew at that moment that his life's work would eventually involve defending such people.
With some patient coaching from his dad, a high school principal, he did indeed go on to a sterling career in that field. After graduation from Harvard Law School, he spent seven years representing indigent clients in state court and later in federal court at The Federal Public Defender's Office. The Seattle-based attorney also served a stint as the deputy legal director of the American Civil Liberties Union.
He is a past president of the Washington Association of Criminal Defense Lawyers and a winner of that group's William O. Douglas Award. He was listed in The Best Lawyers in America® from 1993 to 2019 in Criminal Defense before leaving private practice and was selected as one of the top 100 black lawyers in America by Black Enterprise magazine.
But he's now in the public eye nationally for a different though related reason: his searing but thoughtful documentary about racial injustice in America. It debuted in theaters in selected cities in January and opened around the country this month.
Who We Are: A Chronicle of Racism in America builds off a deeply researched talk he has been giving for a decade. When attorney and filmmaker Sarah Kunstler saw him talk at a continuing legal education seminar, she immediately called her sister and filmmaking partner, Emily, and said she knew what they'd be doing for the next few years—helping to bring this tale to life in a film.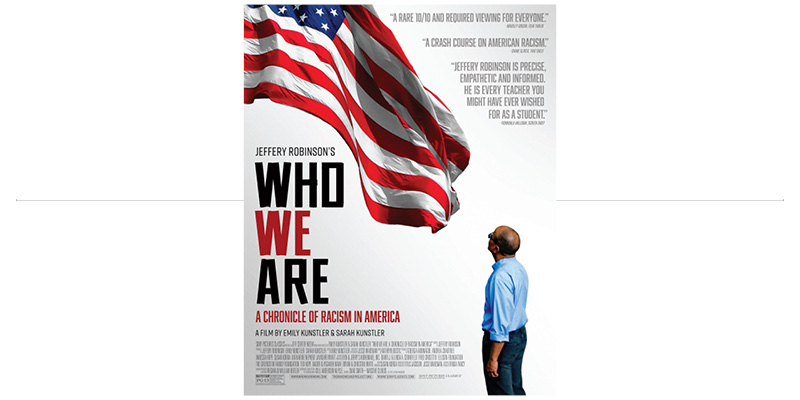 The sisters--daughters of the late civil rights attorney William Kunstler, who famously defended the Chicago Seven, among many others—knew a good story when they heard it (they had earlier made a much-admired documentary about their father—William Kunstler: Disturbing the Universe).
The pair arranged for Jeff to give his talk at New York City's Town Hall Theater, where they trained seven cameras on him. Then they followed him around the country for two years as he visited iconic historical sites that tell the story of centuries of institutionalized racial brutality while he listened to people talk about race in America.
Robinson visited an oak tree in Charleston, South Carolina where multiple lynchings once took place. He interviewed 107-year-old Lessie Benningfield Randle, one of the last survivors of the infamous 1921 Tulsa massacre, and talked to the mother of Eric Garner, whose death from a police chokehold helped touch off the Black Lives Matter movement. "This is part of the history that has been stolen from all of us, and we intend to restore it," Jeff said in an American Film Institute promotional video.
The resulting two-hour documentary has been a hit on the film festival circuit. It has won awards at a half dozen major festivals, including the Audience Award at the prestigious South by Southwest Film Festival in Austin, Texas.
A reviewer for the New York Times called it "a confrontational film, but never an alienating one, and so much of what's in it is persuasive." Robinson says every dollar generated by the documentary, including ticket sales as well as the proceeds from the sale to Sony Pictures, is going back into the nonprofit Who We Are Project he established to support the initiative.
In an interview with the Harlem News Network, he said he left the ACLU in March 2021 "because I felt that I wanted to do more in the area of educating America about our true history. About a history that has been erased. About a history that has been hidden, but a history that has been hidden in plain sight."
The project now encompasses much more than the documentary. Robinson says it will focus on a trio of venues in which to propagate its message: schools, community groups and corporations. Thanks to the Ben & Jerry foundation's $150,000 contribution there is also a related podcast, produced by Vox Media.
He seems more heartened by than competitive with the rousing success of a parallel initiative—the New York Times' vaunted 1619 Project, which also seeks to recast the narrative about America's racial history through multiple platforms.
"There is no one project" on this topic, he says. "I'm thrilled with what the 1619 Project is doing," drawing on deeply researched work from a wide range of leading scholars of the black experience in America. "They are going to have a major impact in the classroom and the community at large. To the extent that my message is anything like the 1619 Project, I am thrilled and awed."
John Ettorre is an Emmy-award-winning writer, based in Cleveland. His work has appeared in more than 100 publications, including the New York Times and the Christian Science Monitor.