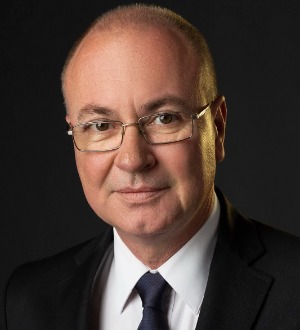 ---
Recognized since 2011
Cape Town, South Africa
Practice Areas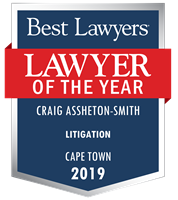 After qualifying with a B Com LLB from Wits University Craig served articles with MJ Silver Rothbart and Cohen, a commercial and insolvency firm Craig was admitted as an attorney with this varied practice. Gaining invaluable experience practising as a professional legal assistant, Craig was involved in commercial drafting, commercial litigation, restructures, insolvency enquiries and related litigation. Craig was a member of the Legal Counsel team in a commercial environment for six years and was appointed as a member of the senior management team which first introduced the concept of managed health care in South Africa. This position required him to draft legal contracts and scheme rules, advise on legislative requirements and issues and be involved in submissions relating to the proposed Medical Scheme's Act. The scheme rules were based on historic claim profiles and the legal wording had to be articulated to avoid disputes and reduce queries. Thereafter Craig was appointed as Company Secretary/Legal Advisor for an offshore diamond mining group whose holding company was listed on the Toronto Stock Exchange, NASDAQ and the Namibian Stock Exchange where his responsibilities were extensive and included:
• involvement in negotiating facilities with the banks (totalling 75 million USD);
• management and preparation of the engineering, shipping, employment, mining, diamond sale and commercial agreements;
• management of the takeover of ODM (a marine diamond mining company listed on the JSE);
• management of the company secretarial matters in a complex multi-jurisdictional group structure of some forty companies;
• preparation of and filing returns required by the various exchanges and ensuring regulatory compliance.
When an operational accident occurred, the company lost its mining capacity and was left without cash flow, Craig formulated the strategy for a structured liquidation and restructuring of the group. A core team of senior management remained in the business to carry out the restructure and Craig led and managed the team and the processes and negotiations required to carry out the restructure.
The restructure took eight months to implement and was extremely complex with a number of stakeholders having differing requirements. Stakeholders included a consortium of banks, creditors, debenture holders and a new foreign shareholder. The restructure was successfully implemented, which resulted in the group coming out of liquidation and 29 million USD of funding procured in order to resume operations.
Armed with immense practical legal experience gained during the preceding years, Craig returned to private practice for his own account in 2002.
Craig has been rated on Legal 500 and in Chambers as one of the top South African lawyers in dispute resolution and listed in Best Lawyers 2011 – 2021, being awarded Best Lawyer – Litigation in 2019. Craig has also been an Acting Judge of the High Court, and three of his judgments during his term were reported on Saflii.
Location
9th Floor, Wale Street Chambers
38 Wale Street
P.O. Box 15453, Vlaeberg
Cape Town 8018
South Africa
Affiliations
Assheton-Smith Ginsberg Incorporated - Director
Glyn Marais Incorporated - Director
NAMCO Limited - Director
Court Admissions
High Court of South Africa

Assheton-Smith Ginsberg Inc.
---
Cape Town, South Africa
2 The Best Lawyers in South Africa™ awards
Full Firm Profile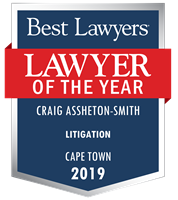 Named "Lawyer of the Year" by Best Lawyers® for:
Litigation, Cape Town, South Africa (2019)
Recognized in The Best Lawyers in South Africa™ 2023 for work in:
Awards:
2011 Best Lawyers - Litigation
2012 Best Lawyers - Litigation
2013 Best Lawyers - Litigation
2014 Best Lawyers - Litigation
2015 Best Lawyers - Litigation
2016 Best Lawyers - Litigation
2017 Best Lawyers - Litigation
2018 Best Lawyers - Litigation
2019 Best Lawyers - Best Lawyer Litigation
2020 Best Lawyers - Litigation
2021 Best Lawyers - Litigation
Tell us a little bit about your practice and what makes it unique.
My practice areas are primarily commercial litigation, insolvency and restructuring, and commercial transactions. In our practice we pay great attention to detail and the development of strategies to achieve the best outcome for the client, and with this methodology we differentiate ourselves and it is evident in our successes.
What common questions are you asked by clients, and what are your answers?
Most clients often ask about the prospects of success in their particular case. It is difficult to precisely predict what the outcome of a matter, particularly a litigation, insolvency or restructuring matter is going to be because of uncertainties and aspects over which you as the attorney have no control. Some examples of these aspects or influences are witnesses who give their evidence in a trial and perform very badly, notwithstanding intense preparation of these witnesses before trial. The other problem that comes to mind is where the client does not disclose all the information to you. Only when we have a handle on the case, can we begin to predict the success of the matter but no one can say for sure how the matter will finally turn out, and our objective is always to get the best commercial result for our clients, and we advise clients either to settle if their matter has very little prospect of success in court or to fight when we believe we can win.

Clients also often ask about what it will cost. It is very difficult to give a definitive answer to such a question because the cost of carrying out instructions and doing work for a client on a particular matter is very much dependant on developments that occur in the case as well as the time that is required to be expended in order to manage and progress the case, we do, however, coach clients on how they can assist in the matter by giving us clear instructions, providing all the facts, and generally staying on top of all the twists and turns with our team as they report on the case progress.
Describe one of your most interesting or memorable cases in the past year.
I think that the most rewarding and interesting case that we were involved in this past year pertained to a dispute between two shareholders of a property-owning company, both shareholders were foreigners, however, one shareholder had taken physical possession of the property in South Africa, residing therein, and had thereby scuppered the revenue generation of the property. In order to deal with the dispute, we developed a strategy to use the business rescue procedure in the companies act in order to remove the shareholder who caused the dispute. This was done through a business rescue plan that provided for the conversion of loans into equity, which resulted in the dilution of the shareholder that caused the dispute and ultimately the buy out of that shareholder's remaining minority share.
What is most challenging about your area(s) of expertise?
I believe that the most challenging aspect of practising law pertains to the management of the various participants within a particular case or legal process. These players would be the client, one's opponent and opposing council, the advocates that we employ to argue matters, and in some cases expert witnesses. Managing all these participants in a manner that moves the case forward in an efficient and expeditious manner requires experience and skill.
Were there any particular inspirations (people or events) that spurred your interest in your practice area(s)?
I think that it had been mostly people during the course of my career who have inspired my interest in my practise areas. Particularly my initial mentors in my career, the principles with whom I did my articles at the beginning of my career, who provided me with unbelievable training and insight into how to properly approach particularly insolvency matters and commercial litigation. My passion is developing a strategic approach that leads to a successful outcome for the client which I find extremely rewarding.
What other interests do you have?
I enjoy cooking for my family and friends, always trying new recipes and techniques, and creating my own recipes. Cooking helps me relax and unwind and my wife and I enjoy visiting wine estates, collecting wines to pair with our meals. Not as often as I would like, I love to play golf.
Your browser is not fully compatible with our automatic printer friendly formatting.
Please use the print button to print this profile page.