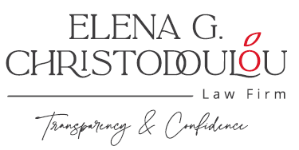 ---
Limassol, Cyprus
1 The Best Lawyers in Cyprus™ award
It is a young boutique Law Firm established by me Elena Gamaonova (Christodoulou), Cyprus recognised corporate lawyer, in October 2018. My personal experience as a lawyer is more than 20 years in the fields of property and estate, inheritance laws, civil law, immigration, 10 years of them as an international business Corporate lawyer, specialist in Corporate law and Taxation. The last 3 years I expanded my practice with such important matters as AML Compliance, regulatory framework, investment and financial services legal support. In my past career I have been working for outstanding law firms. Currently I cooperate with associates and partners worldwide, highly appreciated and recognised in their jurisdictions. I base my business on long term professional connections. Behind each connection there stands a great professional and a nice person, - honest, clever, faithful and successful for smart solutions and devotion to the Law and the Client.
We can help you with: - Modern Corporate governance and structuring worldwide, i.e. we will manage your companies according to the last up to date legal requirements of each jurisdiction, and help you to correct your ownership structure if oversized or unreasonably multi-leveled - company formation in any jurisdiction of the world, we register a new company (or any other type of entity) for you in a country that most suits your business taking in consideration your tax residency and other tax regulations applicable to your business; we will firstly check if you really need this type of company for your business; - tax and compliance issues, I will make a personal check for you if your current business is correctly optimized from taxation point of view, and will help you with the tax planning of the future business and personal assets developments; - compliance and KYC of most complicated and big deals, I will help you to find out if there are any hidden risks in the documents supporting the deal, weather more documents required or not; if the property is bearing any burdens or counterparties are involved in disputes or any other cases/deals with the third parties, that may affect the deal, etc.; - acting as professional Escrow agent, if you are not sure that you can secure the deal even after compliance and KYC check, the law firm will act for you as duly appointed Escrow agent with responsibility for the smooth closure of the deal; - applications to government bodies, we and our associates worldwide will communicate for you with different government bodies for the prompt solution of any procedural issues; - application to different registries and obtaining of certificates, for registration of your movable and immovable property with different jurisdictions; for issuance of certificates and any other documentation confirming your proprietary rights; - citizenship and visas (temporary, permanent, work, etc.), my law firm is duly registered in the register of the legal persons entitle to provide services in connection to the Cyprus investment program, my associates in other jurisdictions are ready to assist you in your immigration plans; - apply to us any other legal and or administrative question so that we see if we can help you. The Firm`s aim is to provide high quality professional services with attention and care, understanding, simplicity and consistency.
Arbitration and Mediation
Corporate Governance & Compliance Practice
Corporate Law
Human Rights Law
Immigration Law
Insolvency and Reorganization Law
Investment
Labor and Employment Law
Mergers and Acquisitions Law
Tax Law
Trusts and Estates
Limassol, CY
Corner Rodopis – Kypselis street, Germasogeia, p.c.
Limassol 4044
Cyprus
Your browser is not fully compatible with our automatic printer friendly formatting.
Please use the print button to print this profile page.