For 40 years, Best Lawyers has highlighted the extraordinary accomplishments of those in the legal profession; we offer completely unbiased legal referrals from the best attorneys in the world.
Lawyers who are nominated for consideration are voted on by currently recognized Best Lawyers working in the same practice area and located in the same geographic region. Our awards and recognitions are based purely on the feedback we receive from these top lawyers. Those who receive high peer reviews undergo a thorough verification process to make sure they are currently still in private practice. Only then can these top lawyers be recognized by Best Lawyers.
2022 marks the 12th Edition of The Best Lawyers in Portugal™, honoring the professional excellence of 825 lawyers in 51 practice areas.
Best Lawyers is pleased to celebrate 52 "Lawyer of the Year" awards across Portugal as well. "Lawyer of the Year" honors are awarded annually to only one lawyer per practice area in each region with extremely high overall feedback from their peers, making it an exceptional distinction.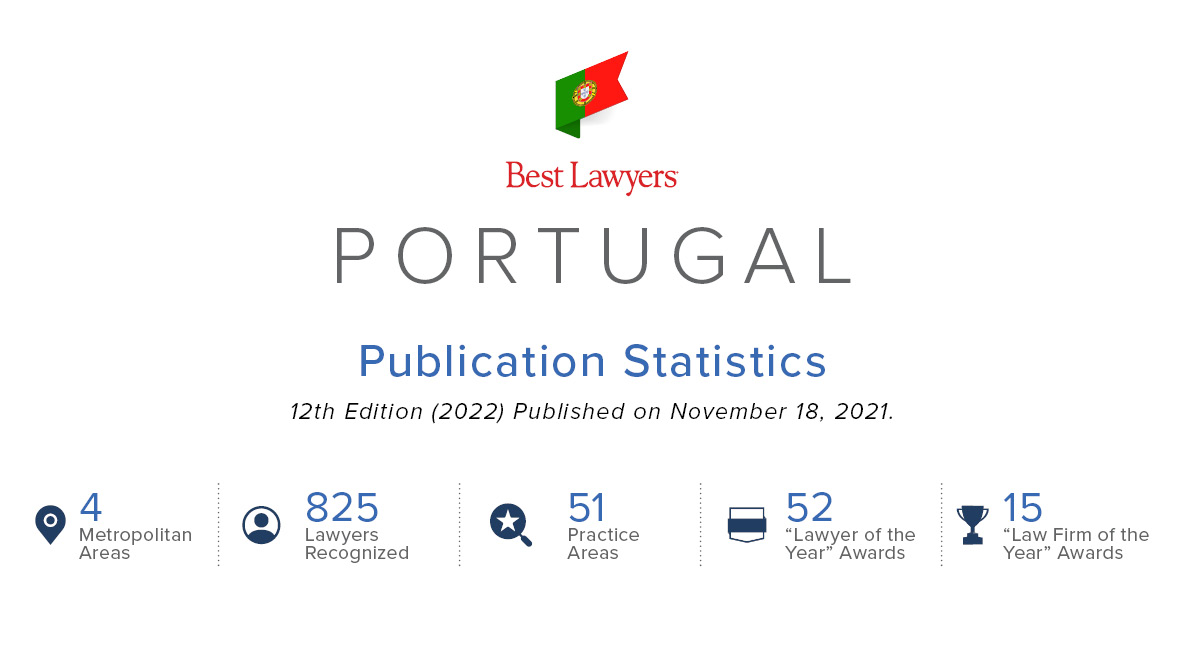 Publication Statistics
Here are highlights from the 2022 12th Edition of The Best Lawyers in Portugal™:
825 Lawyers Recognized
51 Practice Areas
52 "Lawyer of the Year" awards
15 "Law Firm of the Year" awards
Top metro area:
Lisbon is the metro with the most listed lawyers.
Top 10 practice areas by number of recognized lawyers:
Litigation
Corporate Law
Tax Law
Mergers and Acquisitions Law
Labor and Employment Law
Banking and Finance Law
Public Law
Arbitration and Mediation
Real Estate Law
Insolvency and Reorganization Law
Top 10 most searched practice areas in Portugal in 2021 on bestlawyers.com:
Real Estate Law
Tax Tax
Labor and Employment Law
Litigation
Corporate Law
Immigration Law
Arbitration and Mediation
Mergers and Acquisitions Law
Criminal Defense
Family Law
Law Firm of the Year
"Law Firm of the Year" awards recognize a single top firm for its work in a specific legal practice area nationwide. Awards are determined based on a handful of factors including lawyer feedback, the number of lawyers included in Best Lawyers for that firm and practice area, the number of office locations a firm has, historical analysis of the firm's "Lawyer of the Year" awards, materials submitted by firms, and the firm's overall scope and areas of expertise.
The 2022 "Law Firm of the Year" recipients in Portugal are:
BMA - Intellectual Property Law
Campos Ferreira, Sá Carneiro & Associados - Sociedade de Advogados - Mergers and Acquisitions Law
Cuatrecasas - Real Estate Law
DLA Piper ABBC - Labor and Employment Law
Garrigues - Tax Law
Gómez-Acebo & Pombo - Competition / Antitrust Law
Morais Leitão, Galvão Teles, Soares da Silva & Associados, Sociedade de Advogados - Administrative Law, Litigation
PLMJ - Arbitration and Mediation, Insolvency and Reorganization Law
Sérvulo & Associados - Sociedade de Advogados, SP - Criminal Defense
Uría Menéndez Abogados - Corporate Law, Project Finance and Development Practice
Vieira de Almeida & Associados - Banking and Finance Law, Capital Markets Law
Interested in seeing Best Lawyers honorees in Portugal? Use our Find a Lawyer tool to search by location and specialty.
Access the full report of Best Lawyers international releases, updated continuously.