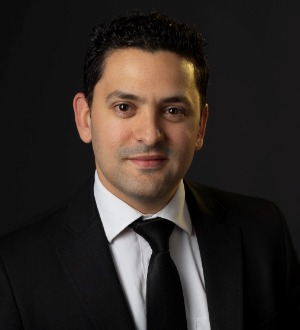 ---
Recognized since 2020
Cape Town, South Africa
Practice Areas
Arbitration and Mediation
Litigation
After completing a postgraduate LLB at the University of the Witwatersrand in Johannesburg, Andrew relocated to Cape Town to join a leading corporate practice in their litigation and dispute resolution department. Andrew was active in student politics whilst at Wits having been elected to the Law Students Council and sat as a student representative on the University's disciplinary board.
After completing his articles, Andrew was appointed as a professional assistant before joining Craig as a senior associate at Assheton-Smith Incorporated in 2012. Andrew became a Director of the firm in 2014 and the firm name was changed in 2018 to include Ginsberg as named partner.
With a varied practice which is both a testament to his versatility as a practitioner and his interest in all aspects of the law and legal practice, Andrew has litigated in almost all of the local and provincial divisions of the High Court, has had several matters before the SCA, Labour Appeal Court, and Competition Appeal Court. Andrew has run matters relating to commercial property, insurance, insolvency, complicated commercial and contractual disputes, delictual claims, commercial arbitrations, PAJA reviews, construction arbitrations and labour related mediations and arbitrations.
Andrew has also been involved in a number of large commercial transactions and is as comfortable in the boardroom as he is in the Courtroom. Some of Andrew's career highlights include:
• his involvement in a matter which yielded one of the authoritative judgments on the difference between insubordination and insolence in the workplace (Palluci Home Depot (Pty) Ltd v Herskowitz and Others (2015) 36 ILJ 1511 (LAC));
• his involvement in the first judgment in which Calderbank offers were considered in South African jurisprudence (D and Another v MEC for Health and Social Development, Western Cape Provincial Government 2017(5) SA 134 (WCC));
• his involvement in a matter, the judgment of which, is widely quoted as authority for what is required to be included in a deed of sale in order for same to comply with the Alienation of Land Act (Osborne and Another v West Dunes Properties 167 (Edms) Bpk and Others 2013 (6) SA 105 (WCC));
• the restructuring of a large software services company valued in excess of R100 million which included the creation of off-shore holding structures;
• complex arbitration against a Provincial Government Department for the recovery of in excess of R100 million rands worth of arrear service fees; and
• a successful challenge in the Western Cape High Court dealing with the interpretation of the reinstatement value conditions clause of an indemnity insurance policy.
Andrew's methodical approach to any complicated legal question makes him an invaluable asset to his clients.
Location
9th Floor, Wale Street Chambers
38 Wale Street
P.O. Box 15453, Vlaeberg
Cape Town 8018
South Africa

Assheton-Smith Ginsberg Inc.
---
Cape Town, South Africa
2 The Best Lawyers in South Africa™ awards
Full Firm Profile
Recognized in The Best Lawyers in South Africa™ 2023 for work in:
Arbitration and Mediation
Litigation
Tell us a little bit about your practice and what makes it unique.
What makes our firm unique, in my opinion, is that we are relatively small in size. This makes it possible for our high end and high level attorneys to be extremely agile as we have the capacity to do a wide variety of work. We are able to give clients a far more holistic view across varying areas of the law. Many bigger firms are not able to offer the same variety of work because of conflicts and silos within the firm.
What common questions are you asked by clients, and what are your answers?
Most clients tend to ask two questions. The first being, "What is my prospect of success?". Depending on what the assessment of the matter is, my answer to this question is that with all of the procedural risks attendant with litigating in South Africa, unless the matter is unequivocal there is a 50/50 chance of success. To illustrate this, I refer the client to the law reports sitting on the selves of our office. I then say to them that in each of those cases there were two parties who believed that they were right but only one of them prevailed. The other question is, "What is it going to cost?". My answer to that is: As with all services and goods, you get what you pay for.
Describe one of your most interesting or memorable cases in the past year.
I had the opportunity to work on one of the first business interruption cases in the short term insurance industry. I acted for a private game reserve. They were attempting to claim on their business interruption insurance policy as a result of the COVID-19 pandemic. It was extremely interesting because it was all novel and new. It didn't have a body of law behind it that could be referred to and I learned a lot from it.
What is most challenging about your area(s) of expertise?
What I find most challenging about the our area of expertise is dealing with clients that do not necessarily understand the process and the amount of work that is involved in taking a matter from instruction to court. We have to educate clients new to litigation on how to give us all the facts in the most efficient manner possible and constantly make them aware that they are integral to the process in order to achieve the best result for them.
Were there any particular inspirations (people or events) that spurred your interest in your practice area(s)?
I was inspired by my maternal grandfather who was a Senior Counsel at the Johannesburg bar at quite a young age. Unfortunately, he passed away before I got the chance to meet him but the stories of his practice and court experiences filtered down through my grandmother. The stories fascinated me and I admired how revered he was by all of those around him and this was what truly inspired me to follow a career in law.
What other interests do you have?
I enjoy fly fishing but unfortunately I don't get a chance to do it very often. I also enjoy food-based water culture and would love to get into hydroponic food growth. I am very family oriented and enjoy spending time in the outdoors with my family.
Your browser is not fully compatible with our automatic printer friendly formatting.
Please use the print button to print this profile page.