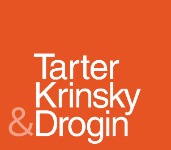 Firm Details
From our founding 20 years ago, we knew what we wanted to be — a total legal solution for businesses, with a focus on the mid-market enterprises.
Tarter Krinsky & Drogin LLP is a dynamic collection of lawyers who chose to join our common goal of effectively and efficiently serving middle-market businesses because it's what we do best.
An established, mid-size law firm advising clients in the full suite of practice areas, as well as companies of all sizes, we are headquartered in the heart of New York City and have a satellite office in Princeton, New Jersey.
Our full-service practice includes real estate, construction, corporate & securities, litigation, labor & employment, intellectual property, tax, retail, bankruptcy and corporate restructuring, immigration, corporate investigations, reputation management, co-op and condominium law, not-for-profit and education, and a thriving international practice with a focus on China and Italy.
Purposefully designed to be an integral part of any client's business team, we are dedicated to smart thinking and strong client relationships. We have anticipated and deliberately chosen to offer diverse service areas that middle-market businesses need.
From start-up companies to established institutions, our clients are leaders and innovators in their industries. Because we look at their legal issues from a holistic perspective and work with them at an operational level, empowering our clients to understand the real issues and collaborating with them on major decisions. Our clients value the understanding of their business that we develop and the interdisciplinary approach we bring to the relationship. This translates to practical and effective solutions built on mutual trust.
We embrace and promote progressive thinking. This means we don't do things just because that's the way it's been done before. Rather, we challenge the status quo in a constructive way to benefit our clients.
Firm Practice Areas
Administrative / Regulatory Law
Arbitration
Banking and Finance Law
Bankruptcy and Creditor Debtor Rights / Insolvency and Reorganization Law
Biotechnology and Life Sciences Practice
Commercial Finance Law
Commercial Litigation
Communications Law
Condominiums
Construction Law
Copyright Law
Corporate Law
Criminal Defense: White-Collar
Education Law
Elder Law
Employment Law - Individuals
Employment Law - Management
Estate Planning
Financial Services Regulation Law
Immigration Law
Labor Law - Management
Labor Law - Union
Litigation - Bankruptcy
Litigation - Construction
Litigation - Intellectual Property
Litigation - Labor and Employment
Litigation - Patent
Litigation - Real Estate
Litigation - Regulatory Enforcement (SEC, Telecom, Energy)
Litigation - Securities
Litigation - Trusts and Estates
Media Law
Mergers and Acquisitions Law
Nonprofit / Charities Law
Patent Law
Privacy and Data Security Law
Private Funds / Hedge Funds Law
Product Liability Litigation - Defendants
Product Liability Litigation - Plaintiffs
Real Estate Law
Securities / Capital Markets Law
Securities Regulation
Securitization and Structured Finance Law
Special Needs
Tax Law
Technology Law
Trade Secrets Law
Trademark Law
Trusts and Estates
Office Locations
United States
United States
New York
New York
New York, NY
1350 Broadway
New York, NY 10018
United States