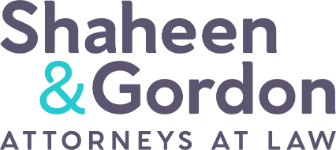 Headquarters
107 Storrs Street
P.O. Box 2703
Concord, NH 03301
United States
(603) 819.4231
Firm Details
William H. Shaheen and Steven M. Gordon served together as U.S. Attorney and Assistant US Attorney for New Hampshire from 1976 through 1981. When they left the U.S. Attorney's Office, and contemplated private practice together, they saw a need for a law firm built on a foundation of total commitment to client satisfaction.

For more than 35 years, Shaheen & Gordon has flourished, earning statewide, regional and national accolades for its legal representation. Their initial trial experience has been used to create a diverse litigation practice where client claims are both prosecuted and defended.

The firm serves institutional and individual clients throughout Northern New England (NH, ME, MA, VT) in a broad range of legal matters including, but not limited to healthcare, securities, governmental affairs, criminal and civil defense, DWI/DUI/OUI defense, personal injury, employment matters, workers compensation, entertainment, libel law, wills, elder law, trusts and estates, divorce and family law, immigration, and general corporate and commercial representation. The firm also encourages its attorneys to be active in the civic life of New Hampshire and Maine, thus our lawyers have taken lead roles in major community initiatives and programs.

Management
Demographics
Partners
Women: 7
Men: 13
Of Counsel
Women: 1
Men: 3
Associates
Women: 2
Men: 6
Other Lawyers
Women: 2
Men: 3
Management / Department Heads
Women: 2
Men: 6
Non-Legal Employees
Women: 15
Men: 1
Top Listed State Awards
Top Listed in New Hampshire in Criminal Defense: White-Collar with 4 lawyers
Top Listed City Awards
Top Listed in Dover with 5 lawyers
Top Listed in Concord in Criminal Defense: White-Collar with 4 lawyers
Contacts
Paige Moulton
Marketing Director
603-647-8606
Firm Practice Areas
Bet-the-Company Litigation
COVID-19
Criminal Defense: White-Collar
Elder Law
Family Law
Health Care Law
Immigration Law
Litigation - First Amendment
Mediation
Personal Injury Litigation - Plaintiffs
Trusts and Estates
Workers' Compensation Law - Claimants
Office Locations
United States
United States
Maine
Maine
Portland, ME
75 Pearl Street, Suite 205
Portland, ME 04101
United States
New Hampshire
New Hampshire
Concord, NH
107 Storrs Street
P.O. Box 2703
Concord, NH 03301
United States
Dover, NH
353 Central Avenue, Suite 200
Dover, NH 03820
United States
Manchester, NH
180 Bridge Street
Manchester, NH 03104
United States
Nashua, NH
11 Concord Street
Nashua, NH 03064
United States