Firm Profile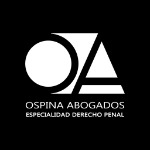 Firm Details
Ospina Abogados has been rated as the best criminal law firm in Madrid in 2018 and 2019 by the critic and its customers, and acknowledged as one of the best criminal law firms in Spain by different legal directories.
The philosophy of this law firm is based on offering the highest level of criminal legal assistance, always adjusting to the specific necessities of every costumer and dealing with every case on its own.
His founder partner, Juan Gonzalo Ospina, is one of the current deputies of the governing board of the Madrid Bar Association. Licenced in Law and Political Science, he has been president of the Association of Young Lawyers since 2017.
In Ospina Abogados we guarantee the best criminal legal assistance the 24h of the 365 days a year. That is why, we have a team of criminal lawyers located in Madrid to assist any moment of the day, go to the police station or for an assistance at the airport.
Firm Practice Areas
Criminal Defense
Litigation
Office Locations
Spain
Spain
Madrid, Spain
Calle General Oraa 29, 1 izq, C.P.
Madrid 28006
Spain