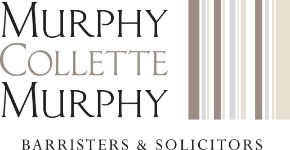 Firm Details
The Moncton, New Brunswick, Personal Injury Law Firm of Murphy Collette Murphy has become a multi-faceted organization presently consisting of 6 experienced Litigation Lawyers, each of whom regularly handles Personal Injury as well as Insurance Defence Litigation.
The litigation teams at Murphy Collette Murphy specialize in Large Loss Insurance Defence Litigation, Catastrophic Personal Injury Claims, Construction Law, and Fire Insurance Litigation
In addition to a broad based Personal Injury Litigation Practice and Insurance Litigation Practice the Lawyers defend and pursue Labour Law, Public, Environmental, Real Estate and Commercial Litigation cases.
The Defence and Personal Injury Lawyers of the Law Firm are accustomed to meeting deadlines and emergency situations and therefore the Lawyers of this Moncton Law Firm normally have people working in the office on both evenings and weekends.
The vision behind the Law Firm at the time it was established by its law partners is the same as it is today; to provide cost effective progressive handling of litigation matters, including Personal Injury and Insurance Defence for our clients.
While the Firm is located in Moncton, in the South-Eastern part of New Brunswick, the Personal Injury and Defence Lawyers handle a substantial number of cases throughout New Brunswick as well as throughout Nova Scotia, Prince Edward Island and Newfoundland. They can regularly be found in discovery and trial appearing in Courts in Moncton, Saint John, Fredericton, Woodstock, Edmundston, Miramichi, Campbellton, Bathurst, Summerside, Charlottetown, Amherst and Halifax.
The Law Firm of Murphy Collette Murphy is well known for being at the forefront of computerization and legal technology. With the latest in Legal Software Programming available to them they are committed to keeping Personal Injury and Defence Litigation clients not only informed of the status of the matters for which they are representing them, but also educated
Firm Practice Areas
Appellate Practice
Construction Law
Insurance Law
Personal Injury Litigation
Workers' Compensation Law
Office Locations
Canada
Canada
New Brunswick
New Brunswick
Moncton, NB
250 Lutz Street
Moncton, NB E1C 5G3
Canada