Firm Profile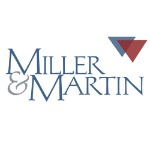 Firm Details
Miller & Martin PLLC
Since 1867, Miller & Martin PLLC has helped businesses and individuals achieve their goals practically and efficiently. Today, we are a leading Southeastern law firm with attorneys in three offices that serve clients in more than 50 industries and practice areas. Our clients range from individuals to multi-national corporations. To meet the needs of this diverse client base, our attorneys dedicate themselves to understanding the unique issues facing each client. As a full-service firm with multiple practice groups, we can address virtually any legal challenge.
Experienced
Miller & Martin has grown as its clients have prospered. Many early clients, such as the original bottler of Coca-Cola, have evolved from local concerns into global enterprises. We understand that the experience we have gained in serving our clients is our greatest resource. Our attorneys draw on that experience to serve clients locally, nationally and globally.
Knowledgeable
Because today's complex legal environment demands lawyers with substantial knowledge and experience, the firm is organized into practice and industry groups. These groups help foster the continuous professional development of attorneys and staff. Committed to serving as a strategic resource to our clients, Miller & Martin strives to provide intelligence, relevant to today's trending topics. "Miller & Martin Mornings" is an event-series aimed at providing in depth discussions around topics of the moment, which present challenges to those in business leadership roles.
Connected
Miller & Martin's attorneys have established relationships with numerous legal and professional organizations, including international associations, local and state economic developments and chamber-based business groups. Miller & Martin is a member of the World Law Group, an international network of 52 leading independent law firms with more than 315 offices in 65 countries. This affiliation allows us to access legal services worldwide and enhance our ability to handle every aspect of our clients' business and legal needs, wherever they are needed.
Diverse
Successfully navigating the modern world requires an understanding and an appreciation of different cultures, experiences and perspectives which ultimately, benefits both the firm and its clients. In hiring and retaining attorneys and staff, Miller & Martin remains committed to achieving a diverse workplace.
Committed
Following in the tradition of our firm's founders, Miller & Martin seeks to serve and support the community. It is our belief that by strengthening the community in which we work and live, we enrich the quality of life for everyone. Our attorneys and staff are leaders in many civic, charitable and governmental institutions. We also believe in helping the poor to access justice and provide pro bono legal services.
Top Listed City Awards
Top Listed in Chattanooga with 42 lawyers
Top Listed in Chattanooga in Commercial Litigation with 11 lawyers
Top Listed in Chattanooga in Corporate Law with 5 lawyers
Top Listed in Chattanooga in Employment Law - Management with 4 lawyers
Top Listed in Chattanooga in Litigation - Labor and Employment with 4 lawyers
Top Listed in Chattanooga in Mergers and Acquisitions Law with 4 lawyers
Top Listed in Chattanooga in Real Estate Law with 6 lawyers
Awards
Miller & Martin Named One of the BTI Brand Elite 2013
MultiCultural Law Magazine Names Miller & Martin Top Law Firm for Diversity Efforts
Miller & Martin Ranked Benchmark Litigation Survey for 2013
Allen McCallie Received the Douglas P. Ferguson Award on Behalf of Trust for Public Land
Miller & Martin Selected as BTI Client Service A-Team for 2013
Ten Miller & Martin Attorneys Named 2012 Legal Elite by Georgia Trend Magazine
20 Miller & Martin Attorneys Named 2012 Mid-South Super Lawyers®
Curtis J. Martin II Receives the National Bar Association's 2012 Presidential Award
Crotteau Inducted to Legal Aid of East Tennessee Pro Bono Hall of Fame
Two Miller & Martin Attorneys Named "The Top Women Attorneys in Georgia" by Super Lawyers
50 Listed in The Best Lawyers in America© 2014 Edition
Six Miller & Martin Attorneys Named Best Lawyers® 2014 "Lawyer of the Year"
Jimar Sanders Named to Lawyers of Color's Inaugural Hot List
Miller & Martin Named Pro Bono Firm of the Year by Legal Aid of East Tennessee
Marcy Eason Selected as National Delegate To Advance Women's Economic & Social Equality
Miller & Martin PLLC Maintains Top Ranking in Chambers USA, 2013 Edition
Miller & Martin Selected One of The Atlanta Journal-Constitution National Standard Top Workplaces fo
Miller & Martin Named One of the BTI Brand Elite 2013
2013 Georgia Super Lawyers Includes 11 Miller & Martin Attorneys
Clients
Acella Pharmaceuticals, LLC
BlueCross BlueShield of Tennessee, Inc
Cadillac Jack, Inc.
Chattem, Inc.
Coca-Cola Refreshments USA, Inc.
CraftWorks Restaurants & Breweries Group
Home Health Care of East Tennessee, Inc.
Larsen McColl Partners
Mayne Pharma Group Limited
PlayCore
River Associates Investments, LLC
Source Capital, LLC
The Dixie Group, Inc.
UNUM Group
Whirlpool Corporation
Contacts
Jessica Johnson
Practice Development Manager
423-785-8317
Lisa Jones
Practice Development Manager
404.962.6469
Firm Practice Areas
Appellate Practice
Arbitration
Arbitration and Mediation
Banking and Finance Law
Bankruptcy and Creditor Debtor Rights / Insolvency and Reorganization Law
Bet-the-Company Litigation
Biotechnology and Life Sciences Practice
Business Organizations (including LLCs and Partnerships)
Cannabis Law
Class Actions
Closely Held Companies and Family Businesses Law
Commercial
Commercial Finance Law
Commercial Litigation
Commercial Transactions / UCC Law
Construction Law
Copyright Law
Corporate
Corporate Law
Criminal Defense: White-Collar
Criminal Investigations
Electronic Discovery and Information Management Law
Employee Benefits (ERISA) Law
Employment Law - Management
Financial Services Regulation Law
Franchise Law
Fraud
Government Investigations
Government Relations Practice
Health Care Law
Insurance Law
International Arbitration - Commercial
International Mergers and Acquisitions
Labor Law - Management
Labor Law - Union
Land Use and Zoning Law
Leveraged Buyouts and Private Equity Law
Litigation
Litigation - Antitrust
Litigation - Banking and Finance
Litigation - Bankruptcy
Litigation - Construction
Litigation - ERISA
Litigation - Health Care
Litigation - Intellectual Property
Litigation - Labor and Employment
Litigation - Land Use and Zoning
Litigation - Mergers and Acquisitions
Litigation - Patent
Litigation - Real Estate
Litigation - Securities
Mass Tort Litigation / Class Actions - Defendants
Mediation
Mergers & Acquisitions
Mergers and Acquisitions Law
Patent Law
Privacy and Data Security Law
Private Funds / Hedge Funds Law
Product Liability Litigation - Defendants
Qui Tam/False Claims Act
Real Estate Law
Regulatory
Securities
State
State and Federal
Tax
Tax Law
Trade Secrets Law
Trademark Law
Transactions
Trusts and Estates
Wage-Hour Law
Zoning