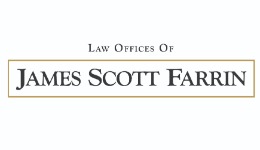 Law Offices of James Scott Farrin

Headquarters
280 South Mangum Street, Suite 400
Durham, NC 27701
United States
(919) 688.4991
Firm Details
The Law Offices of James Scott Farrin currently employs over 40 attorneys and more than 150 professional staff. Our staff includes several NC Board Certified Attorneys in Workers' Compensation Law and a NC Board Certified Attorney in Social Security Law.
A North Carolina Personal Injury Lawyer Who is Ready to Lend a Hand
Our legal team can assist North Carolina families and individuals by providing representation for victims of personal injuries. We provide experience and expertise for clients. Most of all, we provide peace of mind. When you decide to hire the Law Offices of James Scott Farrin, you can rest easy knowing you have a personal injury lawyer in North Carolina who will work tirelessly for you.
Our practice areas include:
You Can Depend on a Growing North Carolina Law Firm
We have years of experience and a hard-working, dedicated team of lawyers committed to fighting for results - one client at a time. This approach enables us to try and do everything we can for our clients, case after case, no matter if it's a Raleigh head-on car accident or a Durham motorcycle accident. Every case counts here.
The Law Offices of James Scott Farrin was founded in 1997 to help injured people receive the compensation the law provides. The firm has since grown from the two employees and 30 clients we started with to over 100 employees and thousands of clients. We have been involved in several high profile North Carolina personal injury cases that have been covered by the media. We have an active accident injury litigation and trial practice. We have the experience, ability and commitment to take a client's case to court, or wherever necessary, to seek justice on their behalf.
Top Listed State Awards
Top Listed in North Carolina in Personal Injury Litigation - Plaintiffs with 5 lawyers
Top Listed in North Carolina in Workers' Compensation Law - Claimants with 5 lawyers
Top Listed in North Carolina in Workers' Compensation Law - Claimants with 5 lawyers
Top Listed City Awards
Top Listed in Durham with 7 lawyers
Top Listed in Durham with 8 lawyers
Top Listed in Durham in Personal Injury Litigation - Plaintiffs with 4 lawyers
Top Listed in Durham in Workers' Compensation Law - Claimants with 5 lawyers
Firm Practice Areas
Eminent Domain and Condemnation Law
Mass Tort Litigation / Class Actions - Plaintiffs
Personal Injury Litigation - Plaintiffs
Product Liability Litigation - Plaintiffs
Workers' Compensation Law - Claimants