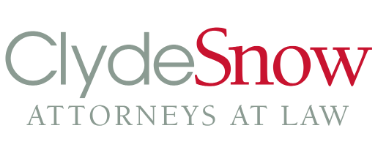 Headquarters
One Utah Center, 13th Floor
201 South Main Street
Salt Lake City, UT 84111
United States
(801) 322.2516
Firm Details
Since 1951, Clyde Snow has gained a reputation for providing prompt, high-quality legal services. A full-service law firm with offices in Utah, Oregon and California, Clyde Snow professionals help their clients resolve legal disputes by using efficient, cost-effective legal strategies founded upon a thorough analysis of legal, business, and industry ramifications. Our attorneys understand that certain situations call for experience, connections and expertise that reach beyond legal advice and counsel to achieve the best results for their clients. From the routine to novel and complex matters, we analyze the costs and benefits of potential strategies and recommend the solution that promises the greatest value to the client.
Clyde Snow provides a wide-range of legal services to individuals, businesses and government entities, including a focus on corporate and business transactions, complex business litigation, government and independent investigations, white collar criminal and regulatory defense, corporate and securities transactional matters, intellectual property and trade secrets litigation, mergers and acquisitions, administrative law, natural resources and water law, construction law, employment law, family law, estate planning, and banking law, including routine and complex litigation in those areas.
Clyde Snow's stability, legal knowledge, skill and experience are its foundation, but it is the firm's personal service, commitment and level of attention that truly distinguish it as a premier law firm.

Management
Demographics
Partners
Women: 6
Men: 19
Of Counsel
Women: 1
Men: 4
Associates
Women: 4
Hispanic: 1
Multi-Racial: 2
Men: 4
Management / Department Heads
Women: 2
Men: 5
About Our Clients
American Express, Arizona Title, Ark Land, Bear River Canal Company, Bear River Water Users' Association, Beaver/Shingle Creek Irrigation Company, Café Rio, Canyon Fuel Company, Central Utah Water Conservancy District, Cincinnati Insurance Companies, Conxx, Dale Barton Insurance Agency, Detroit Diesel Remanufacturing, Inc., Employers Reinsurance Fund, Energy Solutions, Goode Ski Company, Grand Water and Sewer Service Agency, Granger-Hunter Water and Sewer Improvement District, Gunnison Irrigation Company, Industrial Supply Company, Inpatients Consultant Management, Johnson & Johnson, Larry H. Miller Companies, Lofthouse Foods, Magnum Development, LLC, McCarthey Family Entities, Morton Grove Pharmaceuticals, Mountain Regional Water Company, Murray City Corporation, On Top Roofing, Outpost Development, Park City Mountain Resort, Park City Municipal Corporation, Philips Lumileds Lighting, Co., Powdr Corporation, Precision H2O, Prestige Financial Services, Questar Gas Company, Questar Pipeline Company, Ralcorp Holdings Inc., Red Hanger Cleaners, Redevelopment Agency of Tooele City, Utah – Federal Military Base Reuse, Tooele Army Depot Realignment, Roy Water Conservancy District, Salt Lake City Corporation, Salt Lake City School District, School and Institutional Trust Lands Administration, Sears NTB, Senator Bob Bennett, South Jordan City, Stansbury Park Improvement District, Summit County, Tooele City Corporation, Tooele Redevelopment Agency, Uintah Highlands Water and Sewer Improvement District, Utah Jazz, Utah Water Users' Association, Vivint, Inc., West Corinne Water Company, Winbond Electronics Corporation
Firm Practice Areas
Construction Law
Criminal Defense: White-Collar
Environmental Law
Family Law
Family Law Mediation
Health Care Law
Land Use and Zoning Law
Mergers and Acquisitions Law
Natural Resources Law
Real Estate Law
Water Law
Office Locations
United States
United States
Oregon
Oregon
Bend, OR
377 Southwest Century Drive, Suite 203
P.O. Box Six
Bend, OR 97702
United States
Utah
Utah
Salt Lake City, UT
One Utah Center, 13th Floor
201 South Main Street
Salt Lake City, UT 84111
United States