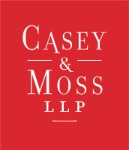 250 Yonge Street, Suite 2200
P.O. Box Four
Toronto, ON M5B 2L7
Canada
647-490-1385
Firm Details
Casey & Moss LLP is a law firm focused exclusively on estate, trust, and capacity litigation, as well as estate administration. We assist our clients with the legal ramifications of incapacitating illnesses, death, and dying.
Founded by Angela Casey and Angelique Moss, Casey & Moss LLP's clients include trust companies, estate trustees/executors, beneficiaries, guardians of personal care and property, and people acting as attorneys for property and personal care.
From our office in downtown Toronto, we serve clients across the province. Our office is conveniently located on the subway line and has ample parking nearby. In appropriate cases, we are happy to meet clients in their homes or care facilities.
We are committed to providing our clients with superior client service, excellent legal work, and fair fees.
Awards
Canadian Lawyers Magazine 

2021-2022

Top Ten Wills, Trusts & Estates Boutique Firm
Contacts
Angela Casey
Partner
6474945497
Angelique Moss
Partner
6474945447
Laura Cardiff
Partner
6474943990
Cara Zacks
Associate
6474940309
Adam Giancola
Associate
6472836624
Zara Wong
Associate
6472742866
Office Locations
Canada
Canada
Ontario
Ontario
Toronto, ON
250 Yonge Street, Suite 2200
P.O. Box Four
Toronto, ON M5B 2L7
Canada