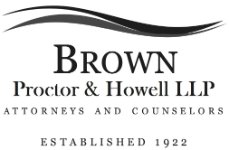 Headquarters
830 Taylor Street
Fort Worth, TX 76102
United States
(817) 332.1391
Firm Details
Brown, Proctor & Howell, LLP
, a law firm concentrating on highly complex litigation and negotiation, originated in 1922 with the partnership of two prominent north Texas attorneys, Jesse M. Brown and Sidney Samuels. Today our lawyers handle multi-million dollar cases from our offices in
Fort Worth
, Texas, Austin, Texas and
Houston
, Texas. For more than 90 years, we have provided clients with the highest level of expertise and professionalism. All named partners are rated as AV Preeminent®, the highest level of professional excellence awarded by their legal peers, as established through the 2012 Martindale Hubbell® Peer Review Ratings.™
Brown Proctor attorneys defend clients and prosecute cases in five major categories. We invite you to learn more about these practice areas:
In addition, our lawyers are solidly prepared to handle legal matters involving
business/commercial law
and
real estate law
.Our attorneys offer clients deep and precise knowledge, backed up by years of courtroom litigation experience and hard-fought settlements. However, we also understand legal situations seldom involve clear-cut issues. We prepare and present cases in a manner focused on avoiding the minefields of devastating negative publicity in high profile and emotionally-charged personal injury and fatality cases.
We also work to contain legal costs and move cases forward quickly and efficiently. Brown Proctor represents clients of all sizes in the public and private sectors, both for-profit and non-profit organizations, as well as, individuals.
We encourage you to review our
client list
to gain a better understanding of our depth of experience. Please feel free to contact us at
817.332.1391
in Fort Worth, 512.599.8506 in Austin or
713.275.2192
in Houston to discuss your legal needs.
Management
About Our Clients
Brown Proctor attorneys are privileged to provide a wide range of legal services to the following clients:

Air Law
Bell Helicopter Textron Inc.
General Dynamics Corporation
Lockheed Martin Corporation
United States Aviation Insurance Group

Railroad Law
BNSF Railway Company
Union Pacific Corporation
Union Pacific Railroad Co.

Real Estate Law
Fort Worth Housing Authority
HGC Real Estate Services
Reata Realty
Ridglea Country Club Estates Homeowners Association
The Tower Condominiums
Western Rim Properties

Construction Law
Boyer, Inc.
Corbet Group, Inc.
Texas Refinery Corporation

Insurance Law
Allstate Insurance Company
Beacon Insurance Companies
FM Global Insurance
Liberty Mutual Insurance Co.
State Auto Insurance Companies
Underwriters at Lloyds

Business Law
Apex Cost Consultants, Inc.
AZZ Incorporated
CNADaimler Chrysler Corporation
Denny's Inc.
Range Resources
Southwest International Trucks, Inc.
The Trane Company
WyethProperty

Condemnation
XTO Energy, Inc.
Firm Practice Areas
Bet-the-Company Litigation
Commercial Litigation
Eminent Domain and Condemnation Law
Employment Law - Management
Equipment Finance Law
Labor Law - Management
Litigation - Construction
Personal Injury Litigation - Defendants
Railroad Law
Transportation Law
Office Locations
United States
United States
Texas
Texas
Fort Worth, TX
830 Taylor Street
Fort Worth, TX 76102
United States
Houston, TX
440 Louisiana Street, Suite 900
Houston, TX 77002
United States