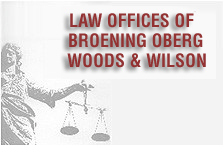 2800 North Central Avenue, Suite 1600
Phoenix, AZ 85004
United States
(602) 271.7700
Firm Details
Welcome to the web site of Law Offices of Broening Oberg Woods & Wilson. We hope you find your stay with us online enjoyable and helpful.
Our firm prides itself in the best of client care and the vast experience that our attorneys can provide will ensure you the best legal representation available.
Our conveniently located office in downtown Phoenix, Arizona means that we are available to you when you need us. And of course you can find us here on the Internet, 24 hours a day, 365 days a year.
If you have any questions, please do not hesitate to
CONTACT US.
Firm Practice Areas
Commercial Litigation
Ethics and Professional Responsibility Law
Insurance Law
Legal Malpractice Law - Defendants
Litigation - Insurance
Medical Malpractice Law - Defendants
Personal Injury Litigation - Defendants
Personal Injury Litigation - Plaintiffs
Product Liability Litigation - Defendants
Product Liability Litigation - Plaintiffs
Office Locations
United States
United States
Arizona
Arizona
Phoenix, AZ
2800 North Central Avenue, Suite 1600
Phoenix, AZ 85004
United States