Press Release
Best Lawyers® Acquires Digital Marketing Leader Good2bSocial® Expanding Digital Marketing Services for Legal Client Base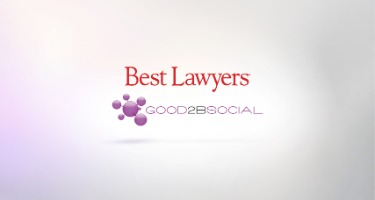 AUGUSTA, GA, August 18, 2023 - Best Lawyers®, the oldest and most respected Purely Peer Review® research and accolades company in the legal profession, announced today that it has completed the acquisition of Good2bSocial®, a leading digital marketing agency that specializes in serving law firms, legal marketers, lawyers and organizations in the legal industry. The acquisition is an expansion of Best Lawyers' services and resources to support the needs of legal professionals and law firms in the digital age.

The Good2bSocial acquisition marks another key milestone in Best Lawyers' evolution and growth strategy. This year, the brand published its Best Law Firms® rankings independently for the first time in 13 years, launched a complete brand refresh of these rankings and continued its overall regional/global expansion of its rankings' footprint.

"Bringing Good2bSocial into the Best Lawyers family is another strategic step to provide unmatched service and benefits to our customers in the legal profession," said CEO of Best Lawyers Phillip Greer. "Their team's knowledge, experience and success in legal marketing adds a new layer to our growing portfolio of capabilities and will serve as an invaluable resource to our clients who are looking to grow their practices and set a new bar among their competition."

With the acquisition of Good2bSocial, Best Lawyers expands its digital marketing services and resources to help attorneys and law firms improve their online presence and reach more clients. Good2bSocial's deep expertise in digital marketing strategy, content marketing, social media, search engine optimization and website development will complement Best Lawyers' existing marketing capabilities and help clients surpass their marketing goals.

Good2bSocial's team, led by Guy Alvarez and Kevin Vermeulen, will join Best Lawyers as part of the acquisition. Alvarez and Vermeulen will serve as Executive Vice Presidents of the business unit and will continue to oversee the daily strategy, management and growth of Good2bSocial.

"Kevin and I are excited to join forces with Best Lawyers," said Alvarez. "Our team has always been dedicated to helping law firms improve their online presence and generate more business through digital marketing. With the resources and expertise of Best Lawyers, we will be able to take our services to the next level and help even more firms succeed in today's digital age."

The acquisition is effective immediately, and Good2bSocial will begin operating under the Best Lawyers brand, enabling a more informed, content-focused network that creates additional customer touchpoints and expands engagement with the profession. Clients of both companies can expect a seamless transition and continued high-quality service. In addition, the core of Best Lawyers' transparent Purely Peer Review ranking process will not change and will continue to deliver on the strong foundation that the brand's customers have come to expect.
About Best Lawyers
Best Lawyers, an Abry Partners portfolio company, is the oldest and most respected peer-review research and accolades company in the legal profession. Our data is a trusted resource and valued reference for legal professionals and the clients and business partners they serve. Best Lawyers compiles extensive recognitions by conducting exhaustive peer-review surveys in which tens of thousands of leading lawyers confidentially evaluate the work of their fellow legal professionals within their local market and specialty. Best Lawyers awards are published in leading local, regional and national media outlets across the globe. Our awards and recognitions are based purely on the feedback we receive from these top lawyers. Lawyers are not required or allowed to pay a fee to be listed; therefore, recognition by Best Lawyers is considered a singular honor.
About Good2bSocial
Good2bSocial's mission is to help lawyers, law firms and organizations in the legal industry understand and leverage the power of digital marketing, content and social media, using unmatched experience and the latest technology and methods to power measurable marketing and business development strategies. Good2bSocial offers a full suite of digital marketing services for law firms and organizations in the legal industry, including website design and development, social media management, high-impact content strategy and production, email marketing, PPC, SEO and account based marketing (ABM).