Find Lawyers in Managua, Nicaragua
Select a location or practice area from the list below to find the best legal talent for your needs.
Practice Areas
Would you like to claim your lawyer profile?
Contact Us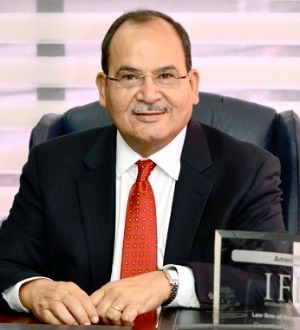 José Evenor Taboada Arana
---
José Evenor Taboada Arana is the President of Consortium Legal and his practice areas include Banking and Finance, Corporate, Foreign Investment and International Trade, and Regulated Sector. He acquired his Doctor of Science and Law from JSD Cornell University and also attended the University of Chile. He has been in intensive legal practice for nearly 44 years, with the sole exception of the years of Cornell Law School and later as President of the Central Bank of Nicaragua. The expe...

Samantha Michelle Aguilar Beteta
---
Recognized since 2014
Managua, Nicaragua
Bufete Jurídico Pineda Garcia & Asociados
Recognized since 2019
Managua, Nicaragua
Practice Areas
Labor and Employment Law

Bertha Argüello
---
Recognized since 2015
Managua, Nicaragua
Practice Areas
Banking and Finance Law
Corporate and M&A Law
Investment
Olga María Barreto Gutiérrez
---
Recognized since 2014
Managua, Nicaragua
Practice Areas
Corporate and M&A Law
Investment
Specific Focus
Foreign
Recognized since 2019
Managua, Nicaragua
Practice Areas
Corporate and M&A Law
Guy José Bendaña-Guerrero & Asociados
Recognized since 2014
Managua, Nicaragua
Practice Areas
Intellectual Property Law
Guy José Bendaña-Guerrero
---
Guy José Bendaña-Guerrero & Asociados
Recognized since 2014
Managua, Nicaragua
Practice Areas
Corporate and M&A Law
Intellectual Property Law

Julián Bendaña-Silva
---
Recognized since 2015
Managua, Nicaragua
Practice Areas
Intellectual Property Law
Recognized since 2019
Managua, Nicaragua
Practice Areas
Corporate and M&A Law
Eduardo Antonio Cabrales Cuadra
---
García & Bodán Abogados y Notarios
Recognized since 2019
Managua, Nicaragua
Practice Areas
Real Estate Law
Álvaro Caldera Portocarrero
---
Recognized since 2019
Managua, Nicaragua
Practice Areas
Banking and Finance Law
Corporate and M&A Law
Ana Patricia Carrión Lacayo
---
Recognized since 2019
Managua, Nicaragua
Practice Areas
Corporate and M&A Law
Humberto Carrión McDonough
---
Asesores y Consultores Legales CVR
Recognized since 2015
Managua, Nicaragua
Practice Areas
Corporate and M&A Law
Litigation
Specific Focus
Commercial
Recognized since 2019
Managua, Nicaragua
Recognized since 2019
Managua, Nicaragua
Practice Areas
Banking and Finance Law
Corporate and M&A Law
Maria Eugenia Garcia Fonseca
---
Recognized since 2019
Managua, Nicaragua
Practice Areas
Intellectual Property Law
Herdocia & García Abogados
Recognized since 2019
Managua, Nicaragua
Terencio J. Garcia Montenegro
---
García & Bodán Abogados y Notarios
Recognized since 2014
Managua, Nicaragua
Practice Areas
Corporate and M&A Law
Natural Resources Law
Project Finance and Development Practice
Darliss Marcela Gordon Arana
---
Recognized since 2014
Managua, Nicaragua
Practice Areas
Intellectual Property Law
García & Bodán Abogados y Notarios
Recognized since 2019
Managua, Nicaragua
Practice Areas
Corporate and M&A Law
Recognized since 2019
Managua, Nicaragua
Practice Areas
Corporate and M&A Law
Real Estate Law
Recognized since 2014
Managua, Nicaragua
Practice Areas
Arbitration and Mediation
Litigation
Recognized since 2019
Managua, Nicaragua
Practice Areas
Competition / Antitrust Law
Martha Lorena Icaza Ochoa
---
Recognized since 2014
Managua, Nicaragua
Practice Areas
Administrative Law
Banking and Finance Law
Corporate and M&A Law

Fernando Medina Montiel
---
Oficina de Leyes Dr. Fernando Medina Montiel
Recognized since 2017
Managua, Nicaragua
Practice Areas
Real Estate Law
Recognized since 2014
Managua, Nicaragua
Practice Areas
Communications Law
Corporate and M&A Law
Environmental Law
Recognized since 2016
Managua, Nicaragua
Practice Areas
Corporate and M&A Law
Litigation
Recognized since 2014
Managua, Nicaragua
Practice Areas
Litigation
Real Estate Law
Francisco Ortega González
---
Francisco Ortega & Asociados
Recognized since 2014
Managua, Nicaragua
Practice Areas
Banking and Finance Law
Corporate and M&A Law
Francisco Javier Ortega Orozco
---
Francisco Ortega & Asociados
Recognized since 2014
Managua, Nicaragua
Practice Areas
Banking and Finance Law
Corporate and M&A Law
Recognized since 2015
Managua, Nicaragua
Practice Areas
Administrative Law
Corporate and M&A Law
Recognized since 2019
Managua, Nicaragua
Practice Areas
Corporate and M&A Law
Recognized since 2019
Managua, Nicaragua
Practice Areas
Administrative Law

Ana Teresa Rizo
---
Recognized since 2014
Managua, Nicaragua
Practice Areas
Banking and Finance Law
Corporate and M&A Law
Natural Resources Law
Specific Focus
Energy
Recognized since 2014
Managua, Nicaragua
Practice Areas
Banking and Finance Law
Capital Markets Law
Corporate and M&A Law
Alfonso Jose Sandino Granera
---
Recognized since 2014
Managua, Nicaragua
Practice Areas
Corporate and M&A Law
Carlos Eduardo Taboada Rodríguez
---
Recognized since 2014
Managua, Nicaragua
Practice Areas
Real Estate Law
Rodrigo Antonio Taboada Rodríguez
---
Recognized since 2014
Managua, Nicaragua
Practice Areas
Banking and Finance Law
Corporate and M&A Law
Investment
García & Bodán Abogados y Notarios
Recognized since 2019
Managua, Nicaragua
Practice Areas
Banking and Finance Law
Corporate and M&A Law
Recognized since 2019
Managua, Nicaragua
Practice Areas
Corporate and M&A Law
Recognized since 2019
Managua, Nicaragua
Practice Areas
Corporate and M&A Law
Martha Lorena Zelaya Munguia
---
Recognized since 2014
Managua, Nicaragua