Find Lawyers in Vilnius, Lithuania
Would you like to claim your lawyer profile?
Contact Us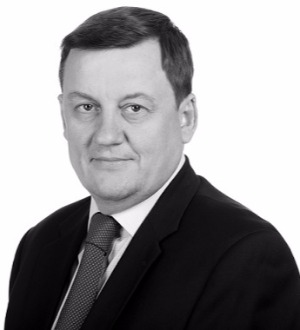 Rolandas Valiūnas
---
Rolandas Valiunas is the Managing Partner of Ellex Valiunas and has 25 years of experience in advising multiple market leading international and local companies on sophisticated corporate, M&A and capital markets transactions. He successfully represented national air carrier in SCC arbitration, assisted Lispa Holding S.L. to acquire the major shipping and fishing company UAB Baltlanta, advised in a ground-breaking energy deal with Chevron and advised on the development of strategic energy...
Recognized since 2009
Vilnius, Lithuania
Practice Areas
Banking and Finance Law
Capital Markets Law
Corporate and M&A Law
Recognized since 2012
Vilnius, Lithuania
Practice Areas
Arbitration and Mediation
Litigation
Specific Focus
Corporate
Recognized since 2015
Vilnius, Lithuania
Practice Areas
Litigation
Recognized since 2012
Vilnius, Lithuania
Practice Areas
Labor and Employment Law
Recognized since 2013
Vilnius, Lithuania
Practice Areas
Customs and Excise Law
Tax Law
Recognized since 2013
Vilnius, Lithuania

Egidijus Baranauskas
---
Recognized since 2015
Vilnius, Lithuania
Practice Areas
Arbitration and Mediation
Litigation
Recognized since 2009
Vilnius, Lithuania
Practice Areas
Corporate and M&A Law
Recognized since 2009
Vilnius, Lithuania
Practice Areas
Banking and Finance Law
Capital Markets Law
Project Finance and Development Practice

Vilius Bernatonis
---
Recognized since 2009
Vilnius, Lithuania
Practice Areas
Administrative Law
Arbitration and Mediation
Banking and Finance Law
Specific Focus
Public Procurement
Recognized since 2009
Vilnius, Lithuania
Practice Areas
Banking and Finance Law
Corporate and M&A Law
Real Estate Law
Recognized since 2009
Vilnius, Lithuania
Practice Areas
Arbitration and Mediation
Corporate and M&A Law
Information Technology Law
Specific Focus
Life Sciences
Recognized since 2009
Vilnius, Lithuania
Practice Areas
Banking and Finance Law
Capital Markets Law
Corporate and M&A Law
Recognized since 2009
Vilnius, Lithuania
Practice Areas
Banking and Finance Law
Corporate and M&A Law
Corporate Governance & Compliance Practice

Elijus Burgis
---
Recognized since 2009
Vilnius, Lithuania
Practice Areas
Banking and Finance Law
Capital Markets Law
Competition / Antitrust Law
Specific Focus
Competition
Recognized since 2012
Vilnius, Lithuania
Practice Areas
Corporate and M&A Law
Project Finance and Development Practice
Real Estate Law
Recognized since 2012
Vilnius, Lithuania
Practice Areas
Litigation
Tax Law
Specific Focus
Competition
Recognized since 2012
Vilnius, Lithuania
Recognized since 2017
Vilnius, Lithuania
Practice Areas
Intellectual Property Law
Specific Focus
Patent
Recognized since 2015
Vilnius, Lithuania
Practice Areas
Litigation
Recognized since 2013
Vilnius, Lithuania
Recognized since 2017
Vilnius, Lithuania
Practice Areas
Corporate and M&A Law
Recognized since 2016
Vilnius, Lithuania
Practice Areas
Arbitration and Mediation

Gediminas Dominas
---
Recognized since 2009
Vilnius, Lithuania
Practice Areas
Arbitration and Mediation
Banking and Finance Law
Corporate and M&A Law
AAA Baltic Service Company
Recognized since 2014
Vilnius, Lithuania
Practice Areas
Intellectual Property Law
Specific Focus
Patent
Recognized since 2012
Vilnius, Lithuania
Practice Areas
Information Technology Law
Intellectual Property Law
Media Law
Specific Focus
Intellectual Property
Recognized since 2009
Vilnius, Lithuania
Practice Areas
Banking and Finance Law
Capital Markets Law
Corporate and M&A Law
Specific Focus
Securities
Recognized since 2012
Vilnius, Lithuania
Practice Areas
Administrative Law
Construction Law
Litigation
Specific Focus
Public and Private Partnerships
Recognized since 2009
Vilnius, Lithuania
Practice Areas
Litigation
Specific Focus
Public Procurement
bnt Heeman Klauberg Kraukulis APB
Recognized since 2013
Vilnius, Lithuania
Practice Areas
Competition / Antitrust Law
European Union Law
Recognized since 2015
Vilnius, Lithuania
Practice Areas
Energy Law
Regulatory Practice
Recognized since 2015
Vilnius, Lithuania
Practice Areas
Litigation
Recognized since 2015
Vilnius, Lithuania
Practice Areas
Energy Law
Recognized since 2009
Vilnius, Lithuania
Practice Areas
Construction Law
Real Estate Law
Recognized since 2015
Vilnius, Lithuania
Practice Areas
Competition / Antitrust Law
Recognized since 2009
Vilnius, Lithuania
Practice Areas
Competition / Antitrust Law
Corporate and M&A Law
Trade Law
Recognized since 2013
Vilnius, Lithuania
Practice Areas
Arbitration and Mediation
Litigation

Andrius Iškauskas
---
Recognized since 2009
Vilnius, Lithuania
Practice Areas
Information Technology Law
Intellectual Property Law

Andrius Ivanauskas
---
Recognized since 2015
Vilnius, Lithuania
Practice Areas
Banking and Finance Law
Insolvency and Reorganization Law
Recognized since 2017
Vilnius, Lithuania
Practice Areas
Energy Law
Recognized since 2009
Vilnius, Lithuania
Practice Areas
Banking and Finance Law
Corporate and M&A Law
Insolvency and Reorganization Law
Recognized since 2014
Vilnius, Lithuania
Practice Areas
Competition / Antitrust Law
Recognized since 2009
Vilnius, Lithuania
Practice Areas
Corporate and M&A Law
Real Estate Law
Recognized since 2009
Vilnius, Lithuania
Practice Areas
Banking and Finance Law
Capital Markets Law
Corporate and M&A Law
Recognized since 2013
Vilnius, Lithuania
Practice Areas
Real Estate Law
Recognized since 2012
Vilnius, Lithuania
Practice Areas
Real Estate Law

Marius Juonys
---
Recognized since 2009
Vilnius, Lithuania
Practice Areas
Administrative Law
Competition / Antitrust Law
Corporate and M&A Law
Specific Focus
Public Procurement
Recognized since 2009
Vilnius, Lithuania
Practice Areas
Competition / Antitrust Law
Specific Focus
Public Procurement
Recognized since 2012
Vilnius, Lithuania
Practice Areas
Corporate and M&A Law
Insolvency and Reorganization Law

Nerijus Kasiliauskas
---
Recognized since 2015
Vilnius, Lithuania
Practice Areas
Labor and Employment Law
Recognized since 2014
Vilnius, Lithuania
Practice Areas
Banking and Finance Law
Capital Markets Law
AAA Baltic Service Company
Recognized since 2012
Vilnius, Lithuania
Practice Areas
Intellectual Property Law
Specific Focus
Patent
Recognized since 2012
Vilnius, Lithuania
Practice Areas
Corporate and M&A Law
Specific Focus
Competition
Recognized since 2009
Vilnius, Lithuania
Practice Areas
Arbitration and Mediation
Banking and Finance Law
Corporate and M&A Law
Recognized since 2015
Vilnius, Lithuania
Practice Areas
Real Estate Law
Recognized since 2009
Vilnius, Lithuania
Practice Areas
Administrative Law
Competition / Antitrust Law
Natural Resources Law
Recognized since 2014
Vilnius, Lithuania
Practice Areas
Arbitration and Mediation
Litigation
Recognized since 2012
Vilnius, Lithuania
Practice Areas
Biotechnology Law
Corporate and M&A Law
Labor and Employment Law
Specific Focus
Pharmaceutical