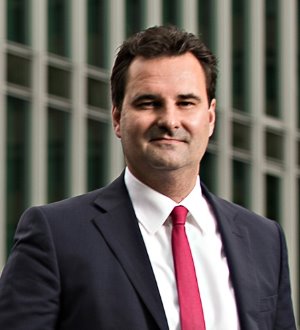 ---
Recognized since 2020
Hamburg, Germany
Practice Areas
Studied law in Hamburg, Germany, with employment law as an optional special subject, studied for an LL.M. at the University of Bristol, England, was awarded a summa cum laude in Hamburg and Bristol for his doctoral dissertation on the transfer of an undertaking, served his legal traineeship at the Landgericht Hamburg (Regional Court Hamburg), including time spent in New York, USA (at the UN representation) and in Alicante, Spain. From 2004 to 2009 he worked for a leading international US law firm in Hamburg, Munich and Paris. From 2009 to 2011 he was co-head of employment law at a corporate law firm in Hamburg and from 2011 to 2013 head of employment law at PwC Legal's Hannover and Osnabrück Offices in Germany. He joined Schomerus in 2013.
Employment law restructuring and operational changes, legal representation in individual and collective employment law disputes, private and public service employment contract design, coordination and assistance with employment law aspects in M&A transactions, remuneration structure and design, works constitution and employee representation law, employee leasing, introduction of employment law compliance provisions, company pensions law, social law, posting, secondment and visa matters, data protection issues.
Location
Deichstrasse 1
Hamburg 20549
Germany
Affiliations
Arbeitsgemeinschaft Arbeitsrecht im DAV - Member
Deutscher Anwaltverein - Member
Hamburger Verein für Arbeitsrecht e.V. (Hamburg Society for Employment Law) - Member
Hamburgischer Anwaltverein e.V. - Member
Hanseatische Rechtsanwaltskammer (Hamburg Bar Association) - Member
Recognized in The Best Lawyers in Germany™ 2023 for work in:
Publications
Verschärfte Kontrollen bei der Künstlersozialabgabe, Initiativbanking 2/2015, 6Arbeitsrecht im Konzern, 2014, ISBN 978-3-8487-0702-7, Nomos Verlag, Baden-Baden
Datenübertragung innerhalb und außerhalb des Konzerns, Betriebs-Berater 2014, Heft 5, 245 - 250
Betriebsrentenanpassung und Berechnungsdurchgriff im Konzern, NZA Neue Zeitschrift für Arbeitsrecht 2013, Heft 22, 1250 - 1255
Aktuelles zu unternehmensschädlichen Äußerungen von Arbeitnehmern in sozialen Netzwerken, StBW 2013, 861-864
Gestaltungsoptionen bei Betriebsübergängen, StBW 2013, 90Co-Autor Compliance Kompakt, Hrsg. von Prof. Behringer, 3. Auflage 2013: Kapitel Arbeitsrechtliche Compliance
Interimsmanagement im Spannungsfeld zwischen selbständiger und abhängiger Beschäftigung, zusammen mit Lars Deepen, ArbRAktuell 2012, 573.
Die Anwachsung als Fall des Betriebsübergangs?, zusammen mit Sönke Oltmanns, NZA 2012, 1190
Social Media und Arbeitsrecht, StBW 2012, 1001
Neues zur Kündigung wegen geänderter Anforderungsprofile, zusammen mit Sönke Oltmanns, NZA 2012, 599
Besonderheiten bei der Beschäftigung von schwerbehinderten Mitarbeitern, StBW 2012, 573
Der Umgang mit leistungsschwachen Mitarbeitern, StBW 2012, 236Möglichkeiten und Grenzen der Abwerbung von Arbeitskollegen, zusammen mit Sönke Oltmanns, ArbRAktuell 2011, 604
Store-in-Store-Konzepte: Eine arbeitsrechtliche Bewertung, zusammen mit Dr. Patrick Zeising, BB 2011, 2165
Arbeitsrechtliche Implikationen bei Personalgesprächen, StBW 2011, 764
Standpunkt: Arbeitsrechtliche Stolpersteine bei Store-in-Store-Konzepten, BB 2011, 2035
Co-Autor Compliance Kompakt, Hrsg. von Prof. Behringer, 2. Auflage 2011: Kapitel Arbeitsrechtliche Compliance
Co-Autor Anwalt Formulare Arbeitsrecht, 2011, Hrsg. von Prof. Lunk, Kapitel Altersteilzeit und Antrag des Arbeitsgebers nach § 78a BetrVG
Kündigung wegen häufiger Kurzerkrankungen, StBW 2011, 381
Selten ohne Ärger – die Betriebsfeier, zusammen mit Jan Kossmann, NZA 2010, 1264
Die Weihnachtsfeier: Arbeits-, steuer- und sozialversicherungsrechtliche Besonderheiten, StBW 2010, 1149
Stellenanzeigen im Fokus von Diskriminierungsklagen, StBW 2010, 860
Standpunkt: Smartphones – begrenzte Arbeitspflichten auch außerhalb der Arbeitszeit?, BB 2010, 2299
Compliance und Investigations – Zehn Fragen aus Sicht der arbeitsrechtlichen Praxis, NJW 2009, 3755 = NJOZ 2009, 4206
Arbeitsleistung in der Pandemie, U.F.O. 03/2009
Auswirkungen einer Pandemie auf das Arbeitsverhältnis, steuer-journal 23/2009, 45
Standpunkt: Gestresste Arbeitnehmer - Haftungsrisiken für Arbeitgeber?, BB 2009, 437
Risikobegrenzungsgesetz - Arbeitsrechtliche Auswirkungen auf M&A-Transaktionen, zusammen mit Dr. Dorothea Bedkowski, NZG 2008, 725
Altersteilzeit - Betriebsübergang während der Freistellungsphase, BB 2008, 1739
Verbesserung der Arbeitsbedingungen anlässlich eines Betriebsübergangs, BB 2008, 1627
Arbeitsrechtliche Beratung beim Unternehmenskauf, U.F.O. 01/2008
Betriebsübergang bei Fremdvergabe staatlicher Dienstleistungen in Großbritannien und Deutschland, Diss., Verlag Peter Lang, 2002
Teaching and examinar activities
Lecturer in employment law at the Hamburg School of Business Administration (HSBA) since 2010
Member of the legal examination department at the Hanseatic Higher Regional Court for the First State examination in law (2006–11)
Your browser is not fully compatible with our automatic printer friendly formatting.
Please use the print button to print this profile page.