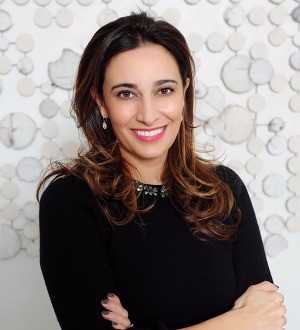 ---
Recognized since 2018
Washington, District of Columbia
Practice Areas
Sogand Zamani is the founder and managing principal of Zamani & Associates PLLC - a family law firm dedicated exclusively to all aspects of family law and family formation. With more than a decade of experience in family law to guide her, Sogand is valued for her thoughtful consideration of her client's financial needs, complex real estate and business assets, deeply-felt custody concerns, and jurisdictional challenges.
Sogand regularly mediates, represents individuals as Collaborative counsel, and negotiates to advance her client's interests, though she is equal to the task of litigating when necessary. Additionally, Sogand enjoys serving families as an attorney representing the best interests of minor children, and has been appointed Guardian ad litem by the Court. She is also a trained parent coordinator.
Recognized as a creative problem-solver, Sogand is committed bringing a full range of skills to bear to achieve resolution for individuals in divorce, child custody, child support, spousal support, division of property, parentage, civil protection order (domestic violence), fair hearings and other family law related proceedings. For individuals pursuing family formation, Sogand is committed to walking intended parents through their adoption journey (domestic/international private, foster parent or agency adoption) and/or collaborative reproduction step-by-step to minimize the uncertainty they face to achieve their forever family.
Sogand is a leader in her professional field, presently working to bring Collaborative process to families of low and modest means through the Collaborative Project of Washington, D.C., which she co-founded, and Third Thursday's – a free divorce program held at the Collaborative Practice Center where Sogand is an Affiliate. Sogand volunteers on the Domestic Relations Branch Sub-Committee for the Superior Court of the District of Columbia, where she participates to advance improvement in the practice of family law and resources available to families in domestic disputes. She also served a three-year elected position on the Alternative Dispute Resolution Committee of the Maryland State Bar Association (2012-2015).
Sogand has been selected by her colleagues for inclusion in Best Lawyers in America (2017-2021), Top 50 Women by Super Lawyers in the District of Columbia(2021, 2022), Super Lawyers (2015-2022), Super Lawyers Rising Stars (2013-2014), Bethesda Magazine Top Lawyers (Adoption and Family Law)(2019, 2020), Washingtonian Top Lawyers (2017-2022), and her firm has been recognized as a Tier 1 Law Firm by the Best Law Firms in America.
Location
2121 K Street, NW, Suite 900
Washington, DC 20037
Education
George Washington University Law School , J.D., graduated 2005
Harvard Graduate School of Arts & Sciences, A.M. , graduated 2002
Georgetown University, B.S. Foreign Service, graduated 2000
Bar Admissions
Maryland, 2005
District of Columbia, 2006
Affiliations
Alternative Dispute Resolution Section Council, Maryland State Bar Association - Member (2012-2015)
Collaborative Project of Washington, D.C. - Board Member (2012-present); Past Co-President (2012-2015)
D.C. Academy of Collaborative Professionals - Board Member (2012-2018); Past President (2014-2015); Member (2012-present)
Domestic Relations Branch Sub-Committee, D.C. Superior Court - Member (2014 to present)

Zamani & Associates PLLC
---
Headquarters: Washington, District of Columbia
1 The Best Lawyers in America® awards
Full Firm Profile
Recognized in The Best Lawyers in America® 2022 for work in:
Awards:
Washingtonian Top Lawyers (2017-2022)
Bethesda Magazine Top Lawyers (Adoption and Family Law)(2019-2020)
Top 50: 2021 Women Washington, D.C. Super Lawyers (2021, 2022)
Super Lawyers Selectee (2015-2022)
Super Lawyers Rising Stars (2013-2014)
"I engaged Sogand for assistance with a prenuptial agreement based on a strong recommendation from a friend who was her client, and I can say it was a terrific recommendation. After an initial interview and meeting, Sogand was able to clearly explain the key issues I would need to focus on, based on my particular circumstances and the key concerns I raised. A prenuptial agreement can be a touchy subject, but she provided sound advice for conversations with my partner and highlighted the issues that were in my best interest. Her advice struck me as fair and ethical, which was very important to me. Her service was also affordable, and she was highly available even when I needed to reach her on short notice under a tight timeline. She is a terrific advocate, and I strongly recommend her."
"Sogand was referred to me by a respected friend, and after an initial meeting with her, I knew I had found the legal support I was looking for to move forward with my divorce and custody interests. I appreciated her experience and active engagement of Collaborative Divorce principles, which aligned with values I held for me and my family. When her counterpart grew hostile and contentious, Sogand and her team did not respond in kind, and were there to provide me with the unyielding support and highly informed legal advice necessary to realize my goals. Throughout the process, Sogand and her team communicated with a sense of compassion, confidence, and directness that I greatly appreciated. I could not have hoped for a more tenacious and knowledgeable advocate for my case. I recommend Zamani and Associates without reservation."
"Adoption can be a confusing and stressful experience and it was important to us to have a knowledgeable, professional, compassionate attorney to guide and support us from beginning to end. Sogand Zamani was recommended by a colleague of mine and from our first meeting with her, we believed we were in good hands. We learned that the process of adopting a child—even a grandchild who had been in our care for a number of years—can be complicated, lengthy and confusing. Sogand was always available to provide support and expert legal advice, as well as compassion and understanding when the going got tough. We will be forever grateful to Sogand and her team for enabling a successful outcome for our family. Based on our experience, we highly recommend working with Sogand Zamani and Zamani & Associates."
"Sogand was a lifesaver. She gave excellent counsel; her legal strategy was on-point and highly effective. Her advocacy was a blend of tenacity and empathy and her combination of legal acumen, experience and genuine care for my children and I provided welcome reassurance, an island of sanity when life seemed increasingly absurd."
"Sogand, Alisa and Amanda assisted me in experiencing a life changing moment that I will never forget. They helped me secure my rights as a third-party parent and get my daughter out of a very awful situation. Their professionalism and advice were instrumental in me getting awesome results. I would recommend them to anyone for their knowledge of how the laws impact the LGBT community and for those who need reliable and professional lawyers. They are down to earth very friendly and easy to talk individuals. Don't hesitate to contact them for legal help."
"Sogand represented me during my divorce and did so with the utmost professionalism and ease. I've never needed legal representation before so I did not know what to expect going into the process, but Sogand is a seasoned professional whose friendly demeanor and strong knowledge of the system kept things moving along quickly and painlessly."
"The day that you decide that you must go through the hard process of divorce, everything seems confusing, new, scary, and painful; and most of it is unknown. You are challenged to control emotions and to remain reasonable to make things work objectively. The most important thing while all of this is going on, is to find an attorney who can advise you and take care of you through the legal components – someone you can trust and rely, someone who makes you feel secure, protected, confident and who is truthful. Sogand Zamani, was recommended to me as a great professional and unconditional partner to help me through the divorce process. The very first moment at her office I felt welcomed and safe. Her advice and legal knowledge helped me make the best and reasonable decisions about my future. She has critical intuition and human sensitivity. She is kind and warm when it gets to emotional topics, but she is a remarkable and tough defender when it comes to your needs. I highly recommend Sogand Zamani. Her professionalism and humankind are unique."
"After having Sogand as my divorce attorney I fully understand why she was so enthusiastically recommended to me. From our very first meeting, Sogand put my mind at ease as I took the first steps towards what seemed like a daunting and difficult process. Sogand's professionalism and personality made the process much more manageable. As we worked towards settlement, she fully grasped that I wanted what was best for my family, not just for me, and at the same time ably protected my interests and my rights under the law. We also engaged other professionals who helped make the process more efficient, including a financial professional who helped us better understand and weigh all options available before negotiating. In this way, I was better equipped to efficiently and fairly settle, in a manner that was fair to both sides, and work on starting life in two households. I strongly recommend Sogand, for her experience, her professionalism and her personality."
"Separating from a spouse is the most personal and challenging things I have ever done. My situation was a little more involved than others, but I could not have selected a more accomplished, kindhearted attorney than Sogand Zamani. I remember my first numb visit to her office where she patiently and compassionately outlined all the paths forward and the relative benefits and challenges to each. Sogand quickly helped me focus on what were the most important issues in my situation and developed an approach that focused on addressing those critical areas immediately. Sogand was there to work with me during the separation through the many days and weeks of hard work, working quickly on unexpected opportunities that arose to reach a separation agreement, and throughout other unusual and crosscutting issues that arose. Sogand was there with an informed and sympathetic guiding hand. She communicated promptly and proactively, took time to help me understand my legal options, developed a sense of my values and personality in suggesting possible approaches I might take to negotiate with my spouse, and moved the process forward as efficiently and effectively as possible. The separation and divorce process was a difficult 15 month experience, but having Sogand there as my guide and support made it bearable. I was fortunate enough to open this painful experience to Sogand Zamani, whose legal talents are matched in their quality and depth only by her ability to connect on a human level with her clients. In the past I have recommended her to others that went through similar experiences to mine and I will continue to do so. I would not be moving forward with my children and my life in a safe and secure manner without all that she did for me and my family. I am forever in her debt."
"Sogand Zamani is the finest attorney I have ever worked with; she is both kind and compassionate while being a firm advocate. I would recommend her without question to anyone in need of a highly seasoned attorney."
"From the first moment I spoke to Sogand I felt at ease. It was a very trying period in my life and I needed sound advice and someone who seemed to care. Sogand truly cares about her clients and their situation. She and her staff are very professional and competent. I would highly recommend Sogand and have recommended her practice to at least one friend who needed a divorce attorney."
"Ms. Zarmani spent the better part of a year helping my wife and I through an unfortunate journey to gain second parent adoption rights. Though married at the time we decided to start a family, despite being listed on the birth certificate and though present at the birth and during the long NICU days and nights, I, as the partner in a same sex marriage was not granted full parental rights in the eyes of many states across this nation. Upon realizing this, my wife and I searched for a lawyer to handle our case. Zamani and Associates was an obvious choice in the DC metro area for same sex adoptions. More importantly it was the right choice. Our family was in that sleepless nights and even longer day's stage. Ten month old twins proved to be harder than the previous stages and we often went weeks without responding to Ms. Zamani's emails regarding next steps. Ms. Zamani and her associates approached us with patience, thoughtfulness and offered gentle guidance seeing the process through and making it as easy as possible along the way. The court date arrived and Ms. Zamani sat with us outside the courtroom playing with our children and sharing stories of her own parenting woes. I highly recommend Ms. Zamani and am so grateful to her and her colleagues for all they did for my family."
- Mary-Margaret Zogby, Washington, DC
"Ms. Zamani is a superb professional. Her legal advice was direct and sound. At the same time, she can empathize with the delicate issues that family law can carry. As I client I always got her dedicated attention. I strongly recommend her."
- ALEJANDRO FOXLEY, Washington, DC
Your browser is not fully compatible with our automatic printer friendly formatting.
Please use the print button to print this profile page.