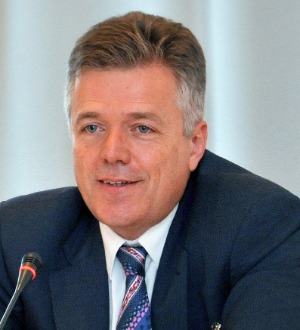 ---
Anagnostopoulos
Recognized since 2010
Athens, Greece
Practice Areas
Education/Position
Ilias G. Anagnostopoulos, born 1956 in Piraeus, graduated from the School of Law, National University of Athens, in 1978. In 1982, he received a Doctor Juris degree from the J.W. Goethe University of Frankfurt am Main, Germany, with a book on pre-trial detention ("Haftgründe der Tatschwere und der Wiederholungsgefahr", Frankfurt a.M. etc., Lang, 1984). He is a Professor in Criminal Law and Criminal Procedure, School of Law, National University of Athens.

Practice Areas
Ilias Anagnostopoulos was called to the Athens Bar in 1983 and heads Athens-based law firm Anagnostopoulos focusing on all aspects of business crime and criminal and regulatory risk management. He has appeared as lead counsel in prominent cases involving bank, tax, customs, securities and EU fraud, money laundering, corruption and anti-competitive practices, product and corporate criminal liability, environmental offences, anti-terrorism, extradition and alternatives, mutual assistance. In Who's Who Legal Global Elite 2021 he ranks amongst the most highly regarded individuals worldwide in business crime defence and in Chambers Europe 2022 he is described as an outstanding lawyer in white-collar crime. From 2007 to 2013 Ilias chaired the Criminal Law Committee of the Council of Bars and Law Societies of Europe (CCBE), Brussels, and since 2013 he chairs the Hellenic Criminal Bar Association, Athens. From 2015 to 2019 he was a member of the Law Commission on the new Greek Criminal Code which entered into force in July 2019.

Publications
Ilias is a member of the editorial board of the leading criminal law journal in Greece "Poinika Chronika". He is a regular commentator of cases and offers expert opinions in domestic and cross-border proceedings. His numerous publications in Greek, English and German cover most aspects of business crimes, international and European criminal law, reform of criminal procedure, human rights and crime policy.
Some of his publications are: -
"Proportionality issues in European arrest warrant proceedings", in E Billis et al (eds), 'Proportionality in crime control and criminal justice', Oxford Hart Publishing 2021; "Criminal Law in Greece" (with K. Magliveras), Kluwer Law International, The Hague/London/Boston, 2nd ed 2022 (forthcoming); "Bribery offences under the new Criminal Code in Greece", Global Investigations Review, 08/20193; "One Act, Multiple Prosecutions Unlimited Sanctions?" American Bar Association, 31st National Institute on White Collar Crime, 2017, U11-15; "Rights of Suspects and Accused Persons in the European Union – The EU Directives 2010/64 and 2012/13″, P. Sakkoulas, Athens 2017, 236 p. [in Greek]; "Criminal justice cooperation in the EU after the first few 'steps': A defence view", ERAForum 1/2014, 9-24; "The right of access to a lawyer in Europe: A long road ahead?", European Criminal Law Review 1/2014, pp. 3-18; "Ne bis in idem in der Europäischen Union: Offene Fragen", FS W. Hassemer, CF Müller, Heidelberg 2010, 1121-1140; "Breach of Fiduciary Duties", Sakkoulas, 2nd ed. Athens 2003 (in Greek);"Mutual Assistance in Criminal Matters in the European Union", International Enforcement Law Reporter 2002, 367-372; "Internationalisierung des Strafrechts" (ed), Nomos, Baden-Baden 2003; A list of Ilias's publications is available at https://iag.gr/publications-by-iag-law-firm
Memberships
Experts Committee of the Hellenic Ministry of Justice; High-Legal Council of the Bank of Greece; European Criminal Bar Association (founder member), European Criminal Law Academic Network, European Law Institute, Fraudnet of the International Chamber of Commerce, International Bar Association, International Association of Penal Law, International Society for the Reform of Criminal Law, American Bar Association (associate), National Association of Criminal Defense Lawyers (international).
Location
Odos P. Ioakeim 6
Athens 106 74
Greece
Languages
English
French
German
Greek
Bar Admissions
Greece, Athens Bar Association
New York, New York City Bar Association
Affiliations
American Bar Association - Associate, Criminal Justice Section; Associate, Business Law Section
Council of Bars and Law Societies of Europe (CCBE) - Chair, Criminal Law Committee
European Criminal Law Academic Network - Member
European Law Institute - Fellow
Fraudnet, International Chamber of Commerce - Representative for Greece
Hellenic Criminal Bar Association - Chair
International Bar Association - Member, Business Crime Committe; Member, Criminal Law Committee
National Association of Criminal Defense Lawyers (USA) - Member, International
School of Law, National and Kapodistrian University of Athens - Professor in Criminal law and Criminal Procedure
Recognized in The Best Lawyers in Greece™ 2015-16 for work in:
Awards:
1987, Tsirimokos Prize, awarded by the Hellenic Criminal Bar Association
Tell us a little bit about your practice and what makes it unique.
The combination of sophisticated advice and forceful litigation is the hallmark of our firm. We offer our clients, in all situations, a carefully designed overall strategy that includes all necessary synergies to achieve the best outcome; and when it comes to litigation, our firm's talented and dynamic team commands respect in the courtroom. We pride ourselves on having an impeccable track record in prominent cases through multiple jurisdictions.
What common questions are you asked by clients, and what are your answers?
Clients seek practical solutions to their cases. We deliver on their expectations offering them clear, concise and creative advocacy.
Describe one of your most interesting or memorable cases in the past year.
Among the cases we won in the past year I would single out a case against three buinessmen who were involved in a multi-year trial hearing in what has become known as the 'Proton Bank' case. The highly publicised trial involved 43 individuals on charges of organised fraud, embezzlement, breach of trust and money laundering in relation to multi-million sham loans to various companies allegedly controlled by the then Proton Bank president, a former media and pharmaceuticals magnate. The Court of Appeal Athens sitting as a first instance court handed down it verdict on 8.1.2021; it convicted 9 defendants for breach of trust and acquitted the other 34 on all charges. My partner Jerina Zapanti and myself represented jointly three of the acquitted defendants.
What is most challenging about your area(s) of expertise?
In the past criminal defence lawyers were called to the scene only after the disaster had occurred. In the business crime area this is not the rule anymore. Affected corporates and individuals have developed an understanding that timely and competent advice by experts in this field in relation to risk management is indispensable in order to address the ever-increasing needs in an extremely demanding environment. Only defence lawyers who excel among their peers have an eye for criminal risks and can offer proper guidance on how to navigate through multiple criminal and regulatory risks.
Nowadays, most white-collar crime cases have important cross-border aspects. A strategic decision in any of the jurisdictions involved may have serious repercussions in all the others. A timely and careful co-ordination of all initiatives through multiple jurisdictions is of paramount importance in order to achieve a globally positive outcome of the case. We are fortunate to have an excellent network of prominent colleagues around the world and be able to develop an integrated strategy in each case tailored to the needs of our clients.
Were there any particular inspirations (people or events) that spurred your interest in your practice area(s)?
My first inspiration was my father, George, a forceful and creative litigator of high integrity. Following him into the courtroom as a teenager I was fascinated by the trial drama. At the Law School of the National University of Athens it was Professor Nikolaos Androulakis, a thought leader in his area, who navigated us through the fundaments of criminal law; and during my doctoral studies at the Goethe University Frankfurt am Main, Germany, my supervisor, Professor Winfried Hassemer, a brilliant and forward thinking intellectual, guided me through the multiple challenges of criminal law theory and practice. When I started my career in criminal defence, I was inspired by Mr Christoforos Argyropoulos, an admirable lawyer of the highest caliber and moral authority.
What other interests do you have?
I love my family (my wife, Persa, and our sons, Kimon and Aris), our cats (Zarya and Conor), music, classic cars and travelling.
Your browser is not fully compatible with our automatic printer friendly formatting.
Please use the print button to print this profile page.