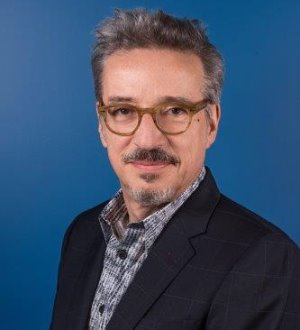 ---
Recognized since 2013
Paris, France
Practice Areas
Competition / Antitrust Law
European Union Law
Franchise Law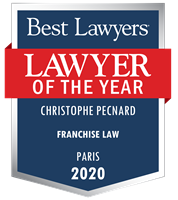 Christophe Pecnard is one of the founding partners of Nomos.
Specialized in economic law, Christophe developed his skills at Jeantet & Associés, then at Thomas et Associés, of which he was one of the partners.
Christophe has been advising major French and foreign groups for many years, particularly in the fields of food processing, luxury, specialised distribution, advertising and new technologies.
Passionate about literature, he has published, in addition to the legal articles he regularly writes, two novels (La doublure de l'âme and Le ciel était trop bleu, published by Editions La Bruyère).
Location
63, avenue des Champs-Elysées
Paris 75008
France
Education
University of Paris I, Panthéon-Sorbonne, Master in Commercial & Antitrust Law, graduated 1985
University of Paris I, Panthéon-Sorbonne, Master in International Law , graduated 1984
Affiliations
Association des Avocats pratiquant le Droit de la Concurrence (APDC) - Member
Association Française d'Etude de la Concurrence (AFEC) - Member
Association Française des Avocats Conseils d'Entreprises (ACE) - Member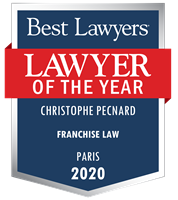 Named "Lawyer of the Year" by Best Lawyers® for:
Franchise Law, Paris, France (2020)
Recognized in The Best Lawyers in France™ 2023 for work in:
Competition / Antitrust Law
European Union Law
Franchise Law
Tell us a little bit about your practice and what makes it unique.
Even though we are an independent medium-sized firm, our 8-lawyer Economic Law team allow us to address both day-to-day requests from our clients and more strategic operations which require a more in-depth effort. This allows us to cater to the wide diversity of needs of our demanding clientele of large French and foreign groups. This is also made possible by fluid interactions with other departments of our firm (regarding IP/GDPR aspects as well as labour, tax or corporate-related matters) and a more thorough understanding of our clients' industries.
What common questions are you asked by clients, and what are your answers?
The pressure on costs has become considerable over the last ten years. This is why the most frequently asked questions by clients concern fees. They are increasingly asking for flat-rate invoicing, budgets previously estimated and stored hourly rates. Because Nomos is an independent medium-sized firm, we can provide a high-quality service at reasonable prices. In this way, we are usually able to adapt to these demands. This is my best answer…
The other concern of clients which often raises questions is to obtain concrete and pragmatic answers from their lawyers. This is why we have developed for many years a sector-based expertise and this is also why I believe it is essential to have specialised teams, supervised by partners who are accessible and able to work together.

Describe one of your most interesting or memorable cases in the past year.
The most memorable case in the past year is surely one where we have been advising & assisting an actor of the transportation sector in an anticompetitive collusion case before the FR Competition Authority. Apart from the fact that this case is still ongoing, one of the most interesting part of it is the fact that it reveals the sort of opposition between old economy and new economy, the latter being linked to the development of internet and online consumption. This is an opposition which has been front and centre throughout most of the big cases of my career, either in favour of one side or the other.
What is most challenging about your area(s) of expertise?
The fact that we are facing new challenges every day, in particular in the online sector, with regards to the complexity of some of the technical aspects that we need to master in order to better understand legal matters and provide suitable advice. We thus need to break out of traditional and easier patterns to better suit the needs of our clients, all the while coping with the fact that legislation is sometimes lagging behind innovation and legal practice. This is simultaneously complex and stimulating in terms of work.
Were there any particular inspirations (people or events) that spurred your interest in your practice area(s)?
There were two main inspirations which guided me in my career. The first one was indubitably the people that I met throughout my years and, most particularly, my first boss, which was somehow atypical but whose guidance and advice have stuck with me. One advice that I kept close to my heart was undoubtedly to always have a disruptive approach to work. The second source of inspiration, which was a more personal one, was literature itself, which played and still plays a great role in my life. The fact that I come from a family of artist –my father was a painter– probably explains this attraction for the arts and literature.
What other interests do you have?
Given my professional and personal path, Art has always had a great role in my life, be it in terms of literature, music or of painting. Nowadays, I would say that my children and travels take up another great chunk of my attention and, incidentally, of my spare time.
Your browser is not fully compatible with our automatic printer friendly formatting.
Please use the print button to print this profile page.