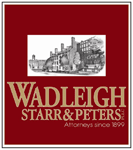 Wadleigh, Starr and Peters, P.L.L.C.
Firm Details
Founded in 1899, Wadleigh, Starr & Peters, P.L.L.C. offers a full range of legal services to local and national clients. Working closely with clients from a wide cross section of the private and public sectors, Wadleigh continually adapts to meet the needs of its clients. Our approach is to help our clients achieve their objectives with practical, effective, results-oriented and cost-efficient representation. We pride ourselves in combining quality, large firm representation with common sense strategies. Our success has been and continues to be based on the highest quality legal work performed by highly qualified legal professionals who take pride in their work, are devoted to their clients and always put the needs of their clients first.
We are proud of our history and draw on our vast experience and historical perspective to address the ever-shifting demands of this challenging and rewarding profession. Outstanding client service is a cornerstone of our practice that has withstood the test of time. Being at the top in business is about tomorrow and our attorneys know the marketplace and the law is changing at a rapid pace. We understand the issues faced by our clients and know that our clients' success is the best measure of our success.
The varied roles that members of Wadleigh, Starr & Peters, P.L.L.C. have assumed in their communities attest to the firm's commitment to service and to its enduring reputation in the public, private and legal sectors. Former members of the firm have served with distinction as justices of the New Hampshire Supreme Court and the United States Circuit Court of Appeals for the First Circuit, as judges on the New Hampshire Superior Court, as attorneys general of the State of New Hampshire, as members of the United States Congress and as legal counsel to the New Hampshire Governor. Members of the firm also serve in a variety of leadership positions in community, charitable, professional and political activities.
Firm Practice Areas
Bet-the-Company Litigation
Business Organizations (including LLCs and Partnerships)
Civil Rights Law
Commercial Finance Law
Commercial Litigation
Construction Law
Corporate Law
Criminal Defense: General Practice
Education Law
Employment Law - Management
Family Law
Health Care Law
Insurance Law
Labor Law - Management
Labor Law - Union
Land Use and Zoning Law
Legal Malpractice Law - Defendants
Litigation - Construction
Litigation - Health Care
Litigation - Insurance
Litigation - Labor and Employment
Litigation - Land Use and Zoning
Litigation - Municipal
Litigation - Real Estate
Litigation - Trusts and Estates
Medical Malpractice Law - Defendants
Municipal Law
Personal Injury Litigation - Defendants
Product Liability Litigation - Defendants
Professional Malpractice Law - Defendants
Real Estate Law
Trusts and Estates
Workers' Compensation Law - Employers
Office Locations
United States
United States
New Hampshire
New Hampshire
Manchester, NH
95 Market Street
Manchester, NH 03101
United States