Firm Profile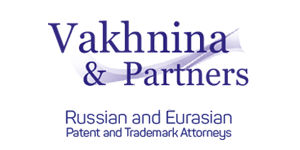 Firm Details
"Vakhnina & Partners" is an intellectual property law Firm, located in Moscow, Russia.

The Team at "Vakhnina & Partners" comprises of highly-qualified patent and trade mark attorneys and specialists, professionals, lawyers and technical experts.
The Company is engaged in legal affairs of clients in the areas of IP, representing clients in the Chamber of Patent Disputes of Russia and in the courts of various jurisdictions.At "Vakhnina & Partners", our Trademark and Patent Attorneys represent our clients' interests in Russia and at Eurasian Patent Office.

Our patent and trademark attorneys have experience more that 30-35 years.

"Vakhnina & Partners" cooperates with reliable partners and associates in other Eurasian/CIS countries as Ukraine, Belarus, Georgia, Kazakhstan, Armenia, Azerbaijan, Kyrgyzstan, Turkmenistan, Uzbekistan, Moldova, Tajikistan, as well as Baltic states, our Company provides IP services in the entire region.

Our major areas are as follows:
Trademarks
Trademark searches
Patent searches
Industrial Designs
Licensing
Litigation

Patents in areas:


Medicine:

Pharmacology,
Pharmaceuticals;
Medical Devices
Life Science;



Chemistry and Biotechnologies:

Industrial Chemistry;
Chemistry;
Biochemistry;
Biotechnology,



Mechanics and Electronics:

Electronics;
Electronical engineering;
Mechanical Engineering Technologies
Electronics and digital signal processing
Computer Technologies/software;


Plant Varieties
Domain Names
Computer systems and software
Anti-counterfeiting Initiatives


Trademark department is headed by Dr. Tatiana Vakhnina voted as the best Russian Lawyer and Advocate for several years. Having experience in Patents and Trademarks for more than 35 years, Dr. Vakhnina is included in IP STARS , Who Is Who Legal: Patents, WIPR Leaders, BestLawyer.com, IAM Patent 1000, WTR 1000, etc.

Patent and Designs department is headed by Dr. Elena Utkina, with experience for more than 30 years in Patent Area. Dr. Utkina collaborated much in IP relations between different countries.
In years 1980s Dr. Utkina was one of the contributors to the Patent Highway system between Russia and Japan.

As important support for trademark prosecution and litigation cases, a Unique Trademark Search System 'VAL' was created in 1992 by the founder partner Dr. Tatiana Vakhnina and comprises of database and application - unique algorithms for similar trademark search among trademarks AND applications filed for the territory of Russia (including international registrations).
The VAL search system and database are being actualized in real time, and search algorithms are being continuously improved to reflect needs of our clients for reliable trademark search and monitoring.

Nowadays the VAL Search system developed and owned by Vakhnina & Partners is an extensive Trademark Search Service in sectors of B2C and B2C.
It is demanded not only by Trademark Attorneys in Vakhnina&Partners, but also by our competitors (other IP Companies) as well as in-house IP lawyers for Companies carrying out their own filings and protection of Trademarks.

Contacts
Dr. Alexey Vakhnin
Patent and Trademark Attorney, Eurasian Patent Attorney, Partner
+7 (495) 946-7075
Firm Practice Areas
Intellectual Property Law
Litigation
Patent
Patent Attorney
Trademark
Office Locations
Russia
Russia
Moscow, Russia
Preobrazhenskaya pl., 6
Moscow 107061
Russia