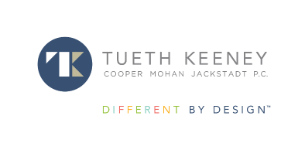 Headquarters
34 North Meramec Avenue, Suite 600
St. Louis, MO 63105
United States
(314) 880.3600
Firm Details
Tueth, Keeney, Cooper, Mohan & Jackstadt P.C., was formed in 2000 by a group of eighteen attorneys from one of the largest firms in the Midwest. Our founding shareholders rejected the traditional "big firm" approach to legal issues in order to enhance our ability to offer creative, flexible problem-solving techniques tailored to meet the unique business needs of each client. We pride ourselves in our ability to provide "big firm" quality legal services with significantly greater efficiency, responsiveness and value.

The practice of law is too often reactionary -- a response to legal challenges and disputes after they arise. The attorneys at Tueth Keeney are not only advocates, but also counselors and advisors who work with our clients to prevent disputes and minimize risk before the disputes become lawsuits. Our firm is widely recognized for not only winning cases, but also for preventing cases from being filed in the first place. Our attorneys regularly provide training to clients and friends of the Firm by providing free seminars and training sessions on a wide variety of challenging legal issues. We distribute "Tueth Keeney Advantage" newsletters with timely updates on recent topics and changes in the law. Tueth Keeney provides email updates to clients and friends of the firm, in a continuing effort to keep them updated on critical legal matters.

Tueth Keeney also rejects the idea of "being all things to all people." Our attorneys provide support to our clients in those areas of practice in which Tueth Keeney is recognized for its virtually unmatched expertise: education law, employment law, immigration law, and litigation. Our attorneys recognize that employers and managers are faced with significant challenges in today's environment of rapidly changing economic conditions, ever-increasing governmental regulation, and spiraling litigation. Against this background, the hallmark of Tueth Keeney's unique practice is our unparalleled record of success in representing our clients -- public and private, large and small -- throughout the Midwest.

We invite you to learn more about our Firm and our attorneys and to discover how we can partner with you to respond effectively to your legal challenges.
Clients
Bunge North America
ConocoPhillips Company
Edward Jones
Graybar Electric Company, Inc.
MEMC Electronic Materials, Inc.
Nestlé Purina PetCare
Washington University
Firm Practice Areas
Education Law
Employment Law - Management
Immigration Law
Litigation - Labor and Employment
Office Locations
United States
United States
Illinois
Illinois
Edwardsville, IL
101 West Vandalia, Suite 210
Edwardsville, IL 62025
United States
Missouri
Missouri
St. Louis, MO
34 North Meramec Avenue, Suite 600
St. Louis, MO 63105
United States