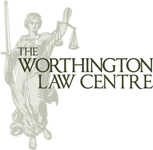 The Worthington Law Centre

Firm Details
Outstanding Defense Lawyers for Tough Criminal Cases

Clients of The Worthington Law Centre are quick to discover that our focus on criminal defense and commitment to excellence in client service can provide genuine hope in desperate situations. Our flagship office is located in the heart of Salinas, the seat for Monterey County. We occupy an historic home, formerly known as the Hitchcock House, which Mr. and Mrs. Worthington bought and restored in 1993.

In January, 2013 we opened our newest office in San Francisco, taking with us the same focus on criminal defense and the same commitment to excellence. From this office, we represent people from all Bay Area counties.

The Worthington Law Centre is a family owned and operated criminal defense firm. In the 43 years since its inception, Mr. and Mrs. Worthington have worked hard to foster a welcoming, comforting and informative environment. They have assembled a team of lawyers, experts, and investigators with years of experience. This team also consists of a caring, multilingual and knowledgeable support staff that works patiently to answer clients' questions and address their concerns. In fact, The Worthington Law Centre has been named in "Best Law Firms" since 2010.

In 2009, Brian M. Worthington, after graduating from USF School of Law, joined his father, Thomas, at The Worthington Law Centre. In just three short years, Brian Worthington earned the distinction of being selected as a Northern California Rising Star--a distinction earned by no more than 2.5% of lawyers in California who are 40 years old or younger or who have been practicing for 10 years or less; as well as being selected as a Top 100 Trial Lawyer in California by The National Trial Lawyers. Practicing criminal defense, exclusively, he maintains an active case load of both felonies and misdemeanors in adult and juvenile courts in Monterey, San Francisco, San Benito, Santa Clara, Santa Cruz and all the bay area counties. He has handled a number of complex and interesting cases, achieving results very favorable to his clients.

Brian Worthington will head up our new office in San Francisco and, there, he will continue to give the excellent representation to clients for which The Worthington Law Centre has become known. Mr. Worthington will maintain a full case load in both our Monterey County Office and our San Francisco Office.

Our attorneys have experience, knowledge and education in all areas of criminal defense and have tried hundreds of cases in California and in other states throughout the country as well as federal cases and military issues such as Courts Marshal. Two of our lawyers are former prosecutors: One a West Point graduate and retired Army officer who served as a prosecutor at Fort Ord; another, was an Assistant District Attorney for a number of years for the Monterey County District Attorney's Office.

Few attorneys can match the criminal defense credentials of Thomas Worthington, however. Certified since 1977 as a specialist in criminal law by the State Bar of California's Board of Legal Specialization, he has been selected by his peers each year since 1987 as one of "The Best Lawyers in America". He has also been selected for inclusion in Northern California Super Lawyers in the 2006 and 2008 through 2014 editions, as a Top 100 Trial Lawyer in California by The National Trial Lawyers, as well as being chosen and identified in Martindale-Hubbell's Peer Ratings as a Preeminent AV rated attorney -- the highest distinction available.

Mr. Worthington has taught on advanced criminal trial defense techniques but the main foundation of his outstanding reputation remains to be the results he has achieved for his clients.

All of the attorneys at The Worthington Law Centre defend adults and juveniles accused of state or federal crimes. Over the years, we have represented people from all walks of life – lawyers, doctors, law enforcement officers – including two chiefs of police and a warden of Soledad State Prison – teachers, priests and other clergy, a Mayor of one city, the Chief Administrative Officer of one county, as well as members of the County Board of Supervisors and City Council.

The United States Bill of Rights guarantees everyone the right to representation by counsel and the protection against self-incrimination by allowing a person to refuse to answer questions or give other evidence that would subject him to criminal prosecution. In other words, you have a right to remain silent and you should do so until you have someone on your side to ensure your Constitutional rights are being protected.

If you find yourself in trouble with the law, you need to put our 43-year winning record to work for you. Don't hesitate – contact a lawyer at The Worthington Law Centre in Salinas or San Francisco. You can email us, or call us toll-free at 1-800-626-0808.
Firm Practice Areas
Criminal Defense: General Practice
Criminal Defense: White-Collar
Office Locations
United States
United States
California
California
Salinas, CA
215 West Alisal Street
Salinas, CA 93901
United States