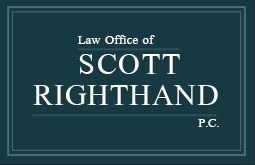 275 Battery Street, Suite 1300-A
San Francisco, CA 94111
United States
(415) 544.0115
Firm Details
Founded in 1992, the Law Office of Scott Righthand, P.C., focuses on complex plaintiffs litigation. Attorney Righthand serves clients from throughout the San Francisco Bay Area who have suffered a personal injury or have lost a family member because of the negligent, reckless or intentional acts of others.

Attorney Righthand has secured judgments and settlements for clients who were injured in motorcycle accidents, car accidents, and helicopter accidents, as well as by medical malpractice, child abuse, elder abuse, and product failure.

If you would like Attorney Scott Righthand to evaluate your personal injury or wrongful death claim, contact his office for a free consultation. If he accepts your case, he will personally handle the matter. He does not assign any of the substantive processing to an associate attorney, contract attorney, or a paralegal.

The Law Office of Scott Righthand has delivered excellent results to clients in both litigation and appellate cases. The firm makes available a list of past clients who have consented to serve as a reference.
Firm Practice Areas
Medical Malpractice Law - Plaintiffs
Personal Injury Litigation - Plaintiffs
Office Locations
United States
United States
California
California
San Francisco, CA
275 Battery Street, Suite 1300-A
San Francisco, CA 94111
United States