Firm Profile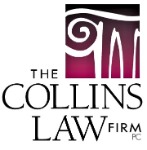 The Collins Law Firm, P.C.

1770 Park Street, Suite 200
Naperville, IL 60563
United States
(630) 527.1595
Firm Details
The Collins Law Firm is a top-rated, highly respected personal injury, environmental, and business litigation law firm. Our lawyers have been recognized by Super Lawyers, Leading Lawyers, Top 100 Trial Lawyers, and Best Lawyers in America. Moreover, we are ranked by U.S. News and World Report as one of the best law firms in Illinois year after year. Our record of success is one of the reasons why. Our firm has recovered over $521 million dollars for our personal injury, environmental, and business clients.
As proud as we are of this record, our firm's mission is about so much more than money. We believe that great lawyers give a voice to the people who don't have one. That's why we fight so tenaciously for clients who have been injured by environmental contamination, car accidents, nursing home abuse, medical malpractice, or unfair business deals. We pride ourselves on our ability to take the fight to the powerful interests that take advantage of you and consider it a privilege to represent the injured and deliver the justice each of our clients deserves. Contact us and arrange a free consultation if you are suffering due to:
Personal Injury If you have been seriously injured due to the negligence of another person, our tough, experienced personal injury attorneys will fight to get you the maximum compensation for your injuries. Whether you or your loved one were harmed by a car accident, a defective product, unsafe drugs, or a slip and fall accident, we can help you take on the person or company responsible. Our knowledgeable personal injury attorneys know how to gather all the necessary evidence, prove the other party was at fault, and negotiate a just settlement for you--or argue your case in court if necessary.
Car Accidents If you have been injured while driving a car, riding a motorcycle, or even crossing the street, our experienced car accident attorneys can help you prove that the other driver acted negligently and that you were injured as a result. We have decades of experience negotiating with insurance companies and getting the maximum recovery in car accidents. We will fight to get you fair compensation for lost income, medical bills, disability, and pain and suffering caused by the car crash, so you can focus on your recovery and move on with your life.
Wrongful Death There is no greater loss than losing a loved one. Grieving families who lose a family member as a result of another person or company's negligence may wish to pursue justice by filing a wrongful death lawsuit. Our experienced attorneys can handle your wrongful death case with sensitivity and compassion. We are very familiar with all kinds of wrongful death claims and know how to collect the necessary evidence to prove who was at fault. We will get you the answers you need and fight to get you the maximum compensation for your losses.
Nursing Home Abuse Many families have to rely on a nursing home to care for aging parents, however, some facilities, unfortunately, fail to provide safe, adequate care for their residents. When nursing homes fail to vet their staff, patients may be physically abused and end up with broken bones, concussions, or worse. Overworked staff may also neglect patients, leading to bedsores, medication errors, or even death. Our dedicated nursing home attorneys understand what families go through when this happens and stand ready to hold accountable any nursing home responsible for injury to your loved one.
Medical Malpractice When you are sick or injured, you put your trust in the doctor or hospital to get you well. Unfortunately, that trust is sometimes broken when physicians or hospital staff fail to provide an acceptable standard of care to a patient. Sadly, thousands of people die or are seriously injured every year due to medical negligence. Our compassionate medical malpractice attorneys know how to navigate these typically complex cases, supporting the victim and family members while getting to the bottom of what happened, and making the physicians or hospitals take responsibility for the harm they have caused.
Groundwater Contamination Sometimes, families have their right to clean water taken away by a corporate polluter in their neighborhood who has dumped toxic chemicals illegally or carelessly on their property. Over time, the chemicals have contaminated the area groundwater which flows to neighborhood homes. If the homes are on private wells, the families are unknowingly drinking and using contaminated water. Our groundwater contamination attorneys help worried families get answers, a clean drinking water source, and compensation for their property losses. We force the polluters to clean up the source of contamination and compensate family members who have contracted cancer because of exposure to the toxins in their water.
Environmental Cancer Every year scientists learn more about the dangers of toxic chemicals. For example, we now know that chemicals like TCE, PCE, benzene, ethylene oxide, vinyl chloride, and PFOA/PFOS can cause serious illness, and even cancer. If you suspect that you have been made ill by exposure to toxins in your air or water, we can help you determine if a polluter in your community is responsible. We have years of experience filing claims for families whose lives have been devastated by toxic chemicals and fighting for compensation for individuals who have contracted cancer and families who have lost a loved one to cancer because of exposure to toxins.
Air Pollution Air pollution is one of the most difficult environmental dangers to combat because it is often impossible for a community to know if a corporate polluter has been emitting toxic chemicals into the air. Unfortunately, the consequences of years of undetected exposure to airborne toxins can be huge. Cancers, lung diseases, asthma, cardiac problems, and other health issues can all be caused by long-term, low level, chronic exposure to industrial air toxins like benzene, ethylene oxide, perchloroethylene, trichloroethylene, dioxin, and asbestos. Our experienced air pollution attorneys can litigate to force the polluter to stop endangering people's health and win compensation for health issues caused by the company's air pollution.
Vapor Intrusion If the groundwater underneath your home is shallow and is contaminated with chemicals called volatile organic compounds, those chemicals can turn into toxic vapors and get into your home through cracks in the foundation. If that happens, the toxic vapors may contaminate the air you breathe right in your own home and present a threat to your family's health. Our experienced vapor intrusion attorneys can fight to get the polluter to install vapor mitigation systems in affected homes--protecting families from vapor contamination—and compensation for lost property and related cancers and other serious illnesses.
Partnership/Ownership Disputes Business people experience a sense of betrayal when they have been deceived by a business partner. Whether your business partner has opened a business that directly competes with yours, has improperly taken funds out of your business, or has left with a major customer, the situation must be resolved quickly. Our commercial attorneys will work with you to develop a course of action that will resolve your partnership dispute by exhausting all non-legal options, undertaking emergency injunctive relief, exploring options for alternative dispute resolution, or fast-tracking your issue for litigation.
Breach of Contract Every business depends on contracts, written or unwritten, to work with customers, vendors, partners, and employees. When you bring our experienced business lawyers a contract problem, we consider not only the dispute but also your relationship with the party to the contract. We'll help you to determine if it is in the interest of your business to have the contract enforced in a court of law or to end a contractual relationship that no longer serves you.
Firm Practice Areas
Commercial Litigation
Litigation - Environmental
Mass Tort Litigation / Class Actions - Plaintiffs
Personal Injury Litigation - Plaintiffs
Office Locations
United States
United States
Illinois
Illinois
Naperville, IL
1770 Park Street, Suite 200
Naperville, IL 60563
United States