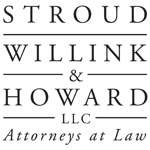 33 East Main Street, Suite 610
P.O. Box 2236
Madison, WI 53701-2236
United States
(608) 257.2281
Firm Details
We view ourselves as the current stewards of a law firm that has provided the highest level of service to its clients for over 100 years. The firm has endured and prospered because of the quality of its work. We continue to serve a significant number of established clients, and we regularly acquire new clients who become established clients because of the way we do our work.

Since 1892, Stroud, Willink & Howard, LLC, and its predecessors have provided the sophisticated legal counsel required by our business and individual clients. Our services include complicated commercial litigation, transactional matters, estate planning, and other legal counseling for a broad spectrum of clients ranging from individuals and their families, businesses, and professions, to national corporations requiring local counsel.

Stroud, Willink & Howard continues to work with a strong base of long-standing clients engaged in varied industries and professions such as technology, manufacturing, construction, real estate, retail, agriculture, finance, insurance, the professions and other service industries, philanthropic and charitable organizations, and affiliates of the University of Wisconsin.

The focus of everything we do here is directed toward service to our clients. Our collective experiences have enabled us to hone the level of our services to fit the needs of our clients. Our technology and other operating systems are evolving constantly so that we may provide efficient and effective services.

We strive to develop an intimate knowledge of each client's needs and objectives because we seek long-term relationships with our clients. In all of those relationships, we hope to be an integral part of our clients' successes.

Management
Top Listed City Awards
Top Listed in Madison in Construction Law with 4 lawyers
Firm Practice Areas
Banking and Finance Law
Commercial Litigation
Construction Law
Corporate Law
Elder Law
Litigation - Banking and Finance
Litigation - Construction
Mortgage Banking Foreclosure Law
Real Estate Law
Tax Law
Trusts and Estates
Office Locations
United States
United States
Wisconsin
Wisconsin
Madison, WI
33 East Main Street, Suite 610
P.O. Box 2236
Madison, WI 53701-2236
United States