Firm Profile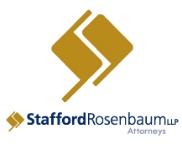 Headquarters
222 West Washington Avenue, Suite 900
P.O. Box 1784
Madison, WI 53703-2744
United States
(608) 256.0226
Firm Details
Stafford Rosenbaum, with offices located in Madison and Milwaukee, is a full-service law firm with an experienced team of 50 attorneys.

Business leaders turn to us because we know business. We harness the collective experience of our business attorneys and litigators to solve legal needs arising in the areas of antitrust and trade, bankruptcy and creditors' rights, business law, dealership and franchise, employment and labor law, environmental law, intellectual property, litigation, real estate, and alternative dispute resolution.

Government leaders turn to us because of our extensive experience in local and state government. We serve as general counsel for more than 13 Wisconsin local governments and act as special counsel for a variety of municipal and county governments, advising in areas such as public utility, government and administration, employment and labor law, and environmental law.

Leaders in the legal profession refer their clients to us when a conflict prevents them from handling a matter, or for experience they may not have. They know we provide solutions to their clients' legal needs in all of the areas listed above, as well as estate planning and probate, family law, and insurance law.

Community leaders turn to us for our legal knowledge and our commitment to local communities.
As we celebrate over 140 years of service, effective client communication continues to be at the heart of our practice.
Top Listed State Awards
Top Listed in Wisconsin in Municipal Law with 5 lawyers
Top Listed City Awards
Top Listed in Madison in Municipal Law with 5 lawyers
Awards
Gold Award, United Way
2012 Extra Mile Award from The Rainbow Project
Best Companies to Work For
Clients
Chrysler Group LLC
Cities & Villages Mutual Insurance Company
City of Green Bay
City of Verona
CUNA Mutual Group
First Business Bank
General Beverage Sales Company
Great Lakes Gas Transmission Company
Jane Bradley Pettit Foundation, Inc.
L.F. George, Inc.
Madison Gas and Electric Company
New Glarus Brewing Company
State of Wisconsin Investment Board
WCA Group Health Trust
Wisconsin Energy Corporation (We Energies)
Firm Practice Areas
Arbitration
Banking and Finance Law
Bankruptcy and Creditor Debtor Rights / Insolvency and Reorganization Law
Commercial Litigation
Communications Law
Employee Benefits (ERISA) Law
Employment Law - Management
Energy Law
Environmental Law
Ethics and Professional Responsibility Law
Family Law
Family Law Mediation
Franchise Law
Insurance Law
Land Use and Zoning Law
Litigation - Antitrust
Litigation - Bankruptcy
Litigation - Environmental
Litigation - Labor and Employment
Litigation - Land Use and Zoning
Litigation - Municipal
Litigation - Trusts and Estates
Mediation
Municipal Law
Native American Law
Personal Injury Litigation - Defendants
Product Liability Litigation - Defendants
Real Estate Law
Trademark Law
Trusts and Estates
Water Law
Office Locations
United States
United States
Wisconsin
Wisconsin
Madison, WI
222 West Washington Avenue, Suite 900
P.O. Box 1784
Madison, WI 53703-2744
United States
Milwaukee, WI
1200 North Mayfair Road, Suite 430
Milwaukee, WI 53226-3282
United States