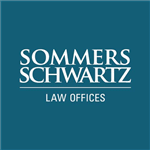 Sommers Schwartz PC

One Towne Square, Suite 1700
Southfield, MI 48076
United States
(248) 355.0300
Firm Details
At Sommers Schwartz, P.C., we are dedicated to serving our clients and meeting the highest standards of our profession.

For us, the practice of law is a calling. We are advocates, totally committed to fighting for our clients' interests and rights. We hold ourselves to the highest standards. All our attorneys have earned distinguished academic credentials. Many have extensive judicial and legislative experience, have published well-recognized books and articles, serve as instructors for legal education programs, and hold board positions with many bar associations and philanthropic and non-profit organizations.

In recognition of the quality of services we provide our clients, we regularly receive referrals and requests for assistance from colleagues in the legal profession, as well as from professionals in other businesses and disciplines.

As part of our commitment to the legal profession and the principles it embodies, Sommers Schwartz as a firm and our members as individuals are dedicated to serving charitable organizations and the communities in which we live and practice.
Management
Top Listed State Awards
Top Listed in Michigan in Medical Malpractice Law - Plaintiffs with 6 lawyers
Top Listed in Michigan in Personal Injury Litigation - Plaintiffs with 7 lawyers
Top Listed City Awards
Top Listed in Southfield in Medical Malpractice Law - Plaintiffs with 6 lawyers
Top Listed in Southfield in Personal Injury Litigation - Plaintiffs with 7 lawyers
Firm Practice Areas
Appellate Practice
Commercial Litigation
Consumer Law
Consumer Protection Law
Employment Law - Individuals
Employment Law - Management
Litigation - Intellectual Property
Litigation - Labor and Employment
Mass Tort Litigation / Class Actions - Plaintiffs
Medical Malpractice Law - Plaintiffs
Personal Injury Litigation - Plaintiffs
Product Liability Litigation - Plaintiffs
Railroad Law
Office Locations
United States
United States
Michigan
Michigan
Southfield, MI
One Towne Square, Suite 1700
Southfield, MI 48076
United States