Firm Profile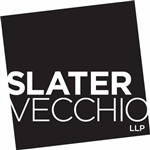 Pacific Centre North, 18th Floor
777 Dunsmuir Street
P.O. Box 10445
Vancouver, BC V7Y 1K4
Canada
604-682-5111
Firm Details
Slater Vecchio is a class action & personal injury law firm located in the heart of downtown Vancouver.
Slater Vecchio is involved in major personal injury actions with a focus on traumatic brain injury, as well as significant orthopedic, spinal cord, and psychological injuries. The Firm has worked and continues to work on some of the largest and most complicated PI & class action cases nationwide. Slater Vecchio has received some of the top trial awards and settlements in British Columbia.
In 2021, the firm was named a Top 5 Personal Injury Boutique in Western Canada by Canadian Lawyer magazine. Slater Vecchio claimed the Trial Lawyers Association of British Columbia Bar award in 2013.
Firm Practice Areas
Class Action Litigation
Personal Injury Litigation
Office Locations
Canada
Canada
British Columbia
British Columbia
Vancouver, BC
Pacific Centre North, 18th Floor
777 Dunsmuir Street
P.O. Box 10445
Vancouver, BC V7Y 1K4
Canada