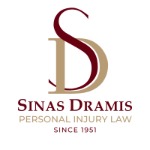 Headquarters
3380 Pine Tree Road
Lansing, MI 48911
United States
(517) 394.7500
Firm Details
In 1951, Sinas Dramis Law Firm was established in Lansing, Michigan by Thomas G. Sinas and Lee C. Dramis. Our Michigan personal injury lawyers represent clients throughout the state and specialize in handling catastrophic personal injuries and wrongful death. Sinas Dramis Law Firm has a team of dedicated attorneys ready to litigate Michigan car accidents, collisions involving semi-trucks, motorcycle vs. automobile crashes, and a variety of other personal injury case types. We have an extensive understanding of Michigan's no-fault auto insurance laws.

Sinas Dramis Law Firm is truly a Michigan-wide law firm. Based in Lansing, Michigan, and with additional offices in Grand Rapids, Kalamazoo, and Metro-Detroit, Michigan, as well Chicago, Illinois, we pride ourselves in helping injured people and their families across the state.

Recognized for Our Outstanding Results
Sinas Dramis Law Firm is recognized as a leading personal injury law firm in Michigan. We handle cases from throughout the state, and many of our clients have been referred to us by other attorneys who recognize the dedication and commitment to justice our firm displays. Because of our hard work and passion for the law, we have been able to achieve many substantial personal injury verdicts and settlements for our clients.

Our Mission
The mission of our personal injury team, which represents clients throughout Michigan, is simple: we will aggressively pursue those people or entities responsible for your injuries or the injuries of a loved one. Above and beyond the expert legal assistance you need to help you achieve the compensation you are entitled to receive, you deserve a firm that is genuinely concerned about your well-being and peace of mind. Sinas Dramis Law Firm is dedicated to providing the kind of legal representation that not only gets positive results but also we're committed to always acting in your best interest and obtaining access to the resources you need to move forward with your life.

Contact Our Personal Injury Lawyers in Michigan and Illinois
Sinas Dramis Law Firm is committed to helping victims of personal injury accidents in Grand Rapids, Lansing, Kalamazoo, metro-Detroit, Chicago, and beyond, obtain the compensation and peace of mind they deserve. To speak with a member of our team about your case, please contact our firm today.
Firm Practice Areas
Automobile Collision
Brain Injury
Catastrophic Injury
Personal Injury Litigation - Plaintiffs
Premises Liability
Product Liability Litigation - Plaintiffs
Wrongful Death